Public School 65K
Introduction
Public School 65K in Cypress Hills was built in 1870 and enlarged to the front and back in 1889. P.S. 65K was entered on the National Register of Historic Places in 1981. This is not the same building as present-day P.S. 65, which is a couple blocks north at 696 Jamaica Avenue and had served grades pre-K to 5 since 2009. The 1870-1889 building, now known as the Little Red Schoolhouse, has housed a charter school, Achievement First East New York Middle School, since September 2009.
Images
Exterior view of P.S. 65 building ca. 1981 (NYC Landmarks Preservation Commission)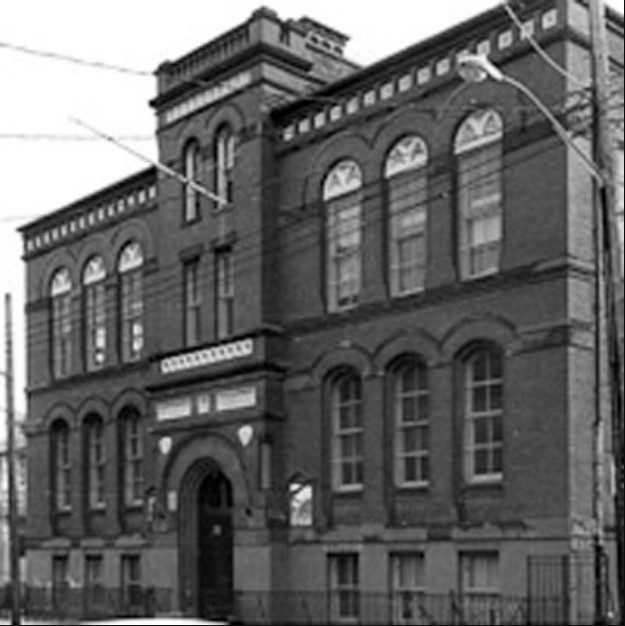 P.S. 65K ("Public School No. 3," green arrow) on 1887 map; red=brick; yellow=wood frame building (Sanborn V. 8 p. 218)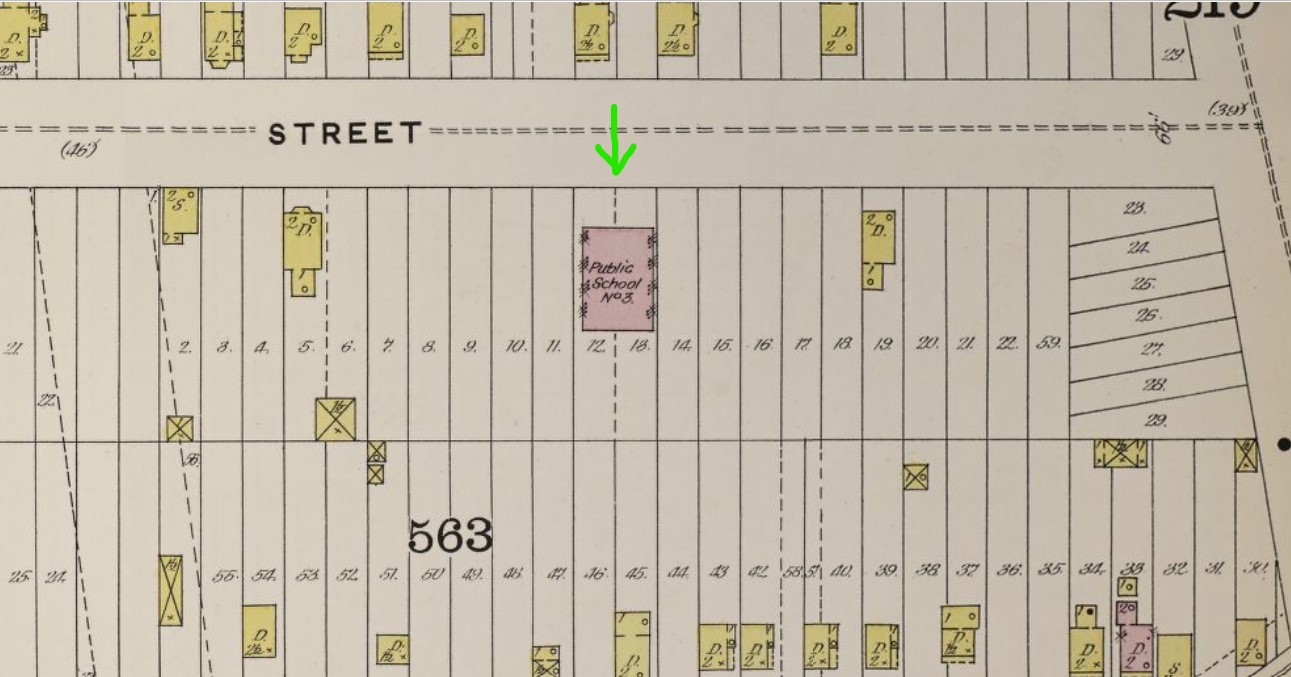 Backstory and Context
The Town of New Lots was formed from about six square miles of the Town of Flatbush in 1852 (the "Old Lots" were near the Village of Flatbush). This part of Brooklyn is now mainly in three neighborhoods: Brownsville, Cypress Hills, and East New York. Even earlier, in the 1740s, this portion of Flatbush was given its own school district ("District No. 2"). The first school, a small, one-story wood frame building, was constructed in the Village of New Lots near the New Lots Dutch Reformed Church (now in Brownsville; also a Clio entry). This school building was torn down in 1810 and replaced by a two-story wood-frame building; that building was torn down after the 1880s and has been replaced by a Sunday school building. A new school building for District No. 2 was constructed in the late 1840s on Vermont Ave. near Fulton Ave. in East New York. New York State passed an act in 1868 for construction of a school house for the upper grades in New Lots as Union District No. 2, in the Rural District of Kings County.
Population growth in New Lots called for a new school district, so District No. 3 was established from part of District No. 2. While waiting for a new school building, classes were held in the basement of the local Methodist Church. New York State passed an act in 1870 for erection of a school house in New Lots District No. 3. The red brick school building on Richmond Street in Cypress Hills was originally named "Public School No. 3." It was still called by this name on the 1887 Sanborn map (see the attached picture), before the building was tripled in size in 1889. There were around 3,000 residents of Cypress Hills by the mid-1880s, as the construction of a water supply system of miles of pipe from a reservoir was underway by the Long Island Water Supply Company. James Naughton, the Brooklyn Board of Education's Superintendent of Construction, was behind the enlarging of P.S. 65 in the late 1880s. Naughton was trained as an architect and designed dozens of the city's schools. The 1870 core of the school building was expanded to the front and the rear in 1889; by this time, New Lots had become part of the City of Brooklyn.
The Mothers Club of P.S. 65 rented a space of 25 by 100 feet next door to the school in 1901 to create a flower garden for the students. The club paid the rent and hired a man to maintain the garden in the summer months. In April 1914, the club planned to raise funds for the garden by hosting a party where euchre and pinochle would be played. The principal of P.S. 65 from 1909 to 1914, Miss Mc Kee, was giving a going-away reception by the Mothers Club and teachers in March 1914. Miss McKee took a job as principal of a new school in Brownsville, P.S. 173. Entertainment was provided at the reception in the kindergarten classroom by teachers, with Miss Barlow on the piano and Miss Carey reciting, before cake and coffee were served.
In November 1926, the Mothers Club at P.S. 65 raised funds for Bushwick Hospital to install more radio hookups connecting patients' beds to an expensive radio set installed recently at the hospital by a former superintendent, Dr. John A. Ferguson. Patients in eighty rooms were able to listen to the radio by adjusting a headset attached to the top of their bed. The club hoped to expand the radio listening equipment to more rooms. The club's president, Mrs. Glide, was helped by the school principal, Dr. Rebecca Palmland and a teacher, Miss Ethel Bellows to arrange a theater party in Manhattan at the 49th Street Theater. Dr. Palmland came to P.S. 65 in 1925 from P.S. 55, where she had served as assistant principal.
Public School 65's Little Red Schoolhouse became home to a charter school in September 2009, Achievement First East New York Middle School. Enrollment in 2021-2022 was about 250 in grades five to eight.
Sources
Achievement First. Achievement First East New York Middle School, Our Schools: New York Schools. January 1st 2022. Accessed April 23rd 2022. https://www.achievementfirst.org/school/achievement-first-east-new-york-middle-school/.
Anonymous. "East New York Chat." The Chat (Brooklyn) March 28th 1914, 12-12.
Anonymous. "East New York Chat." The Chat (Brooklyn) April 4th 1914, 12-12.
Anonymous. "Farewell to Dr. Palmland." Brooklyn Daily Eagle (Brooklyn) February 11th 1925. 14-14.
Anonymous. "'Radio' Theater Party." Times Union (Brooklyn) November 17th 1926. 14-14.
Calkins, Hiram. General Index of the Laws of the State of New York, from 1866 to 1870 inclusive. Volume III. Albany, NY. The Argus Company, 1871.
East New York Project, The. P.S. 65, The East New York Project. Accessed April 20th 2022. http://www.tapeshare.com/PS65.html.
NYC Landmarks Preservation Commission. Designation Report, Public School 65K, Brooklyn, N.Y. NYC landmarks. New York, NY. NYC government, 1981.
Stiles, Henry R. Proctor, L. B. Brockett, L.P. The Civic, Political, Professional and Ecclesiastical History...of The County of Kings and the City Of Brooklyn, N.Y., from 1683 to 1884. Volume I. New York, NY. W.W. Munsell & Co., 1884.
Image Sources
New York State Cultural Resource Information System (NYS CRIS): https://cris.parks.gov/

Library of Congress (LOC): https://www.loc.gov/item/sanborn05791_008/

Additional Information