Gaylord Opryland Resort & Convention Center
Introduction
Author-Uploaded Audio
The Gaylord Opryland Resort & Convention Center, better known as Gaylord Opryland, is a sprawling, state of the art resort located in Nashville, Tennessee. Originally the Opryland Hotel, the hotel opened in 1977 and was adjacent to the Opryland USA theme park and Grand Ole Opry. Gaylord Opryland consists of nine acres that holds indoor garden atriums, restaurants and bars, a spa, almost 3,000 rooms, and over 170 suites. At more than 750,000 sq. ft., there is plenty of space for business conventions and special events. Recognized as one of the largest hotels in the world, the hotel is currently owned by Ryman Hospitality Properties and is under the operation of Marriott International.
Images
Gaylord Opryland Resort & Convention Center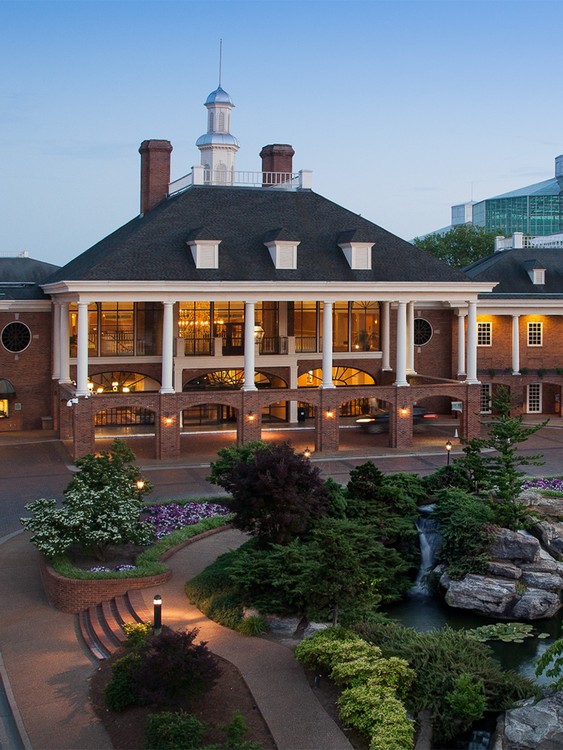 An early photo of inside the Opryland Hotel, ca. 1980s.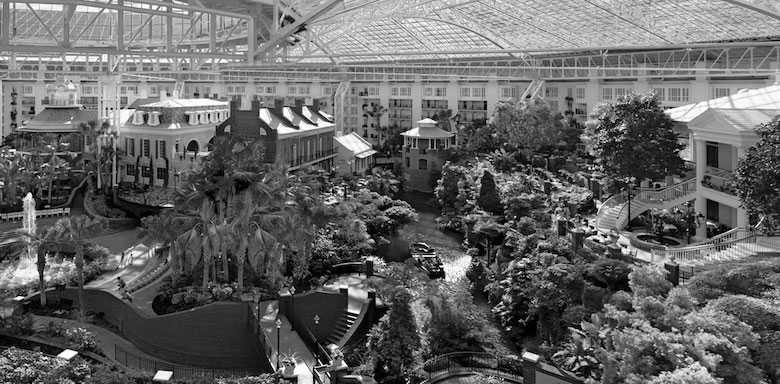 The Opryland Hotel was built adjacent to Opryland USA, a theme park that operated from 1972 to 1997.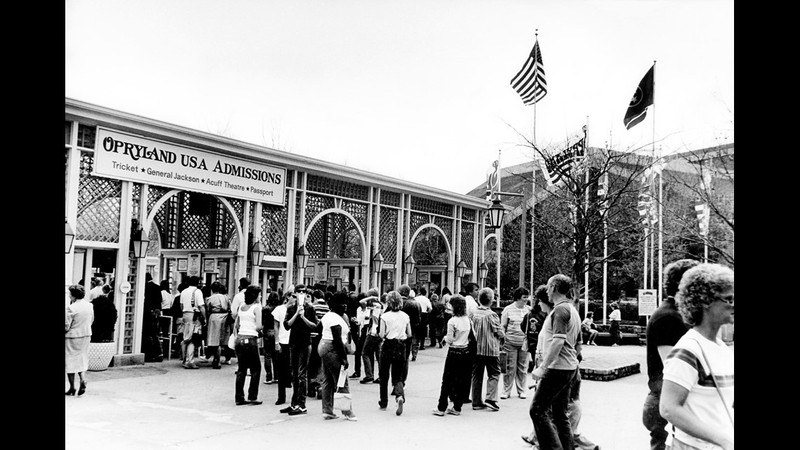 Opryland Hotel Postcard, ca. 1980s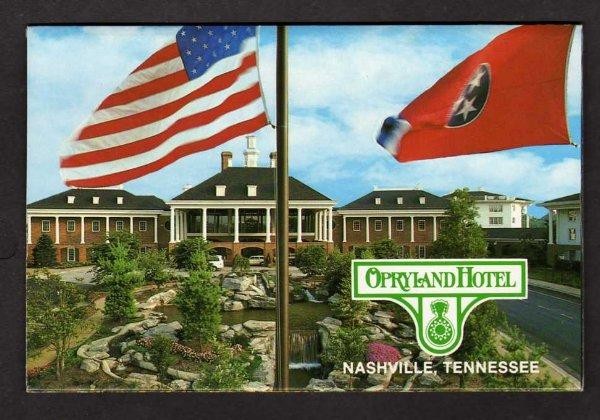 Gaylord Opryland has a few presidential suites, including this one, named after Porter Wagoner, who was important figure at the Grand Ole Opry.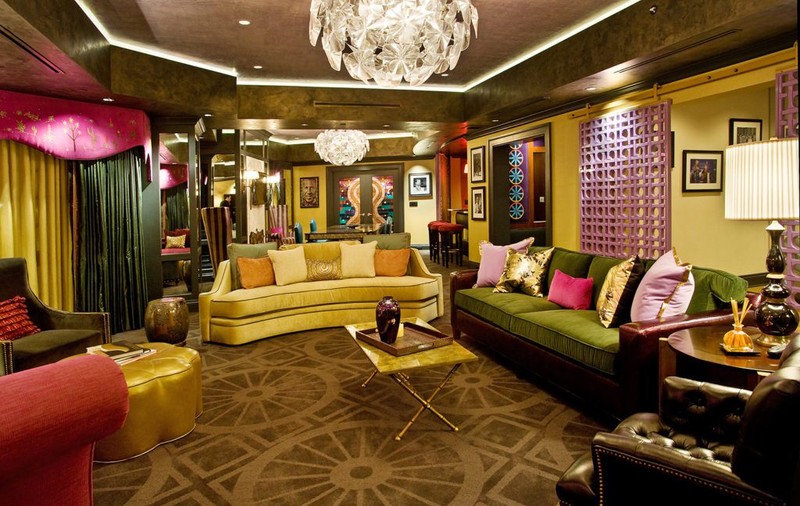 The Delta Atrium in Gaylord Opryland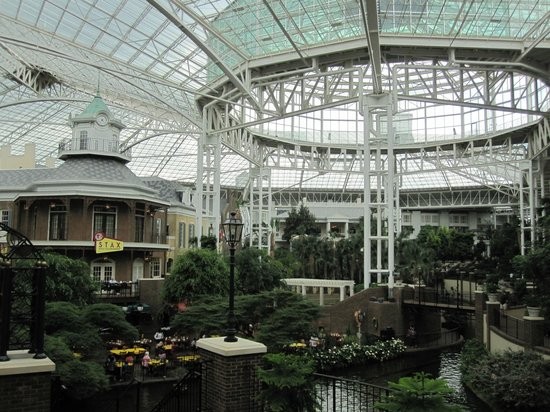 The interior of Gaylord Opryland after the catastrophic flood of 2010.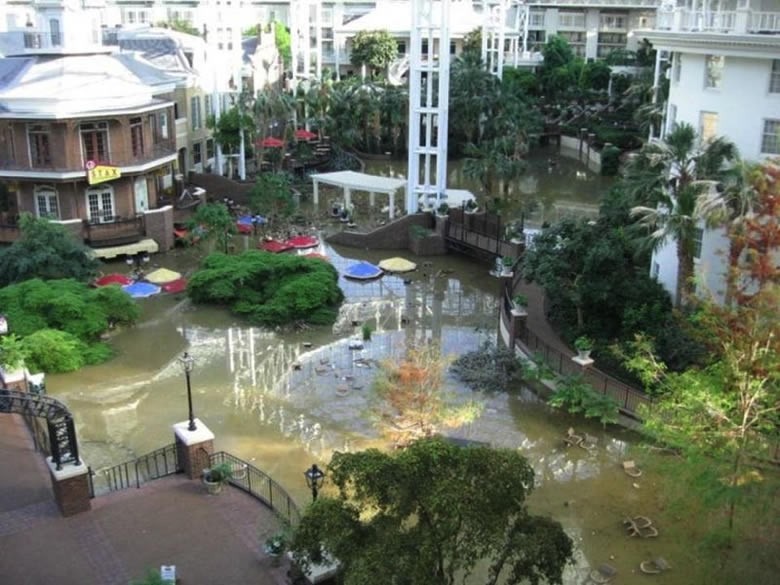 Christmas at Gaylord Opryland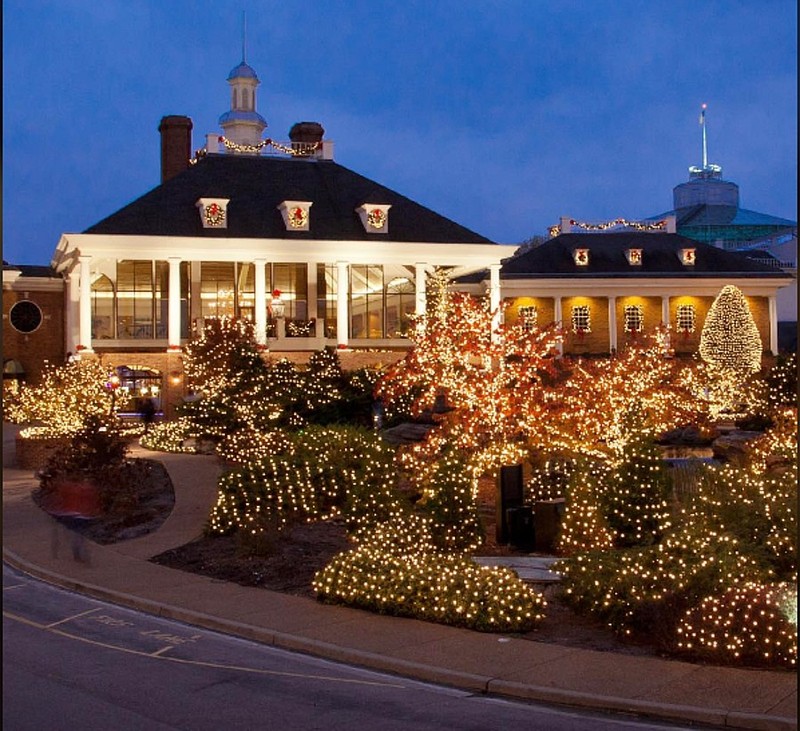 Backstory and Context
Author-Uploaded Audio
The picturesque Gaylord Opryland Resort & Convention Center, simply called Gaylord Opryland, is one of the largest hotels in the world and is located in Nashville. Originally called the Opryland Hotel, it opened with great celebration on Thanksgiving Day 1977. The hotel was designed by the architectural firm Earl Swensson Associates in the style of neo-Georgian Revival and was modeled after the Governor's Palace in Colonial Williamsburg. At the time of its opening, the hotel consisted of a grand ballroom, 580 rooms, and a pristine Tiffany-style chandelier in the Magnolia Lobby, which was reminiscent of a southern plantation's architecture.
The Opryland Hotel was built adjacent to the popular Opryland USA theme park that had opened in 1972, and the new Grand Ole Opry House, dedicated in 1974. By the early 1980s, the popularity of the Opryland Hotel and Opryland USA had skyrocketed, leading the hotel to undergo a renovation that added close to 500 rooms, new facilities for business conventions, and a lush garden conservatory housed under a giant skylight that held more than 10,000 plants. The late 80s saw the addition of two acres of property, 800 more rooms, a Cascade Atrium that held a waterfall, and 8,000 tropical plants.
Even when Opryland USA closed in 1997, the Opryland Hotel remained in high demand. In 1996, the hotel acquired 4.5 more acres, added 1,000 guest rooms, a massive ballroom, and numerous meeting rooms. The Delta Atrium, reflecting the architectural design of New Orleans' French Quarter and Mississippi River plantations, also opened at this time, offering guests the unique experience of taking a boat ride on the indoor river while watching a water show.
There are also stories of hauntings at this infamous hotel. Numerous encounters with a mysterious "Lady in Black" have been reported. It is thought the "Lady in Black" is Mrs. McGavock, whose family once owned the land the hotel sits on as well as thousands of more acres in Nashville. Staff and guests have reported seeing the woman, dressed in a long, Black Antebellum-style gown, in hotel rooms, hallways, and in stairwells. Her spirit also reportedly looms at the nearby Two Rivers Mansion.
In early May of 2010, a massive flood hit Nashville and caused extensive damage to Gaylord Opryland, with flood waters rising up to ten feet in some parts of the hotel. Another renovation took place with five new restaurants added and remodeled guest rooms. Just six months after the flood, Gaylord Opryland reopened. Today, the hotel has around 3,000 guest rooms, numerous restaurants, a luxury spa, and many more amenities. Golfers may enjoy a nearby golf course and the Grand Ole Opry and the Opry Mills shopping mall is adjacent. Gaylord Opryland is more than a premiere resort; it exemplifies the rich history of the South and the iconic music that made Nashville "Music City."
Sources
Gaylord Opryland Resort & Convention Center, Marriott. Accessed May 1st 2022. https://www.marriott.com/en-us/hotels/bnago-gaylord-opryland-resort-and-convention-center/overview/.
West, Carroll Van. Opry House and Opryland Hotel, Tennessee Encyclopedia. March 1st 2018. Accessed May 1st 2022. https://tennesseeencyclopedia.net/entries/opry-house-and-opryland-hotel/.
Raven, Robin. The History of Opryland Hotel, USA Today. April 24th 2018. Accessed May 2nd 2022. https://traveltips.usatoday.com/history-opryland-hotel-53488.html.
The Ghosts of the Gaylord Opryland Resort, Ghost City Tours. Accessed May 3rd 2022. https://ghostcitytours.com/nashville/haunted-nashville/haunted-opryland-resort/.
Image Sources
Ryman Hospitality Properties

Haunted Rooms America

9News

HipPostcard

D.F. Chase, Inc.

TripAdvisor

Auburn University College of Liberal Arts

Everything Nash

Additional Information