New Amsterdam Theatre
Introduction
The New Amsterdam Theatre is one of several Broadway theaters in Manhattan's Theater District. Opened in 1903, the New Amsterdam saw major popularity, but it did suffer financial troubles and closed several times following the Great Depression. The New Amsterdam is currently leased by The Walt Disney Company and is the premier location for watching Disney-based Broadway shows. Popular performances at the New Amsterdam Theatre include Lion King, Aladdin, and Mary Poppins.
Images
The New Amsterdam Theatre in 2011.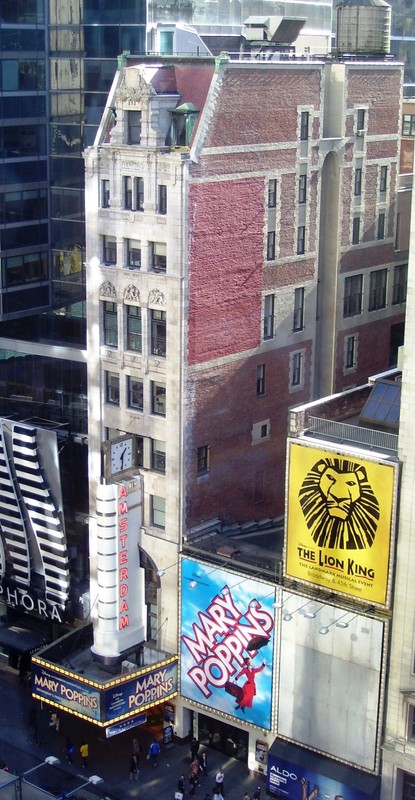 A view of the New Amsterdam in 1905.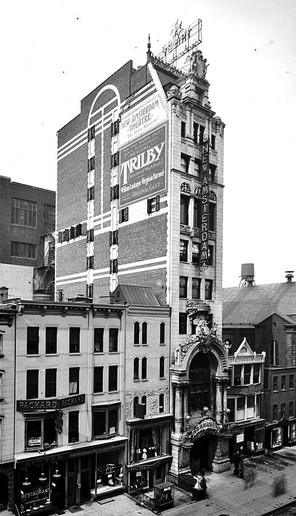 Backstory and Context
In 1902, construction on the New Amsterdam began, making it a contender for the oldest surviving theater in Broadway. The Theatre was designed by Henry Hertz and Hugh Tallant, an architectural firm famous for their designs of theaters, in an Art Nouveau style. Construction on the New Amsterdam lasted until 1903, and on its opening day it put on a performance of A Midsummer Night's Dream. For decades, the New Amsterdam was immensely popular, showcasing comedies, tragedies, and all other sorts of theatrical performances. It even hosted shows some considered racier in the rooftop theatre of the New Amsterdam. Though the New Amsterdam was immensely popular, its success did not last forever.
As the Great Depression pressured the United States, the New Amsterdam closed in 1936 due to financial difficulties. A revival was attempted in 1937 with limited productions, but it was not enough, and the New Amsterdam was made into a movie theater, and its first film was, ironically, a production of A Midsummer Night's Dream. The New Amsterdam continued to show films for decades as the building itself deteriorated, and the Theatre switched hands several times in the following decades. However, as Times Square was undergoing redevelopment, Walt Disney CEO Michael Eisner took notice of the New Amsterdam and resolved to have it restored to its former glory. It was re-opened on May 18, 1997, with a concert performance of King David, but it was not until November 13 of the same year that the New Amsterdam received rave reviews for its production of The Lion King. Since then, the New Amsterdam has continued to delight theatre-goers with its Broadway performances.

Sources
"History." New Amsterdam Theatre. Accessed Web, 5/12/17. http://www.newamsterdamtheatre.net/history.htm.

"New Amsterdam Theatre." Playbill. Accessed Web, 5/12/17. http://www.playbill.com/reference/theatre_info/new-amsterdam-theatre-34725.


Additional Information