The National Building Museum
Introduction
The National Building Museum is dedicated to educating the public about "the history and impact of the built environment" through exhibits on engineering, design, and architecture. The Museum opened in 1985 in what was once the Pension Bureau building, which is located a short four blocks from the National Mall. Since its opening, the National Building Museum has hosted over 200 exhibits, and continues to entertain and delight visitors year-round.
Images
A view of the National Building Museum in the background.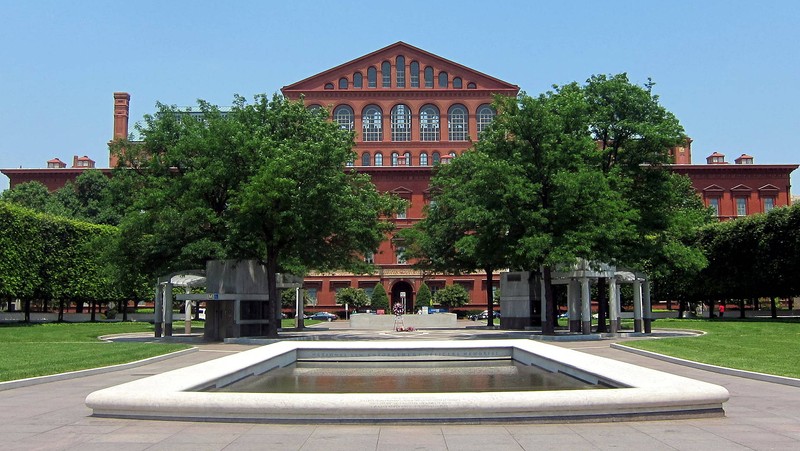 Backstory and Context
The National Building Museum holds its roots in what was originally the Pension Bureau building. Around 1882, the U.S. Senate approved a plan to construct a building to serve as the Pension Bureau headquarters. When planning was underway, architect and Army Quartermaster General Montgomery C. Meigs designed the building to server as housing for the Pension Bureau, as well as to make it a suitable space for political and social functions in the D.C. area. Construction began on the building in 1882 and was finished in 1887. The Building was considered by many to be a modern marvel of engineering and building design due to its design modeled after Roman palaces, as well as its architectural integrity that allows for constant use of natural light and ventilation.
The building was used as office space through the 1960s, though the building fell into disrepair as the years weighed down on it. The government considered demolishing the building, but preservationists fought to keep the building alive, and as a result, architect Chloethiel Smith was commissioned to submit a report on alternate uses for the building. She submitted a report in 1967, stating that the building could suitably and rather fittingly be converted into a museum for the art of building. Soon after, the building was placed on the National Register of Historic places in 1969, and in 1980, the building was commissioned by Congress to undergo the transformation into the National Building Museum. After years of restoration, the Museum opened in 1997, and has been a hit ever since.

Sources
http://www.nbm.org/about-us/about-the-museum/ http://www.nbm.org/about-us/about-the-museum/our-historic-building.html
Additional Information