Ilwaco Mill and Lumber Company 1903
Introduction
The Ilwaco Mill and Lumber Company was founded in 1903 and was once a primary business in Ilwaco. Logs were floated across Shoalwater (Willapa) Bay to Nahcotta and brought into the mill by the local IR&N Railroad. The mill closed in 1936, after the death of one of its founders Charles Rogers. At that point, large companies were buying up timberland and the railroad was gone, making the mill financially obsolete.
Images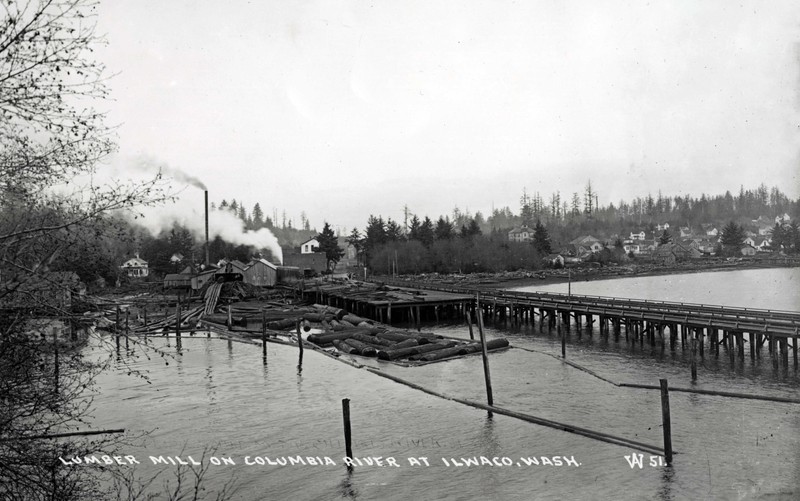 Train on dock with logs at Ilwaco lumber yard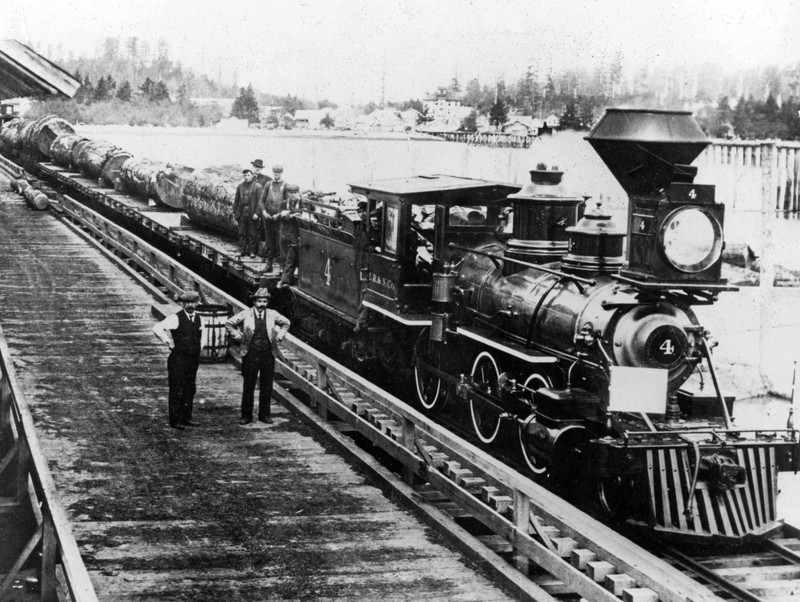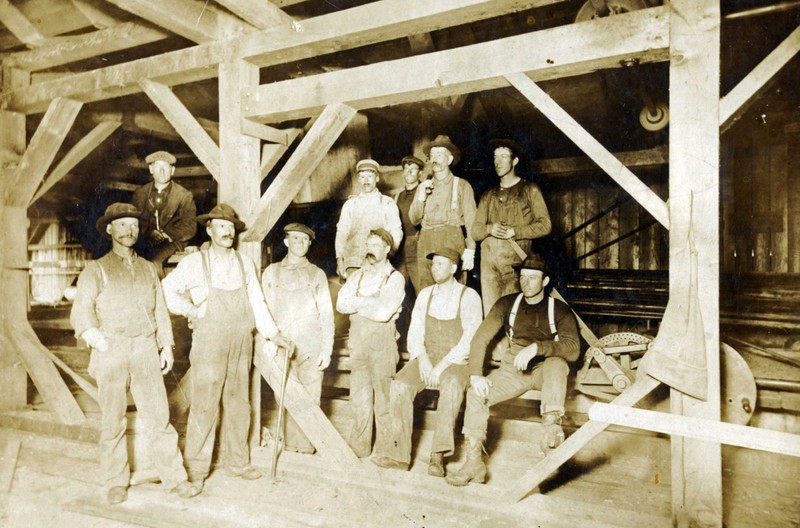 Ilwaco Mill and Lumber Co.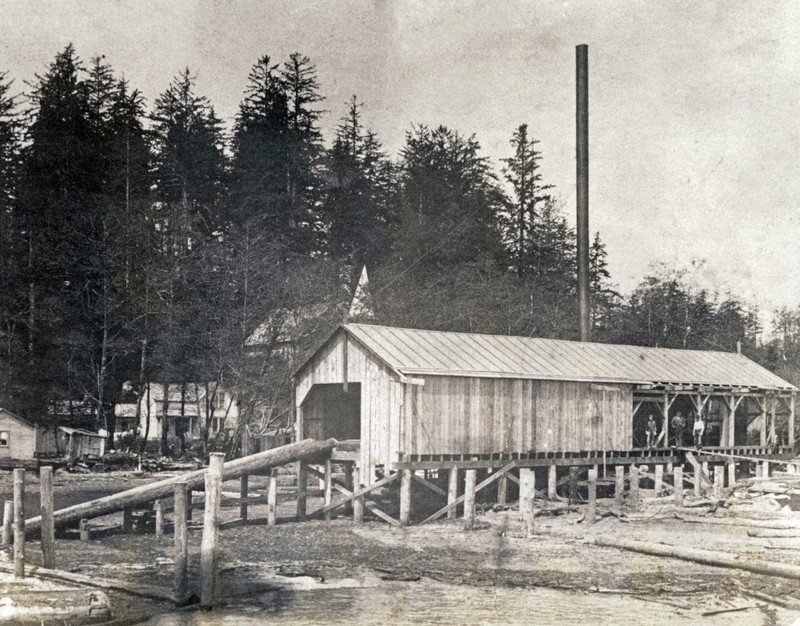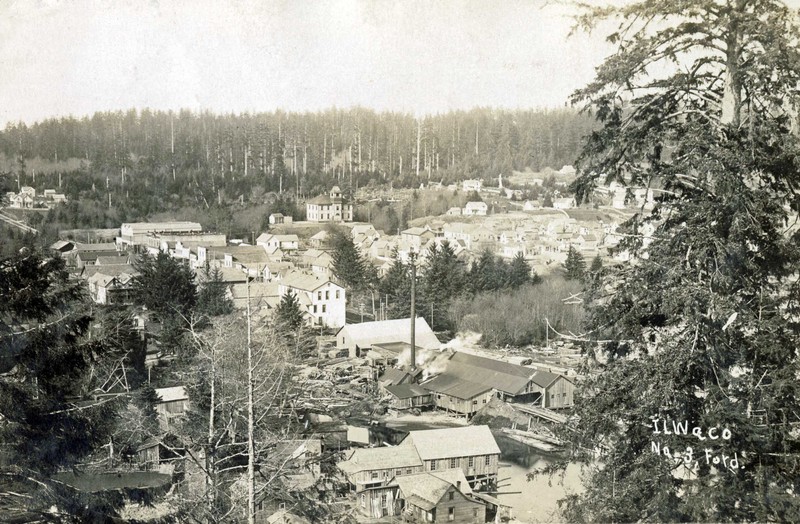 Office of Ilwaco Mill and Lumber Co.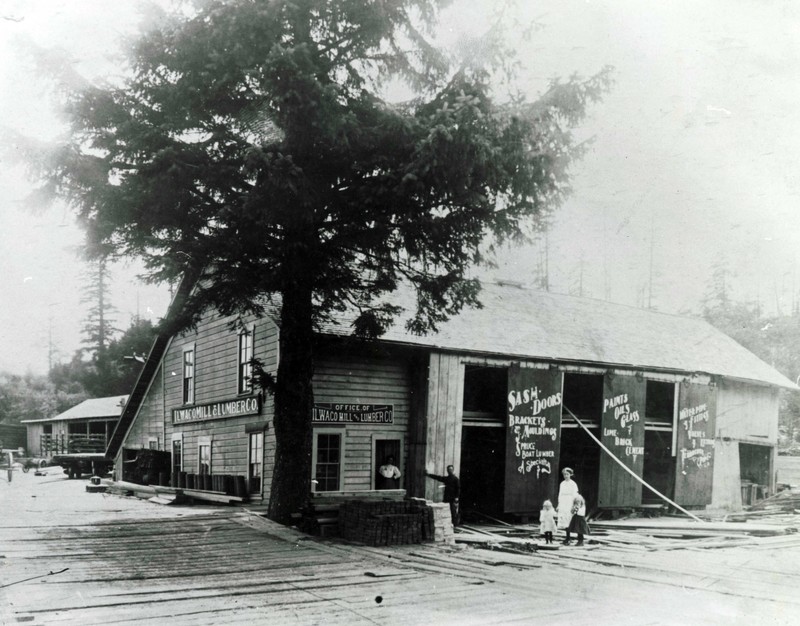 Ilwaco Mill and Lumber Co.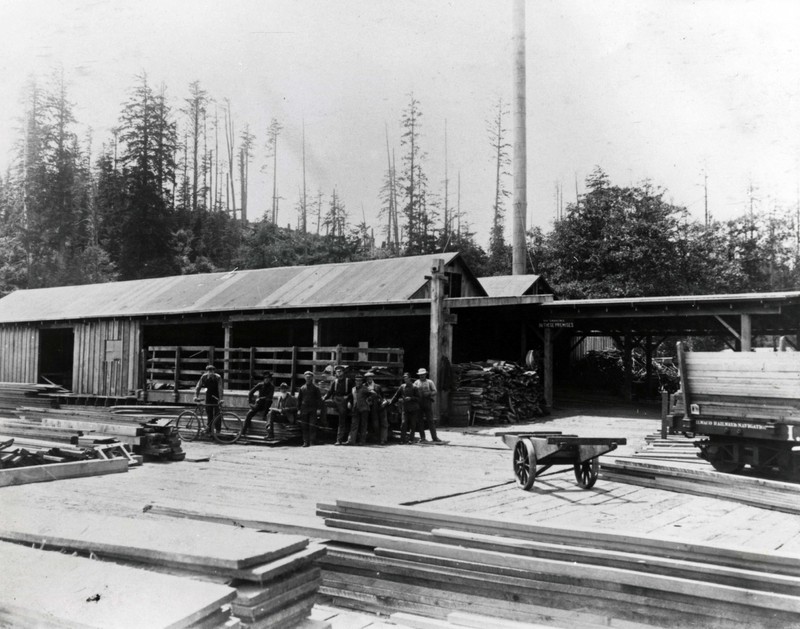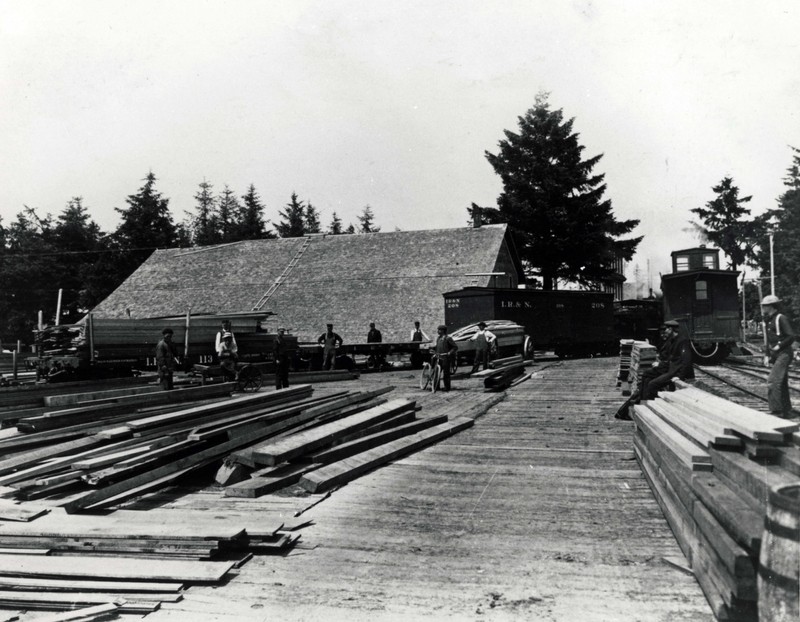 Backstory and Context
In 1903, the Ilwaco Mill and Lumber Company was organized with $5,000 by a group of local businessmen. George Colwell was designated as President, Orin W. Heath, Vice President, Charles F. Rogers, Secretary and Manager, and Ed A. Woods, Treasurer. Their goal was to build a sawmill, planing, and shingle mill, and install a dynamo to light both the mill and the Town of Ilwaco. The new mill was to be located at the end of First Street next to the railroad dock on Baker's Bay.
The Ilwaco Mill employed up to 25 people and in the beginning, operated a 12-hour shift. In order to have enough light to operate long hours year round, they wanted to install a large dynamo to provide electricity to the mill. They also wanted to sell electricity to the town of Ilwaco and provide power to those businesses and homes that wanted it. The dynamo was finally installed in 1908 allowing the mill to stay open after dark. Even after the mill had electricity, much of the equipment continued to be operated by the steam boilers fueled by sawdust and leftover cuts.
Fir and Spruce logs were brought in by railroad from around the bay through Nahcotta and in log rafts pulled to the mill from upriver by tugs. The tugs would haul them as far as McGowan's Ilwaco Cannery then a smaller boat would pull the rafts over the shallow water to the mill. Customers could also bring their own logs to be cut. This was done on a 50/50 basis. The customer would get 50% of the lumber and the mill would retain 50%, which they could then sell to other customers. The Ilwaco Mill continued to operate until the death of Charles Rogers in 1936. Large corporations were buying up timberland, the railroad was gone, and the economics of operating the mill was difficult. The site became the location of the Ilwaco Boat Works and is currently part of the Port of Ilwaco boat storage and operations.
Sources
Source: CPHM Research Files
Image Sources
CPHM Photo Archive - 1985.113-171.176-3d

CPHM Photo Archive - 1985.113-171.176.3a

CPHM Photo Archive - 1986.183-171.240b

CPHM Photo Archive - 1986.174-171.238

CPHM Photo Archive - 1992.050.012

CPHM Photo Archive - L1984.116.003

CPHM Photo Archive - L-1984.116-11.73e

CPHM Photo Archive - L-1984.116-171.73d