Residential Ilwaco ca. 1910
Introduction
As you walk along Myrtle Street to Lake Street, you will be on one of the many residential streets in town. There were two churches and many wonderful homes located here. Wooden sidewalks made walking easier especially in the winter when the streets turned to mud.
Images
Lake Street, Ilwaco. Picturing the Methodist Episcopal Church.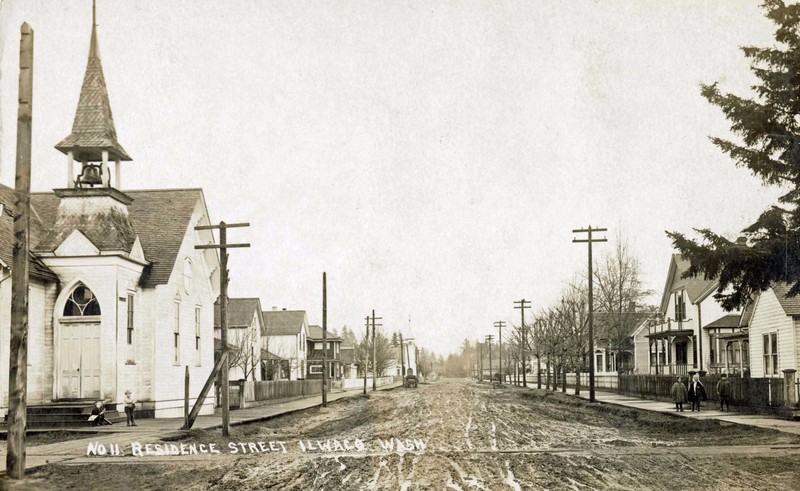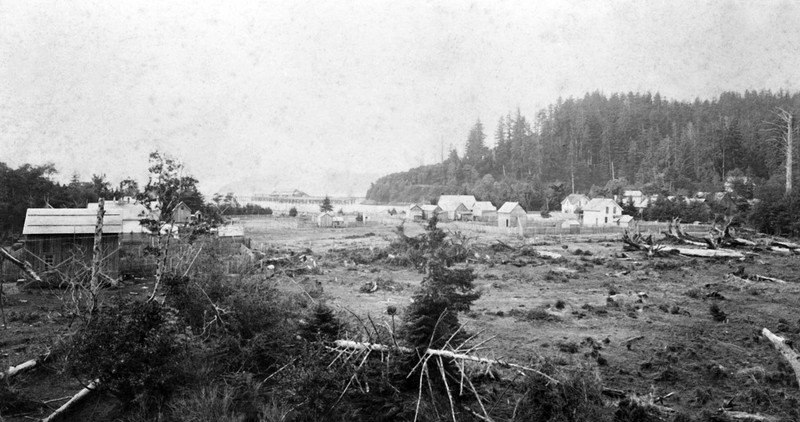 Ilwaco from the hill. Ford photo.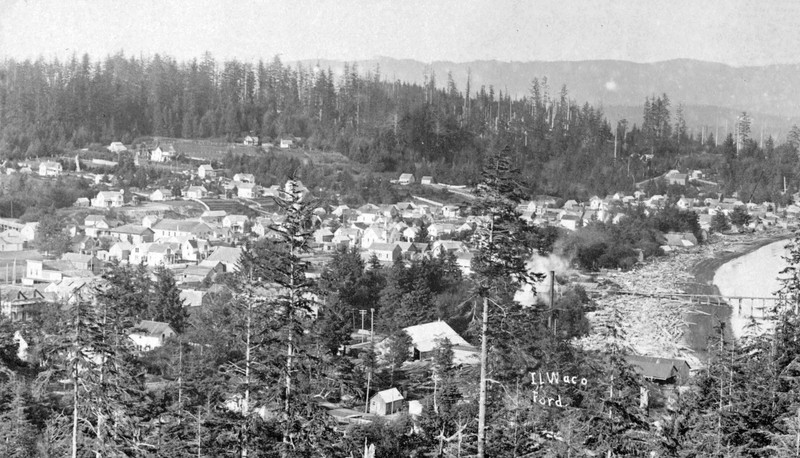 Colbert House with people on porch, Ilwaco.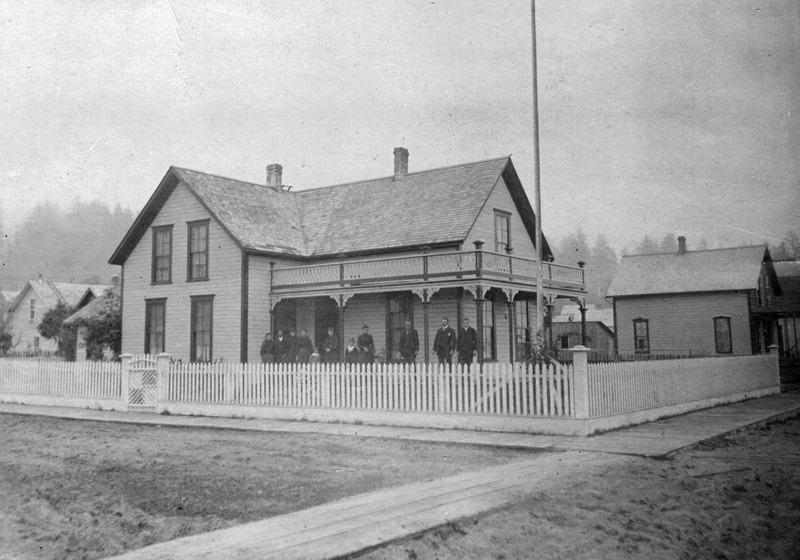 Colbert House with people on porch, Ilwaco.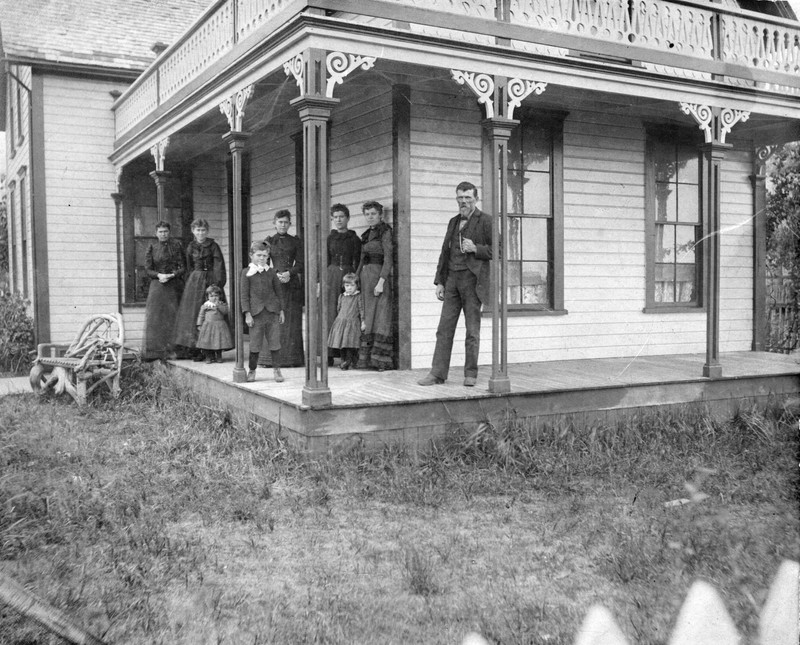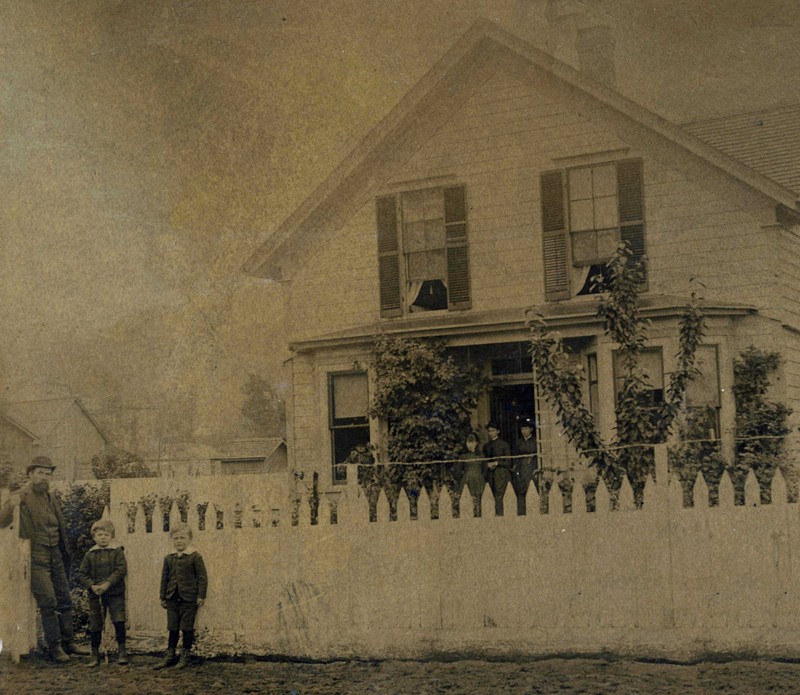 Backstory and Context
Unity (Early Ilwaco)
The community of Ilwaco was formerly known as Unity. It was the most southwesterly post office in the state of Washington on Baker Bay when it was established on May 11, 1868. Initially called Unity in celebration of the conclusion of the Civil War, the town was known commonly as Ilwaco after Elowahka's Jim, son-in-law of hereditary Chinook Chief Comcomly (1760s?-1830). Comcomly had exchanged gifts with Captain Robert Gray in 1792 and met Lewis and Clark in 1805. The town plat, filed in 1876, used the name Ilwaco, and at that time the post office was also renamed. Ilwaco was incorporated on December 2, 1890.
The first donation land claim in what is now known as Ilwaco was taken up by Captain James Johnson, a Columbia River Bar pilot who arrived there in 1845. In 1850, he built a house and lived there with his family, until he, unfortunately, drowned while crossing the river.
In 1859, Isaac Whealdon and his family arrived and bought the Johnson land claim. Another settler with a donation land claim near Ilwaco was J.D. Holman. Holman had been the proprietor of the Holman House, a hotel located at Pacific City. When the Government took over Pacific City in 1852 to establish Fort Canby, many residents moved to Unity (Ilwaco). Holman saw the potential in Ilwaco and went to work to develop it as a tourist and settlement destination. He platted the town, became its first Postmaster, and promoted both it and the fishing. Many settlers began to move into the town and surrounding area. There were jobs and opportunities for hard-working people.
Sources
Image Sources
CPHM Photo Archive - 1992.050.010

CPHM Photo Archive - 1988.43-171.362.128

CPHM Photo Archive - 1992.050.005

CPHM Photo Archive - 2001.012.501

CPHM Photo Archive - 2001.012.498

CPHM Photo Archive - L-2012.41.83