Ilwaco Hook and Ladder Company Organized in 1887
Introduction
Located at the SE corner of Spruce and Myrtle, the Ilwaco Volunteer Fire Department has had three buildings that have served the community for over 135 years. The first building was torn down and a new building erected that also housed the City Hall. That building burned in 2006. The building you see now was built after the fire.
Images
Ilwaco town hall with firemen in front.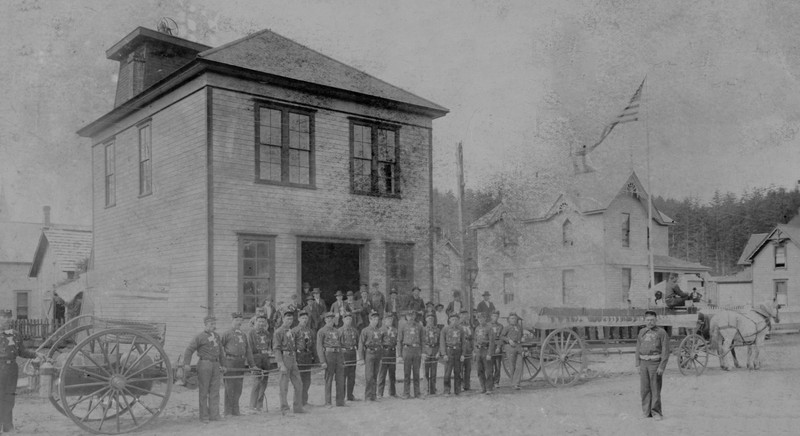 First pumper of Ilwaco Fire Deptarment (aka Mankiller)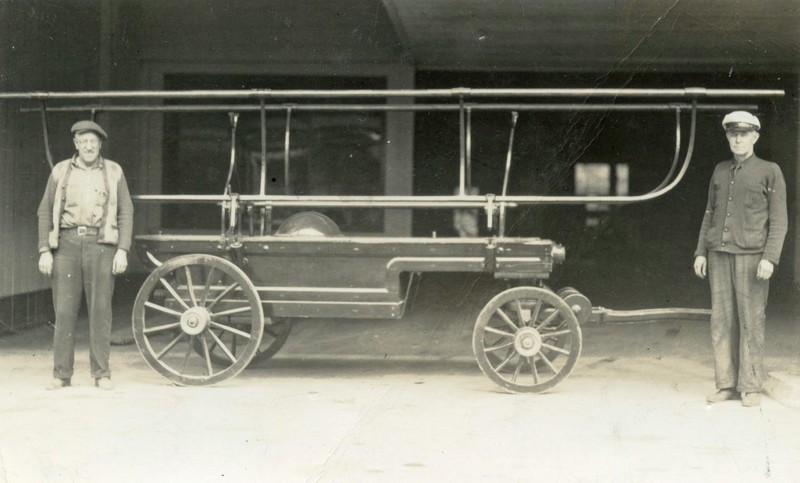 Volunteer Friemen of Ilwaco c. 1891.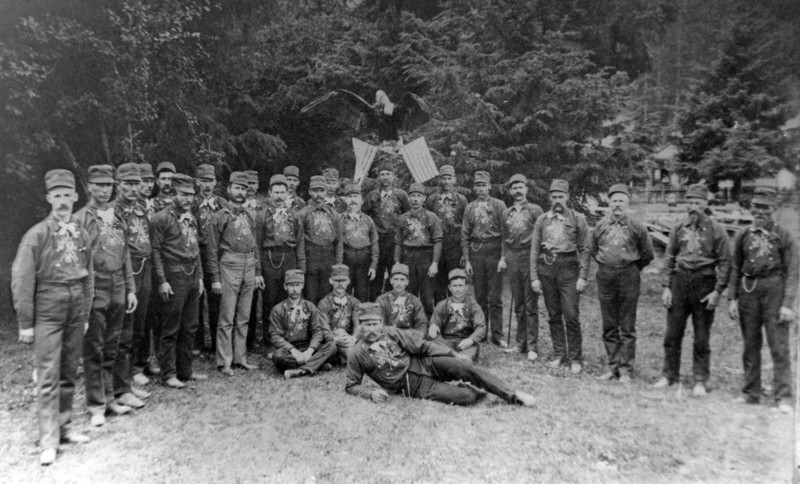 Ilwaco dog in clothes by firehall.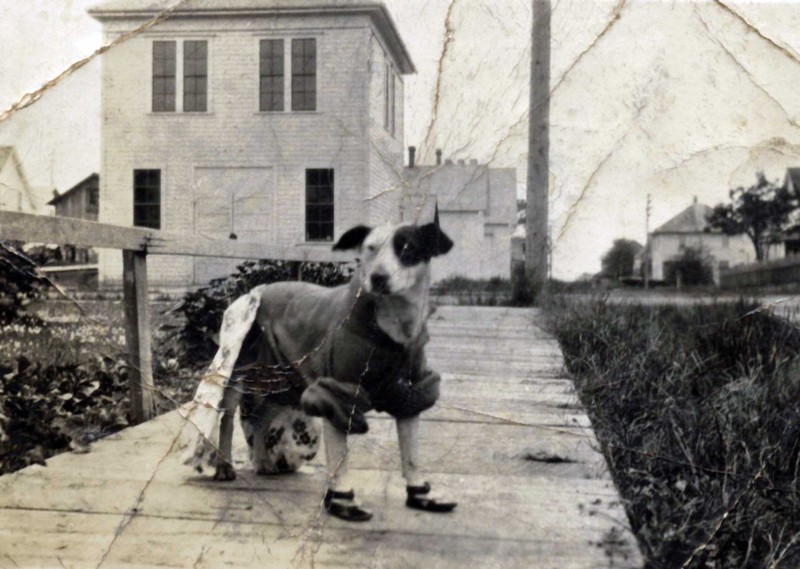 Ilwaco Fire Department with 1950s Ford Fire Truck.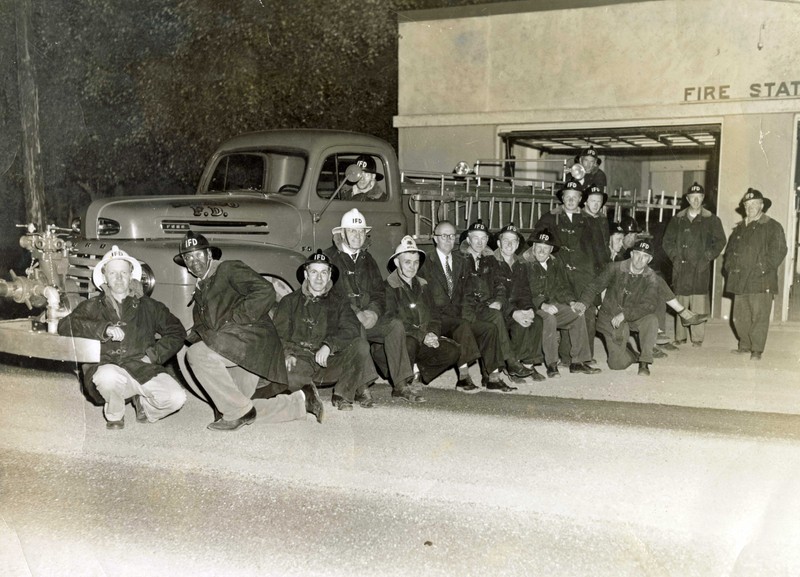 Ilwaco Fire Department c. 1945. Charles Fitzpatrick photo.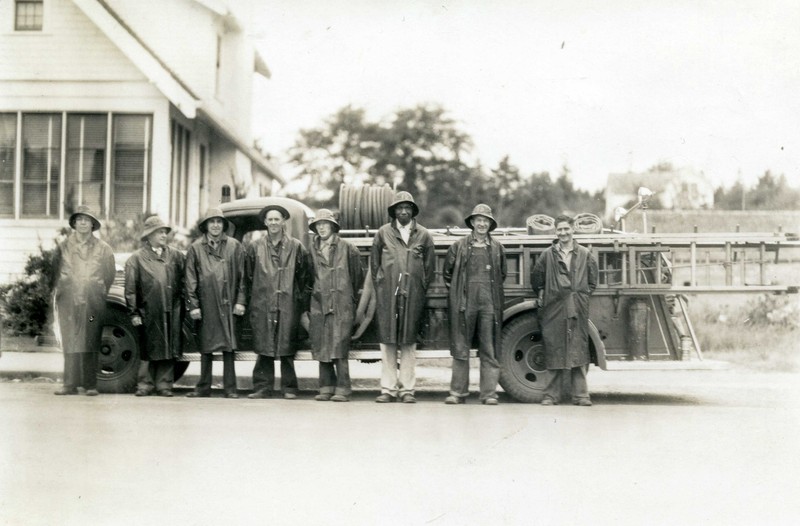 Ilwaco Fire Department c. 1945.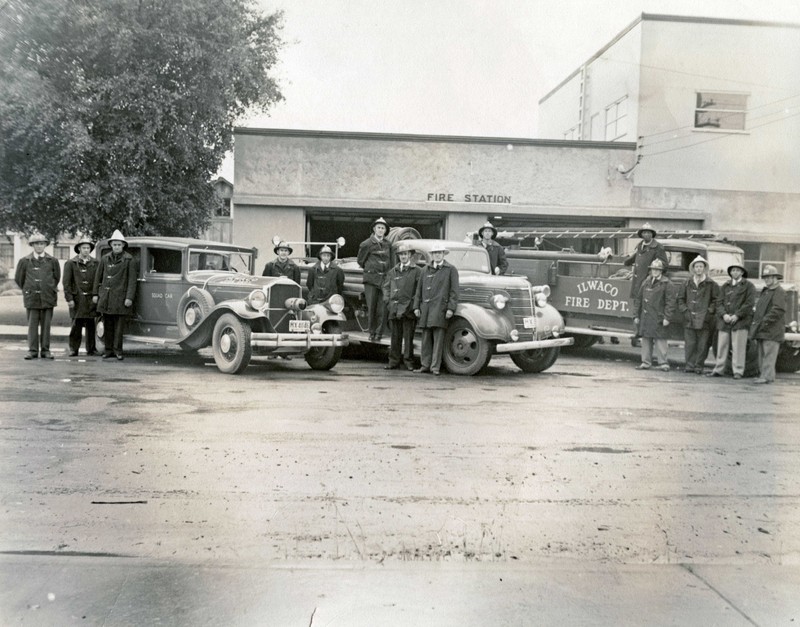 Ilwaco city hall and fire station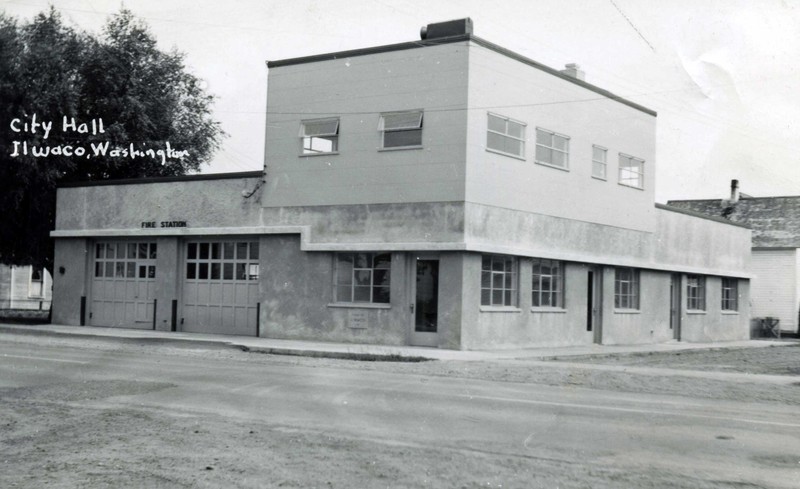 Ilwaco Fire Department Christmas Card.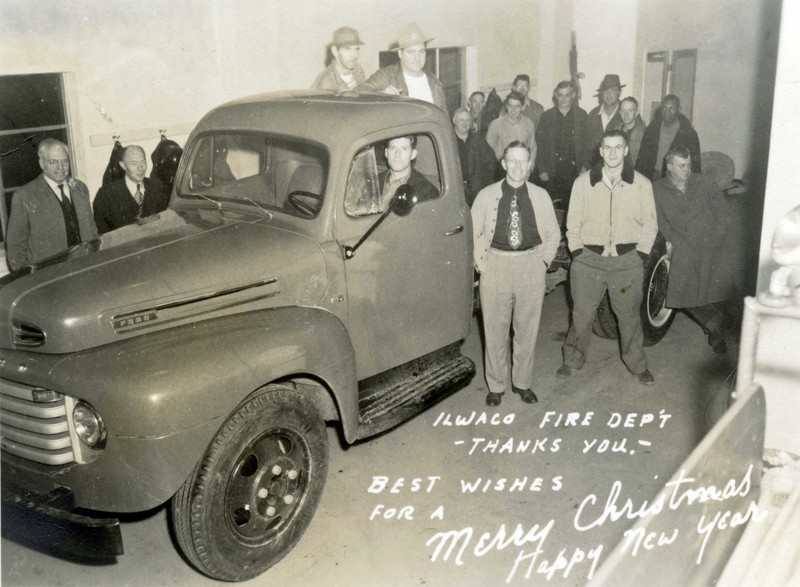 Volunteer Firemen, Ilwaco.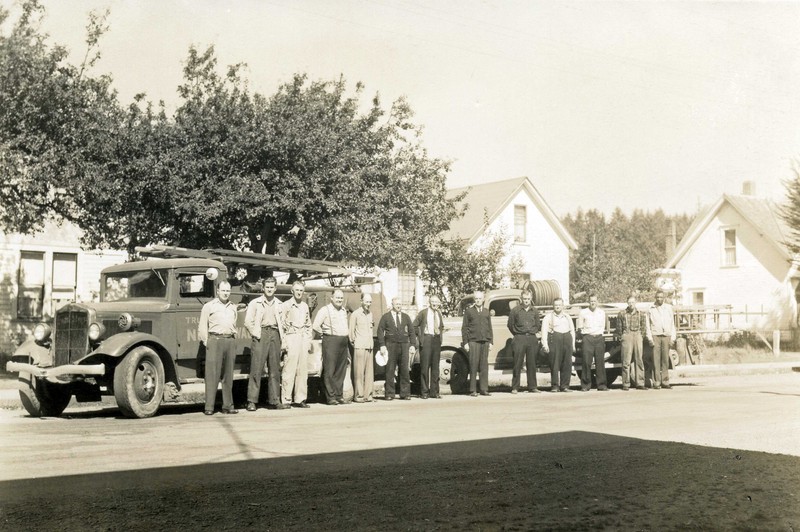 Backstory and Context
Ilwaco Fire Department, "Mankiller"
The Ilwaco Hook and Ladder Company was formed in 1887. This early volunteer Fire Department began with one cart that carried all of the fire equipment consisting of a 75-gallon chemical tank, hose, ladders and water buckets. Using this equipment made it difficult to fight extremely large fires such as the Seaborg Cannery fire of August 1898.  After that devastating fire, Jack Wilson who had been a soldier, remembered the old Army pumper located at Fort Canby. The huge pumper had worked well against the Astoria fire of 1883. It had been loaded aboard the steamer Washington that was tied up at the fort dock, taken across the river and assisted in saving a few of the remaining Astoria buildings. A year later, in 1899, Jack Wilson was able to purchase the pumper for the Hook and Ladder Company for $15.00.
This massive piece of equipment, an 1846 Jefferson Squirrel Tail Hand Pumper, was dubbed the "Mankiller" by those who operated it. It was built in New York, where it was used until after the Civil War. It then came to the west coast on a sailing ship around Cape Horn to serve at Fort Canby. The horse-drawn pumper was a plunger-type having four-inch suction and two and a half-inch discharge hose. It took sixteen men (eight on each side) to pump and operate it. It pumped by pushing up and down one handle at a time pushing the water from the source through the hose.
The City of Ilwaco dug three cisterns to allow the pumper access to water for fighting fires. These cisterns along with various creeks provided a good water supply for the town. The last time the "Mankiller" was used was in 1920 when the Ilwaco Light and Power Company building caught fire. The fire was put out using water from Seaborg Creek. The old "Mankiller" pumper said to be the oldest of its kind in the Pacific Northwest, can still be seen at the Ilwaco Fire Department.
Sources
Sorce: CPHM Research Files
Image Sources
CPHM Photo Archive - 1988.107.004

CPHM Photo Archive - L 1984.239.013

CPHM Photo Archive - L2014.065.009a

CPHM Photo Archive - 1984.121.75a

CPHM Photo Archive 1988.103.020

CPHM Photo Archive - 2003.34.4

CPHM Photo Archive - 1990.34-171.146

CPHM Photo Archive - L-1984.239.001

CPHM Photo Archive - L-1984.239.009

CPHM Photo Archive - L2014.065.006