Rio Grande Depot (1910 – 1999) – Utah State Historical Society
Introduction
The Rio Grande Depot was constructed in 1910 by architect Henry Schlacks. At a cost of $750,000 to build, this depot was the Denver and Rio Grande Western Railroad's attempt to outshine and surpass nearby Salt Lake City Pacific Depot during a bitter war between rail tycoons, George Gould and E. H. Harriman. From 1986 to 1999 the depot served as Salt Lake City's Amtrak station, after which the tracks near the depot were permanently removed. The building itself now serves as the location of the Utah State Historical Society, housing their Division of Utah State History and the Utah Department of Heritage & Arts. Located in the grand lobby is the Rio Gallery, a free service to Utah artists and surrounding communities.
Images
The Rio Grande Depot was purchased by the State of Utah in 1977. It now serves as the location of the Utah State Historical Society, housing their Division of Utah State History and the Utah Department of Heritage & Arts.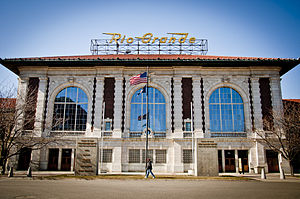 Construction of the Rio Grande Depot was met with difficulty and strife that resulted in slow progress. Communication between D&RG and their architect, Henry Schlacks, proved broken with both sides at odds on how to proceed.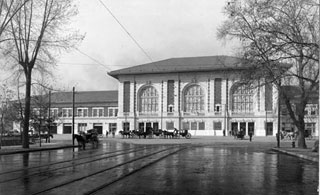 The depot opened Salt Lake City to a new influx of immigrants and also served as a central point in shipping soldiers off to war in both World War I and World War II.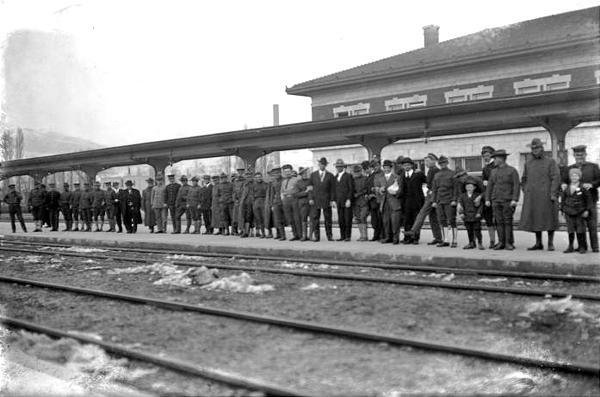 George Jay Gould was the son of famous financiers Jay Gould. Following in his father's footsteps he became a railroad baron, leading both the Denver and Rio Grande Western and the Western Pacific Railroads.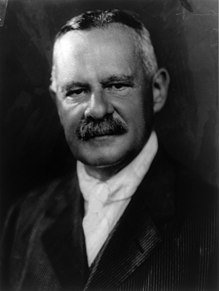 The Rio & Alice Galleries were established as a free service to Utah artists and surrounding communities. The Rio Gallery is located in the grand lobby of the historic Rio Grande Depot.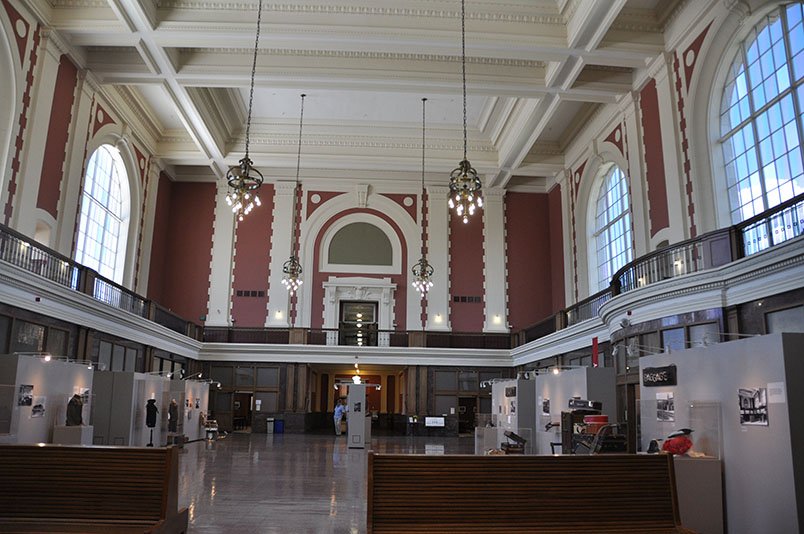 Backstory and Context
The presence of the Rio Grande Depot acts as a tangible monument of the conflict between George Gould and Edward Harriman and the highly competitive forces – both organizational and personal – that powered American railroads in the late nineteenth and early twentieth centuries. At the time, Utah was a key battleground for determining which of their transcontinental railroad networks would win out. Gould - who was responsible for the Denver and Rio Grande (D&RG) - had extended his reach to Salt Lake City with the intention of breaking up Harriman and the Union Pacific's (UP) monopoly on the Utah market. He also wanted to fulfill his vision of creating a second transcontinental line connecting the Mountain West with the Pacific Coast, something that the old Union Pacific-Central Pacific route had accomplished earlier in 1869.
It was onto this stage – dominated by a virtual UP monopoly – that the Denver and Rio Grande strode. To Union Pacific administrators, the D&RG was a late-coming intruder that had to be kept at bay. In Ogden, the UP won an injunction against its upstart competitor, barring the Rio Grande from completing a route into the city. According to historian Robert Athearn, D&RG employees "took matters into their own hands" cobbling together units of ties and rails then spiriting them into the forbidden city under the cover of a rainstorm. They had been able to complete nearly 200 feet of track before Union Pacific watchmen discovered the scheme and dispatched an engine to rip up the illegal tracks with a chain. 1
While the competition that took place within Salt Lake City was not as physical, it was no less intense. The tactics employed by both sides of this freight war were sly and cutthroat. When the UP reduced its fares in an attempt to freeze out the D&RG, they responded by offering free rides. Citizens of Utah welcomed this war between the railroads, benefitting from it many ways. Not only did the price of their fares lower drastically, but many closed mines were allowed to resume work thanks to the new demand for coal and resources. Construction within Salt Lake City and other parts of Utah also increased as a result of the rivalry between Gould and Harriman, providing jobs for architects and laborers.
In response to UP's construction of the Salt Lake City Pacific Depot, the D&RG began calling for a union depot on the city's west side. The project faced a lot of opposition because it meant that roads would have to be closed and new tracks would need to be laid. Many citizens believed that their properties would depreciate in value as a result and were concerned about the local implications of such a project. In the end, however, the prospect of big business won out and construction of depot was given the green light.
Progress on the depot was fraught with bumps and hurdles along the way. A main point of frustration came from Henry Schlacks, a designer of Gothic Midwestern churches, who had taken on the role of architect for the Rio Grande Depot.
Schlacks' relationship with the Denver and Rio Grande over the Salt Lake City depot was a complicated one, and sometimes devolved into full-blown antagonism, particularly when the subject turned to money. Not surprisingly, this unfortunate reality retarded not only the architect's submission of his plans, but the depot's construction as well […] The architect learned rather quickly how communication regarding a complicated project can breakdown --- and how reluctant the railroad was to part with its money. The first instance of miscommunication had to do with the scope of the project and Schlack's payment for it. DRG officials claimed it was their understanding that Schlacks would take care of the entire project – from drawing up plans to the final supervision of the project – for 3 percent of the project's total cost. 1
This constant disagreement and continual limitations placed on Schlacks' vision may very well have resulted in the mixture of Renaissance Revival and Beaux-Arts styles that replaced his original "French Renaissance" imagining. Though gross overspending and massive debts eventually lead to Gould's loss in the war with Harriman, the Rio Grande stands as a beautiful and fascinating reminder of a bygone era when trains trailed chugged forward as the main mode of transportation.
Sources
1 Johnson, Brandon. One Building's Life: A History of Salt Lake City's Denver and Rio Grande Depot. Utah Historical Quarterly. Accessed February 02, 2018. http://utahhistory.sdlhost.com/#/item/000000033000227/view/8.

Denver and Rio Grande Railroad Station. National Register of Historic Places. Accessed February 02, 2018. https://npgallery.nps.gov/NRHP/GetAsset/f3b849f1-d7ff-487a-b83b-8f7816143dcc/?branding=NRHP.

Haddock, Marc. All aboard! Rio Grande Depot turns 100 this year. Deseret News. April 19, 2012. Accessed February 02, 2018. https://www.deseretnews.com/article/700025675/All-aboard-Rio-Grande-Depot-turns-100-this-year.html?pg=all.


Additional Information