Northwestern Hotel (1919) Avalon Music Centre
Introduction
Avalon Music Centre is listed on the National Register of Historic Places for its significance to Jewish and African American history. The building was completed in 1919 and opened as the Northwestern Hotel in that year. Hotel operator Sam Sternberg and his family operated the Northwestern as a Kosher hotel for Jewish travelers and often housed guests that were visiting the nearby Mayo Clinic. In 1944, Vern manning purchased the building and changed the name of the hotel from the Northwestern Hotel to the Avalon Hotel. During these years, the hotel continued to be open to African Americans and others traveling to Rochester and was the site of several local incidents related to the civil rights movement. The building was later the site of a music studio and its name reflects both the history of the former Avalon Hotel and the former music studios.
Images
The Avalon Music Building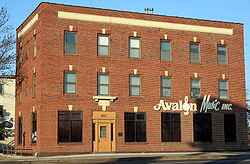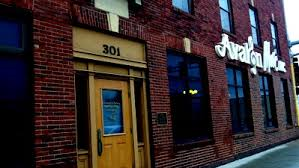 Backstory and Context
The former Avalon Hotel, now the Avalon Music Center, is included on the National Register of Historic Places for its centrality to Jewish and African American history. Opening in 1919 as the Northwestern Hotel by owner-operator Sam Sternberg, the Kosher hotel catered to Jewish travelers and was open to all. This gave the hotel a reputation for openness that led many African Americans to choose to stay here when visiting the nearby Mayo Clinic for medical treatment.
As the only hotel in the area to welcome African Americans before in the early 1900s, the Northwestern also accommodated traveling musicians and celebrities of color like Duke Ellington and boxer Henry Armstrong. The hotel also became a focal point of white supremacist opposition during the Civil Rights Movement and was even the site of a cross burning demonstration on August 23, 1963. Today, the historic building is home to offices and retail and bears the name of the Avalon Hotel which followed the Northwestern and was open to all.
Sources
http://en.wikipedia.org/wiki/Avalon_Music http://www.avalonmusicinc.com/catalog_pub/index.php
Additional Information