Samuel Starks House
Introduction
This site was home to Samuel Starks, a prominent African-American leader in the Knights of Pythias organization. Built in 1908 in what was largely a historically Black community, Samuel Starks was only able to live in the house for a number of months, for he died the same year the house was completed. Under his tutelage, Starks and the Knights of Pythias were successful in acquiring properties to assist Black business owners and entrepreneurs nationwide with aspirations of land ownership. Sam Starks became West Virginia's first Black state librarian in 1901. The house was severely damaged by fire in 1981, but was repaired and restored. It was placed on the National Register of Historic Places in 1988. In 2018 the abandoned home caught fire twice in a week, causing the structure to be demolished.
Images
Samuel Starks House in 2008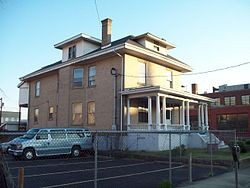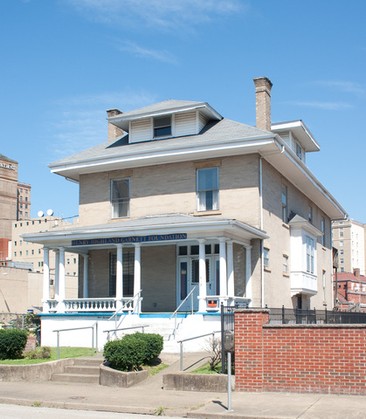 Backstory and Context
Samuel Starks was born in Charleston, WV in 1866, where he attended the local African American schools before working as a janitor in the Kanawha & Michigan Railroad offices. While being employed at the Kanawha and Michigan Railroad, he taught himself telegraphy with equipment he purchased with a friend. After a brief stint as a telegrapher in Charleston, Starks moved to Chicago to study stenography and bookkeeping. After working in Denver, Colorado, Starks returned to Charleston where he employed himself in various jobs such as working in a grocery store, a theater, and for a newspaper. The Majestic Theatre where Starks was employed was a moving picture and vaudeville theatre for African Americans, and was located at #14 Summers Street.
In September of 1892, Starks formed the West Virginia Grand Lodge of the Knights of Pythias, a leading secret African-American fraternal organization. Many African-Americans who were members of Pythias in the 1860s formed a Black only fraternity after the laws of the land "kicked them out" of the Pythias Order. The Black Knights of Pythias was an important social organization for African Americans that instilled a sense of community among Blacks and promoted business, social, and civic activities. Starks was grand chancellor of the state organization from the time of its inception. He became the national vice chancellor in 1897 and national supreme chancellor in 1901. The order's national membership grew from 9,000 to 146,869 under Starks' leadership as supreme chancellor. In 1905, the Charleston chapter of the Knights of Pythias built a structure to house their offices and lodge rooms, as well as a barber shop, grocery store, and pharmacy. The building was located on the corner of Washington and Dickinson Streets, but was later razed and is now the location of a parking lot.
The importance of southern West Virginia's African-American vote increased as the region's Black population grew in the 1890s and early 1900s. Politicians turned to various Black civic leaders to organize voters. In Charleston, Samuel Starks, along with James Hazelwood and Phil Waters, became significant players in the Republican Party. For his efforts, Starks was named state librarian by Governor A. B. White in 1901 and was reappointed by Governor William M. O. Dawson in 1905.
Starks died suddenly in 1908 of peritonitis at the age of 42. Many Black-owned businesses closed in his honor. Starks' funeral was attended by thousands and speeches were given by Governor Dawson and the West Virginia Colored Institute President J. McHenry Jones. In 1911, the Knights of Pythias placed a thirty-two-foot monument on his grave in Charleston's Spring Hill Cemetery. Starks' home on Shrewsbury Street is listed on the National Register of Historic Places.
Sources
Bickley, Ancella R. "Samuel W. Starks." e-WV: The West Virginia Encyclopedia. 08 December 2015. Web. 02 December 2016.
Hunt, Mary M.. National Register of Historic Places Nomination Form. August 17, 1987. Accessed December 02, 2016. http://www.wvculture.org/shpo/nr/pdf/kanawha/87002526.pdf. 
Additional Information