Starks Building
Introduction
The Starks Building, built in 1913 on the site of the former First Christian Church of Louisville, utilizes 14 stories of architecture and has over 395,505 square feet of space. Commissioned by local businessman John Starks Rodes, the building was designed by architects in the Daniel Burnham firm of Chicago. Listed on the National Register of Historic Places in 1985 for its historical contribution to the Lousiville business district as well as its showcase of Beaux Arts designs popular in Chicago, and in many major cities, at the beginning of the 20th century. Soon after its completion, the Starks Building has endured as a prominent visual and practical landmark of the Louisville downtown scene.
Images
Front facade of the Starks Building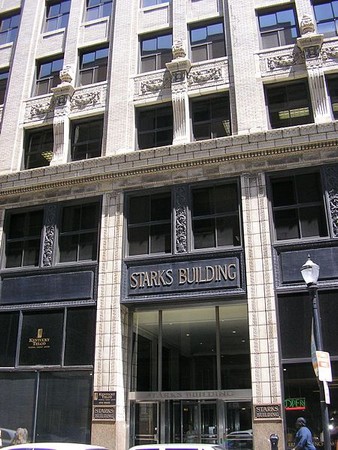 Penny postcard of the Starks Building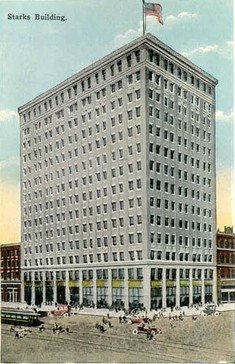 Side view of the Starks Building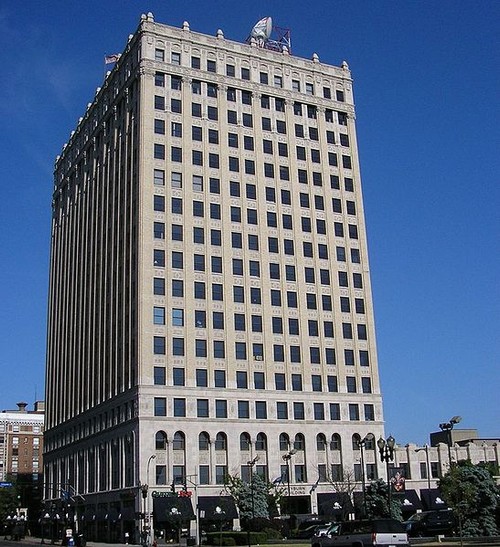 Backstory and Context
The Starks Building features the trademark Chicago School of architecture with Beaux Arts details, such as its unique cream-colored bricks. Various motifs can be found around the building, such as lion's heads, acanthus leaves, and urns. The combination of motifs and Chicago School details accurately exemplifies artistic expression at the turn-of-the-century.

The history of the Starks Building dates back to 1911, when local fine men's clothing tycoon John Price Starks commissioned the architectural firm D. H. Burnam and Company of Chicago to create a new edifice to house the Starks's retail concerns. It is important to note that D. H. Burnam and Company was, at that time as well as today, one of the leading promoters of the 1893 World's Colombian Exposition in Chicago.

A 1926 addition, designed by the successors of D. H. Burnam, the Chicago firm of Graham, Anderson, Probst and White, transformed the building into a rectangular style while enclosing one end of the building to create a "U" shape. This new addition created a natural central sun w and courtyard. Today the courtyard has been covered with a Plexiglas skylight.

A 1953 renovation added the first parking garage in the city. Currently, Hertz Investment Group owns the building and leases the spaces for offices, retail use, and dining.
Sources
National Register of Historic Places Inventory - Nomination Form, National Park Service, NPS Form 10-900, accessed September 12, 2015, http://focus.nps.gov/GetAsset?assetID=73351abc-49a6-41cf-94d8-ea7120ad1c8b
Additional Information