Final Resting Place of Bruce and Brandon Lee
Introduction
Bruce Lee died at the height of his fame in 1973, a month before what would become his best-known film, Enter The Dragon, was released. The Hong-Kong-born martial artist and film superstar chose Seattle for his final resting place, and here his remains are interred, alongside his son Brandon's, at Lake View Cemetery, north of Volunteer Park on Capitol Hill.
Images
Bruce & Brandon Lee's Grave Site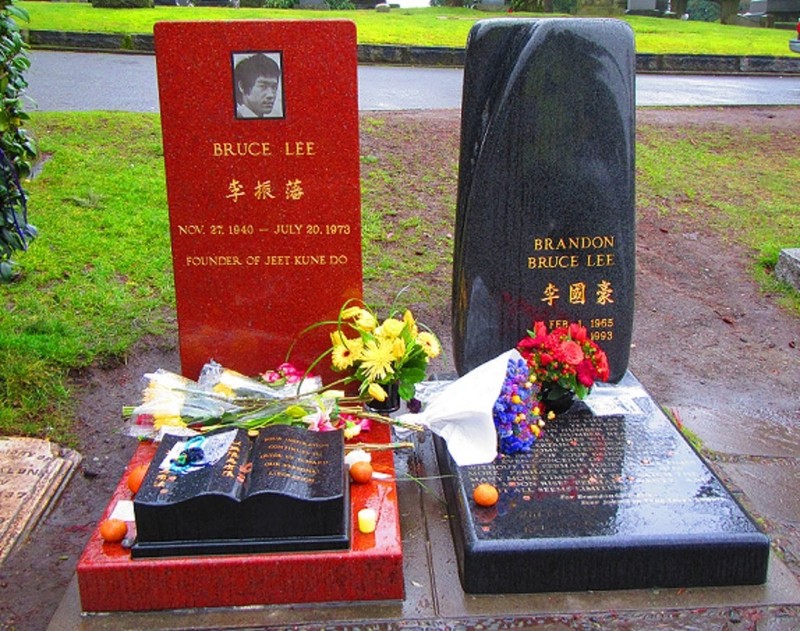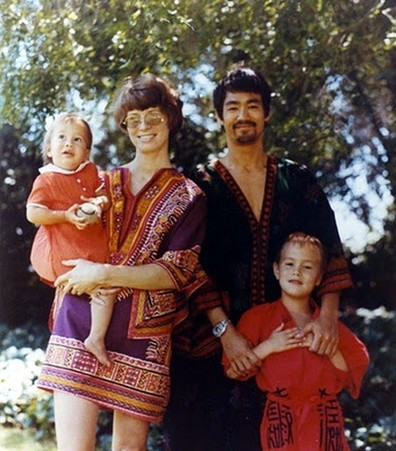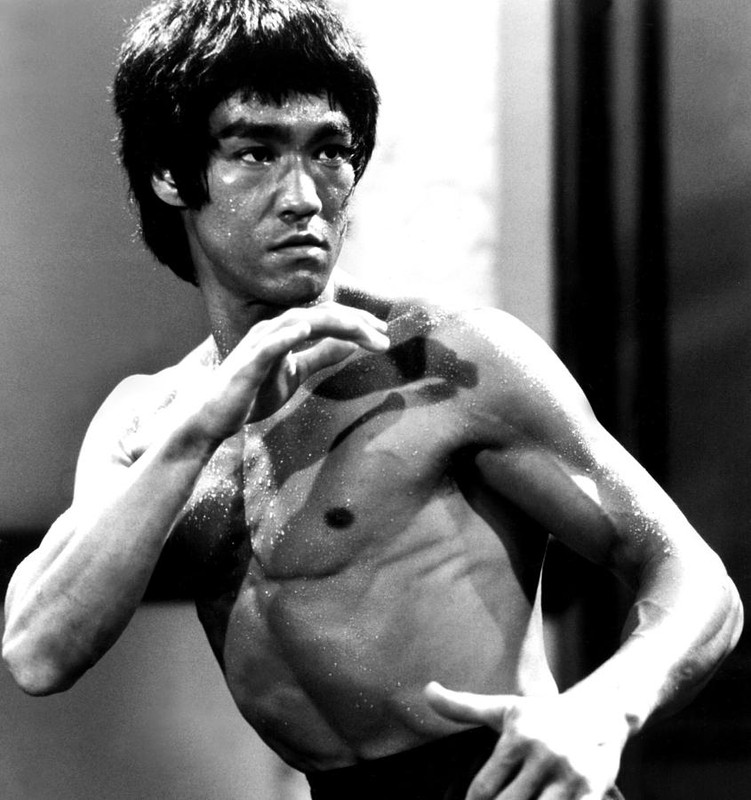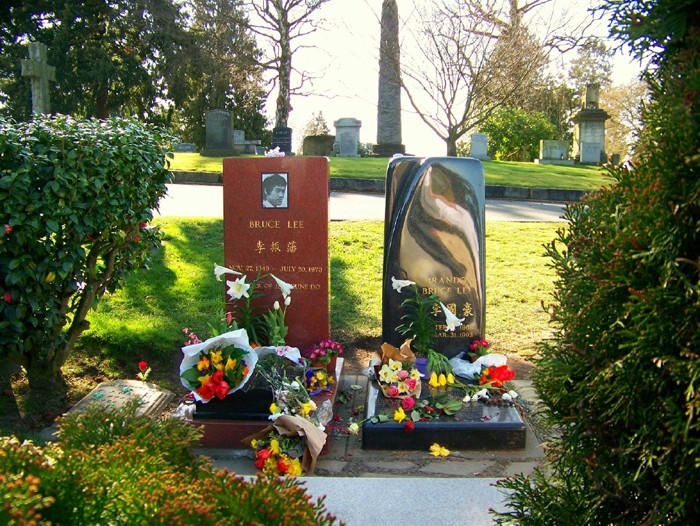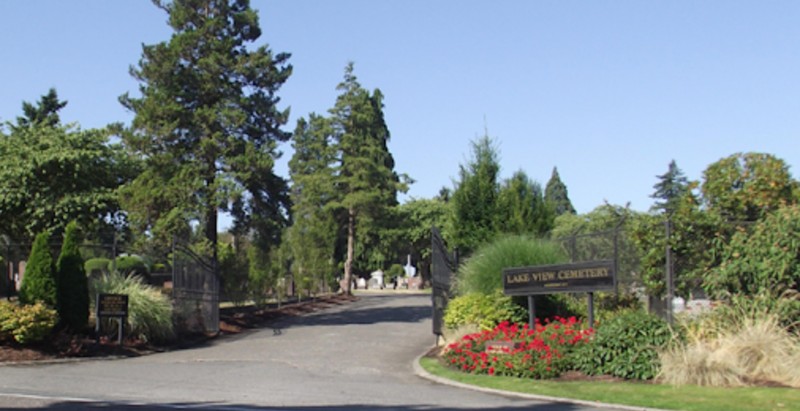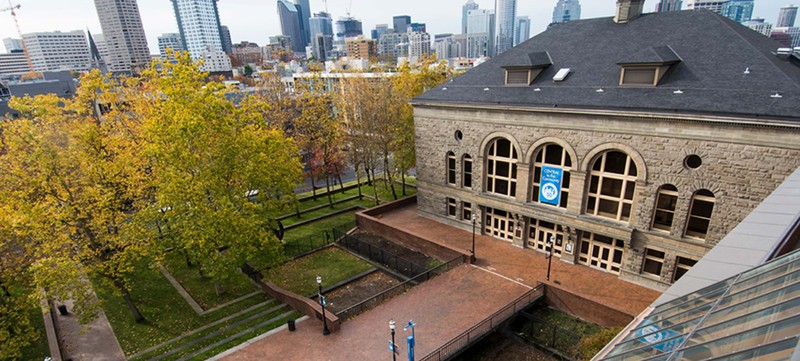 Backstory and Context
On top of Seattle's Capitol Hill, its densest and most vibrant neighborhood, the mix of nice brick apartments and boxy, angular condos meant to entice new wealth begins to give way to stately old homes as you proceed further north. Past Aloha Street, the homes grow broad and gracious until they yield to Volunteer Park: in grungier years, often connected with the drug and other illegal trade, but now, the backyard to some of Seattle's finest homes. Capitol Hill has become one of the most desired places to live in due to its beauty and convenient location. Further north, the green space turns from parkland into a cemetery.
As a measure of Lee's massive influence, the otherwise undistinguished gravestones are ranked #38 out of #459 things to do in Seattle on Tripadvisor; 1,127 reviews on Google Maps have awarded the memorial an average of 4.8 stars out of 5. Lee chose to be buried in Seattle because, according to his family, it was his "home," though he'd had numerous other homes in his short life; Lee's family also said they were most happy in Seattle. 
If Seattle was Lee's home, Capitol Hill was his neighborhood. He began and finished his high-school education on Capitol Hill at Edison Technical College (now Seattle Central College in Capitol Hill), and earned his diploma at age 20 in December 1960. Within a few short years, Lee's career would branch out in ways not even his famous father could have expected.
Bruce Lee came to Seattle in 1959 at age 18. He found a job as a live-in waiter at a Chinese restaurant in the International District (Ruby Chow's). After graduating from Central, Lee enrolled in the University of Washington in 1961, pursuing studies in drama and philosophy. Around this time, Lee opened his first school for martial arts, the Jun Fan Gung Fu Institute (First Hill), where he taught Wing chun, a Cantonese-style kung fu that requires flashy arm movements and strong legs. By 1964, sensing that his future might be more tied to martial arts than education, Lee dropped out of the UW and moved to Oakland.
Bruce Lee's move to Oakland was a kind of return. Lee was born in San Francisco, on November 27, 1940. When Bruce was three months old, his family moved back to Hong Kong after his father, a Cantonese opera star, had finished his American tour. As in America, being born into showbiz was the best possible thing for a young person's entertainment career: Bruce started appearing in films at 9, and, by the time he was 18, had been in 20 movies, at the height of Hong Kong cinema's international influence. 
However, child stars can sometimes have questionable mental health, and Lee first learned martial arts as a self-defence mechanism when caught in a fight. Several more street fights, including one where he beat up the son of a local triad, caused Bruce's father to fear for his safety, so he moved in with his sister in San Francisco in April 1959, then shortly thereafter to Seattle.
When Lee returned to the Bay Area in 1964, he opened another institute that taught martial arts. From there he started getting noticed by American show business. In the late 60s and early 70s, Lee appeared in several American productions, such as The Green Hornet, Here Comes the Brides, Blondie, and Longstreet. Feeling ambitious, Lee returned to Hong Kong to star in The Big Boss (1971) and Fist of Fury (1972), which catapulted him to international stardom. The critical and commercial successes Way of the Dragon and Game of Death came quickly thereafter, but Lee did not live to see Enter the Dragon, his most famous and successful movie, take the world by storm in 1973.
The cause of Lee's death is still disputed. Most sources blame cerebral edema, complicated either by heat stroke or an allergic reaction to the medicine administered by Hong Kong doctors. Lee's remains were taken to Seattle, where his gravesite attracts thousands of visitors a year. Time named Lee one of the 100 most influential people of the 20th century, and commemorations span the globe: an eight-foot statue in Hong Kong, a 5.5-foot statue in Bosnia and Herzegovina, and a 7-foot statue in Los Angeles. But only Seattle has Lee's remains.
Though Bruce Lee's life was cut tragically short, his legacy lives on: not just in his movies, which inspired future films from Rumble in the Bronx to Crouching Tiger, Hidden Dragon, but also the stereotype-breaking persona he presented to the world. Bruce Lee showed Western audiences that Asian men could be strong, masculine, charismatic sex symbols. For these reasons, many still travel to Lake View Cemetery to pay their respects.
Sources
"Bruce Lee Born." History.com. A&E Television Networks, November 13, 2009. https://www.history.com/this-day-in-history/bruce-lee-born.
"Bruce Lee." Bruce Lee. Accessed June 1, 2020. https://brucelee.com/.
"Bruce Lee Grave Site, Seattle." Tripadvisor. Accessed June 1, 2020. https://www.tripadvisor.com/Attraction_Review-g60878-d615595-Reviews-Bruce_Lee_Grave_Site-Seattle_Washington.html.
Google Maps. Google. Accessed June 1, 2020. https://www.google.com/maps/place/Bruce Lee and Brandon Lee Grave Sites/@47.6336649,-122.3174483,17z/data=!4m5!3m4!1s0x549014d8ec11959b:0xac6c348b38412c53!8m2!3d47.6337698!4d-122.3158282.
Robinson, Chetanya. "Bruce Lee's Grave: Seattle Landmark, Global Attraction." The Seattle Globalist, April 12, 2015. https://www.seattleglobalist.com/2015/04/10/bruce-lee-grave-seattle-landmark-global-attraction/34662.
Vinh, Tan. "A Rare, Personal Glimpse of Bruce Lee's Seattle Years." The Seattle Times. The Seattle Times Company, October 3, 2014. https://www.seattletimes.com/seattle-news/a-rare-personal-glimpse-of-bruce-leersquos-seattle-years/.
Additional Information