Fenton History Center (Gov. Reuben Fenton Mansion)
Introduction
The Fenton History Center is a local history museum in Jamestown, New York. It preserves the history of the city and Chautauqua County through its exhibits and education programming. It is located in the mansion of former governor Reuben Fenton (1819–1885), who built the Italian Villa style building in 1863. The interior retains its Victorian design. The museum features exhibits and period rooms that relate to the area's history. An item of note is the original American flag carried by the 112th New York Volunteer Regiment during the Civil War; the regiment was mostly comprised of men from Chautauqua County county. The mansion was placed on the National Register of Historic Places in 1972.
Images
The Gov. Reuben Fenton Mansion was built in 1863 and has been home to the Fenton History Center since 1964.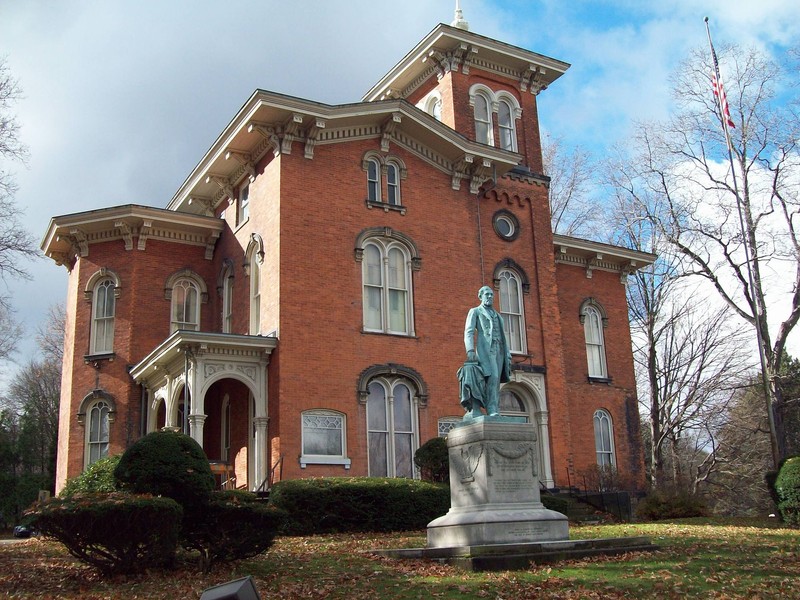 Backstory and Context
Reuben Fenton made his wealth earlier in his life through lumber and financial investments. He then entered the political arena, serving as Town Supervisor, Congressman, and Governor. The mansion was vacant for many years after the Fenton family moved out. In 1919, the city bought the property and it became the Soldiers and Sailors Memorial. During World War II, it became a recruitment center. The Fenton History Center opened in 1964. The museum acquired the adjacent Hall House building in 2013 and opened its research library there.

Sources
"About Us." Fenton History Center. Accessed September 22, 2015. https://www.fentonhistorycenter.org/about-us.

Photo: Pubdog, via Wikimedia Commons
https://en.wikipedia.org/wiki/Gov._Reuben_Fenton_Mansion#/media/File:Gov._Reuben_Fenton_Mansion_Nov_...

Additional Information