Art Museum of West Virginia University
Introduction
Opened in 2015, the Art Museum of West Virginia University provides a welcoming and stimulating educational environment for diverse audiences to experience the transformative power of visual art. By exploring the varied artistic traditions of different cultures, past and present, visitors gain a better understanding of themselves, their communities, and their world.
Images
Museum Education, Heather Harris (far left, seated), and others release balloons in celebration of the museum's grand opening in the fall of 2015.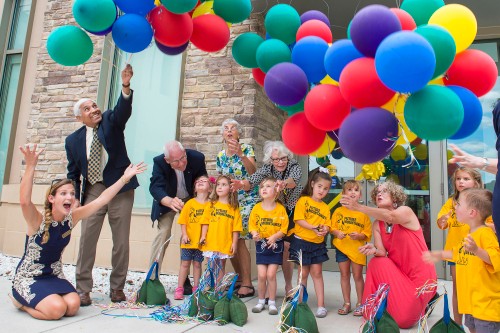 The Art Museum of WVU features 5,400 square-feet of exhibition space where paintings, prints, mixed media works, sculptures, and textiles have been publicly displayed.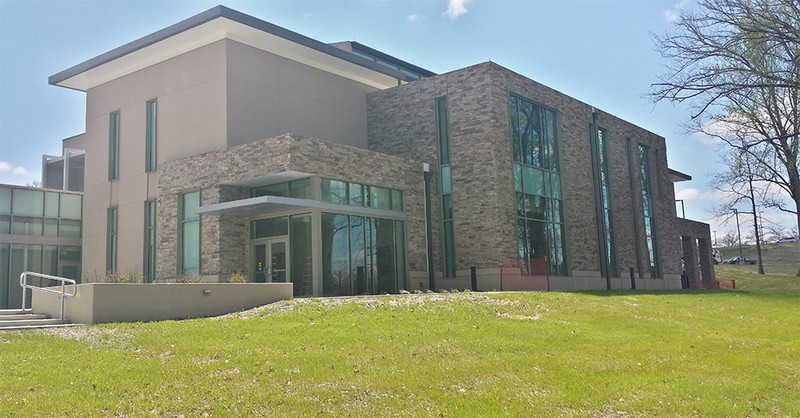 Blanche Lazzell's "Justice" depicts scenes familiar to those who have visited Morgantown. Funded by the Public Works Art Project in the 1930s, the mural shows WVU's Stewart Hall, the First Methodist Episcopal Church, and glass factory smokestacks.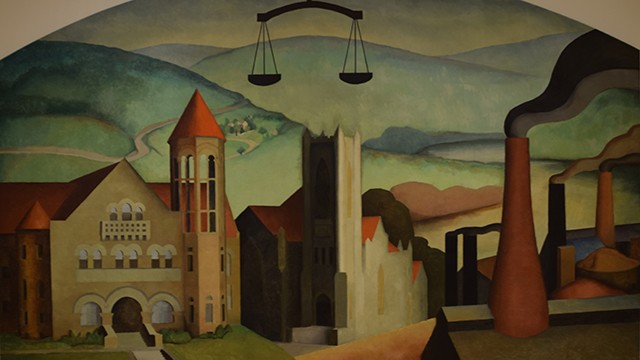 Backstory and Context
Located on the Evansdale campus, the Art Museum of West Virginia University features two distinct and integrated facilities:

The Art Museum
In August 2015, the Art Museum of West Virginia University opened its doors after ten years of planning. Dean of the College of Creative Arts said at the dedication that the museum "put the visual arts community at WVU on equal footing with our peer institutions" and provides educational opportunities for students and children of Morgantown. President of WVU, Gordon Gee, emphasized that "preserving and displaying our cultural heritage is an important part of our land-grant heritage."
The museum houses more than 3,000 works of Appalachian, American, and international art in its diverse collection. The University began collecting art without a formal exhibition space more than ten years prior to the Art Museum's opening. It holds the largest public collection of art by Modernist Blanche Lazzell (1878-1956), a native of Maidsville and graduate of WVU whom Gordon Gee called "one of West Virginia's true treasures." The Art Museum also houses collections of work by Albert Bierstadt, William Merritt Chase, Thomas Cole, Jean Metzinger, William Schumacher, Rockwell Kent, William Conger, and Tim McFarlane, along with collections of Asian and African art and pieces by world-renowned names such as Pablo Picasso, Francisco Goya, and Andy Warhol.
Two galleries, with 5,400 square-feet of exhibition space, display a sampling of this collection. The building was built to environmental standards for temperature, humidity, and light levels to safely display and store works of art. The Plevin Lobby of the Art Museum features a unique graffiti mural by Raoul and Davide Pierre, known as How and Nosm in the art world. Researchers are welcome to examine art up close in a study room, while educators and students have a classroom space available.
Museum Education Center
In 2010, the University completed renovation of an existing two-story building, the former Erickson Alumni Center designed by noted architect Michael Graves, to accommodate museum offices, halls for educational programs and receptions, and a gift shop.
Additionally, an outdoor sculpture garden offers museum visitors a place to relax and contemplate works of art in a lovely setting.
Sources
Dabaldo, Stacey. "WVU Celebrates Opening of Art Museum." WV Public Broadcasting. August 26, 2015. http://wvpublic.org/post/wvu-celebrates-opening-art-museum#stream/0

How and Nosm. "Biography." How and Nosm. Accessed August 2017. http://www.howandnosm.com/biography

West Virginia University. "About." West Virginia University Art Museum. Accessed August 2017. http://artmuseum.wvu.edu/about

West Virginia University. "Collection." West Virginia University Art Museum. Accessed August 2017. http://artmuseum.wvu.edu/collection

WestVirginiaU. "Art Museum of WVU opens to public." YouTube. Published August 31, 2015. Accessed August 2017. https://www.youtube.com/watch?v=k6J3dvwopyQ


Additional Information