The Dakota Apartments, New York City
Introduction
The Dakota is one of Manhattan's most distinguished and impressive cooperative residential buildings. It has been home to a number of celebrities including Judy Garland, Leonard Bernstein, Joe Namath, and John Lennon. In December 1980, Lennon was shot just outside of the south entrance by Mark David Chapman. Since his death, the Dakota is frequented by fans of the Beatles' star.
Images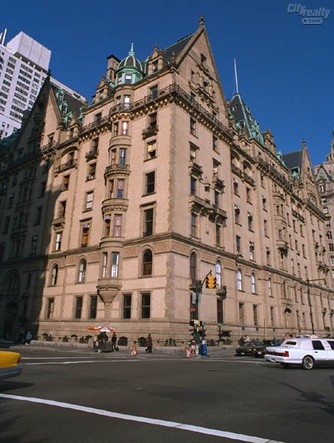 Backstory and Context
The Dakota, located in New York City, is one of the most iconic buildings of all time. It was built between 1880 and 1884. The name "Dakota" was said to come from how the building was so far away from everything because it was on the upper west side of Manhattan, so essentially it was as far away as the Dakota Territory. Edward Clarke was the creator of the Dakota building. He wanted to introduce a new idea of living for the wealthy people in New York City. The residents would live in a high-end flat instead of a house. Many New York residents were unsure about living on the upper west side, but once the Dakota was opened potential residents started pouring in. Over the years the Dakota became one of the most famous residences to live in on the Upper West Side.
The Dakota's architecture was unlike any other building in New York City at the time that it was built. It was inspired by French Renaissance and English Victorian styles. With magnificent looks on the outside, the building was a model resident to live in, not to mention all the amenities that came on the inside. There is 65 apartments in the building with four to 20 rooms within each flat. The rooms range in size, some are as long as 50 feet, with ceilings up to 14 feet high. The floors are made of oak, mahogany, and cherry.
Future tenants have to go through many steps before being considered to live in the building. Applicants have to turn in financial records and tax documents, along with paying a fee of $1,000, and going through a thorough background check. Even after going through all of those processes the board can still deny the applicant from living there. Many celebrities have been denied to live in the building.
Though the Dakota is known for many magnificent features, it is also known for a very tragic event. John Lennon, a musician, lived in the building for many years with his wife Yoko. On October 8, 1980, Lennon was shot on the sidewalk outside of the Dakota by Mark David Chapman. This event was the reason why the board stopped allowing most people to move into the Dakota.
Sources
The Dakota, 1st West 72nd Street. NYC Apartments. Accessed 4/29/17. http://www.cityrealty.com/nyc/central-park-west/the-dakota-1-west-72nd-street/4930.

The Dakota. A View On Cities. Accessed 4/29/17. http://www.aviewoncities.com/nyc/dakota.htm.


Additional Information