Madison Square Garden
Introduction
Constructed in 1968 and Located in the heart of Midtown Manhattan, Madison Square Garden remains one of the most iconic arenas in the United States. This structure is the fourth New York arena to bear the famous name, with the first Madison Square Garden being opened in 1879 and located next to Madison Square. The first arena included shows by P.T. Barnum as well as pivotal public meetings and political events.
Images
Madison Square Garden after the most recent renovation.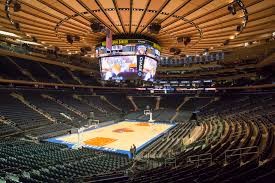 Madison Square Garden compared to Empire State Building.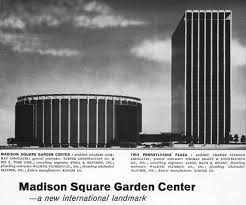 Poster promoting the "Fight of the Century" between Ali and Frazier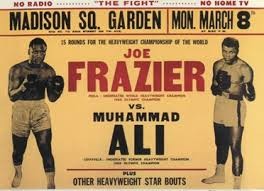 Backstory and Context
The original Madison Square Garden was opened near Madison Square Park in 1879 with a seating capacity of just 10,000. One of the main tenants, P.T. Barnum, who hosted his circus their, called it "the Great Roman Hippodrome." The second building opened in 1890 at the same site but was plagued with scandal as architect Stanford White was murdered on the rooftop restaurant over an affair with Evelyn Nesbit, a married actress. The third incarnation was the first to move away from Madison Square Park and opened in 249 days in 1925, located at Eighth Avenue between 49th and 50th Streets.
In 1926, one year after MSG III was opened, the venue was granted a franchise with the National Hockey League and formed the New York Rangers. Two years later, the Rangers defeated the Montreal Canadians in Game 5 to win their first Stanley Cup in 1928. In 1946, the Basketball Association of America, later renamed the National Basketball Association, granted the Garden a basketball franchise, thus the New York Knicks were established, first being called the Knickerbockers. In 1970, the Knicks overcame the Los Angeles Lakers in Game 7 to win their first NBA championship. Today, the Rangers have four Stanley Cup victories to their name, while the Knicks have two NBA championships.
The fourth and most current location of Madison Square Garden opened in 1968 between 31st and 33rd Streets from 7th to 8th Avenue. This venue has become the home of some prominent sporting events, such as the "Fight of the Century" between Muhammad Ali and Joe Frazier on March 8, 1971. The Garden hosted the first WrestleMania in 1985, the fourth Stanley Cup victory by the Rangers in 1994, and numerous relief concerts for the victims of 9/11, Hurricane Katrina, and Superstorm Sandy. One of the oldest stadiums that host professional teams in the United States, the Garden was completely renovated in 2011.
Sources
"Guest Relations/FAQ." The Garden. Accessed Web, 5/19/17. http://www.thegarden.com/faq.html.

"History." The Madison Square Garden Company. Accessed Web, 5/19/17. http://www.themadisonsquaregardencompany.com/our-company/history.html.

Ruggiero, Nina. "9 Facts You Probably Didn't Know About Madison Square Garden." Skift. 4/20/14. Accessed Web, 5/19/17. https://skift.com/2014/04/20/9-facts-you-probably-didnt-know-about-madison-square-garden/.


Additional Information