1849-Sampson Sanders Frees all 51 of his Slaves
Introduction
In the 1840s, Sampson Sanders decided that he wanted to manumit every one of his 51 slaves and also provide money, equipment, and land in Cass County, Michigan so that they might truly become free. The decision required years of planning and cost Sanders most of his substantial fortune. This gravestone marks the final resting place of Sampson Sanders.
Images
The gravesite is about 200 feet from the base of the electric tower.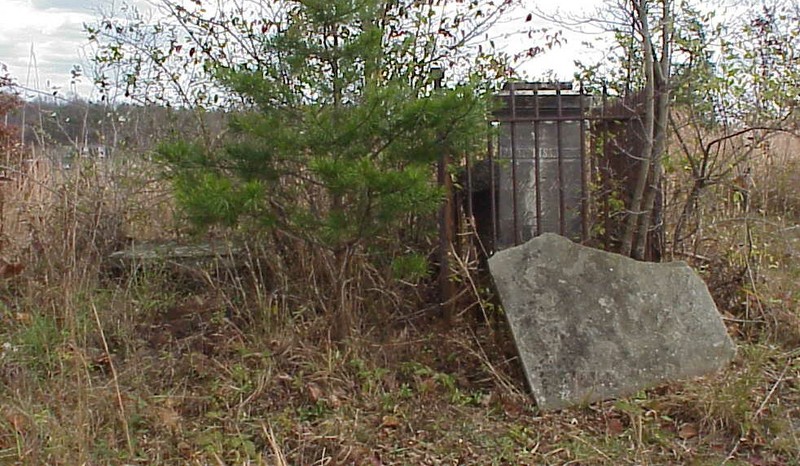 Backstory and Context
From the West Virginia Encyclopedia: "Following his father's death in 1802, and with the advice and guidance of his mother, Sampson Sanders built his inheritance into the largest land holding in Cabell County. He owned large acreages on the Guyandotte and Mud rivers east of Barboursville and the largest flour mill in Cabell County. At his death, Sanders owned at least 51 slave adults and children, one of the largest slave holdings in Western Virginia. By his will in 1849, all his slaves were freed regardless of age. They also were given cash, equipment, and legal assistance to start new lives. They migrated northward as a group, settling in Cass County, Michigan, where descendants live today. Most of these families retained the Sanders name as their own."1
Sources
Eldridge, Carrie "Sampson Sanders." e-WV: The West Virginia Encyclopedia. 29 October 2010. Web. 07 April 2014.
Eldridge, Carrie "Cabell County's Empire for Freedom, the Manumission of Sampson Sanders Slaves."
Cabell County, WV Will Book I
Cabell County, WV Deeds
Cass County, MI Deeds
Fred Lambert Collection, Morrow Library, Marshall University, Huntington, WV.
Image Sources
Carrie Eldridge, "Cabell County's Empire for Freedom.

Additional Information