Mower U.S. Army General Hospital
Introduction
If it wasn't for the historical marker located at the foot of the steps leading up to the waiting platform for the SEPTA train station located in Wyndmoor, PA., no one would know what a vital role this tract of land played in the history of the United States. During the Civil War, Union soldiers were brought from the battlefield to the state of the art Mower Hospital, located on this spot in order to recuperate from their wounds.
Images
"Mower U. S. A. General Hospital, Chestnut Hill, Philadelphia" lithograph by James Queen, 1863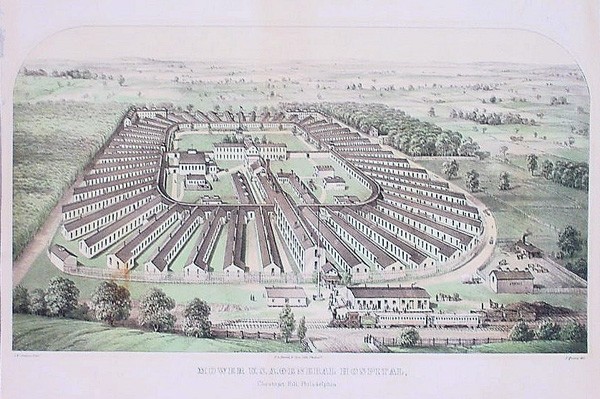 This historic marker is located near the site of the former Union hospital site where the present-day Market Square shopping center now stands. Photo by Matt Szalwinski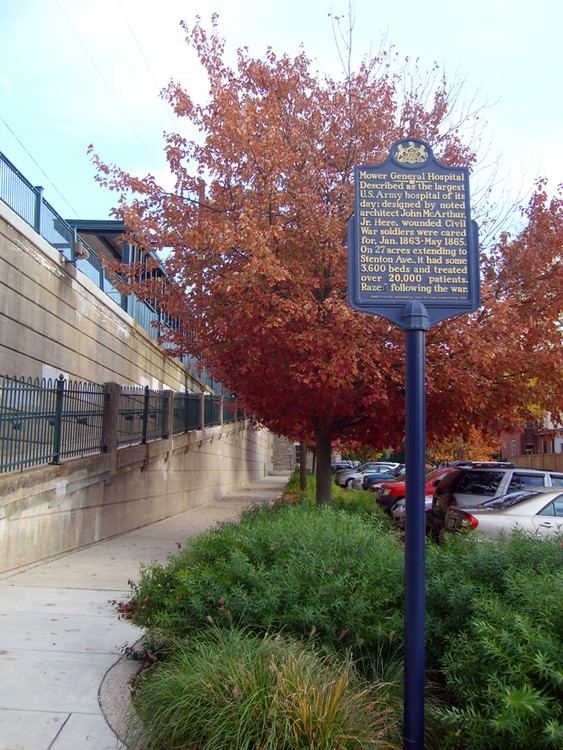 Backstory and Context
Named after U.S.Army surgeon Thomas Mower, this 27 acre sprawling complex treated over 20,000 patients, returning 9,799 of them to active duty and losing only 257. Mower General Hospital was built right next to the Chestnut Hill train stop so that patients could be transported quickly to the hospital's surgical facilities.1
Sources
1. Chestnut Hill's Slice Of Civil War History, Matt Szalwinski, Hiddencityphila.org., accessed 1/27/16.
Additional Information