Bradford Academy Portrait Gallery
Introduction
After Bradford College's closure in 2000, much of the college's instiuttional archive and collection was transferred to the Haverhill Historical Society. Many of the portaits that the college maintained of significant personages from the school's history are now on display along the staircase and upper floor hallway of the Duncan House. Several of the portraits will be highlighted in this entry.
Images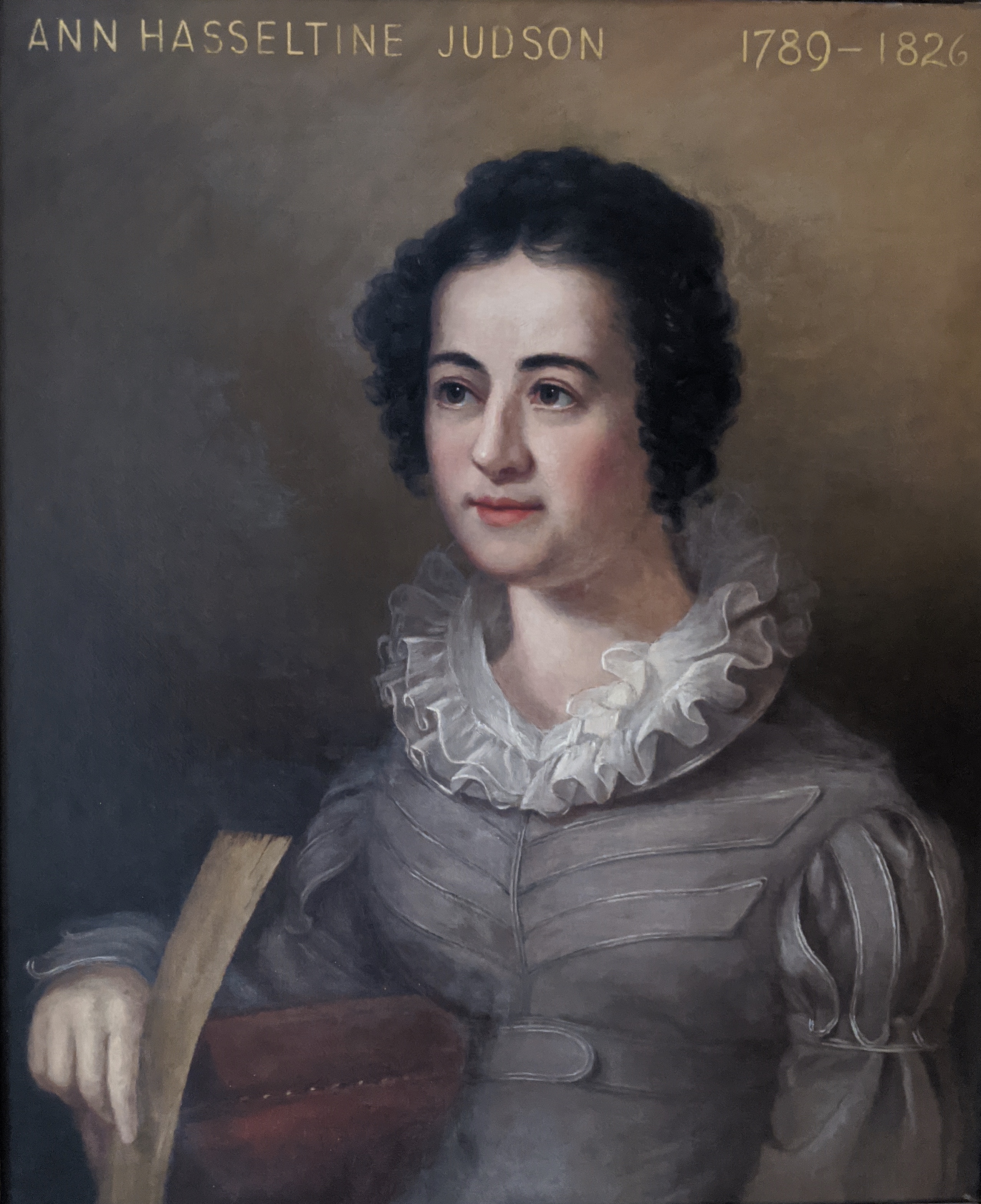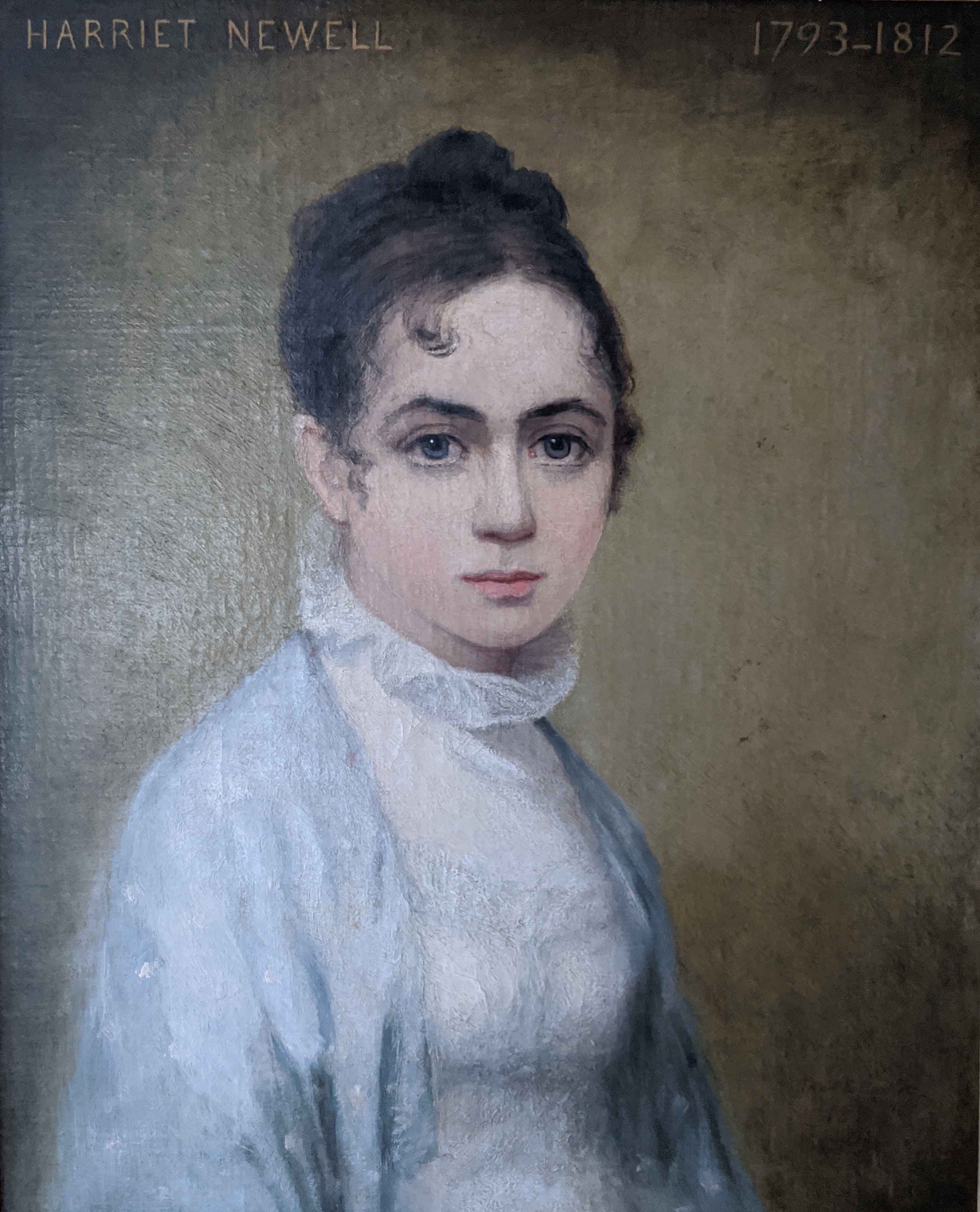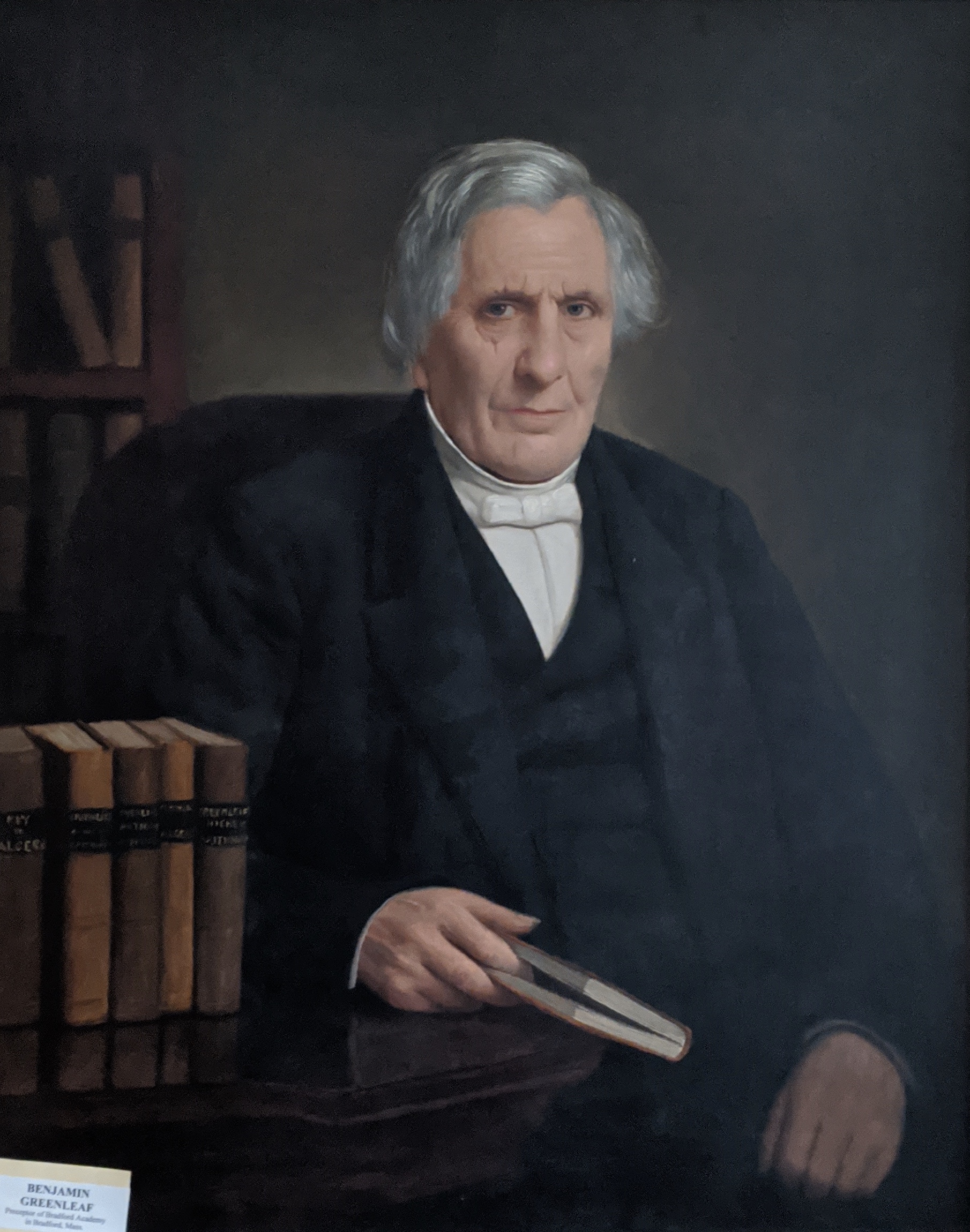 Abigail Carlton Hasseltine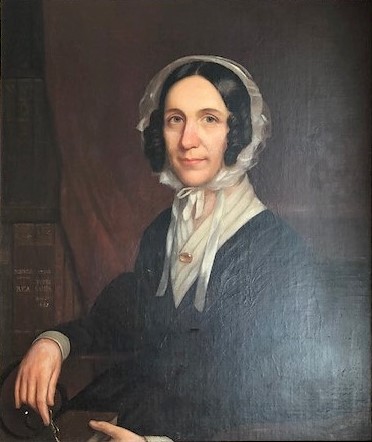 Backstory and Context
Two of the portraits depict Ann Hasseltine Judson and Harriet Atwood Newell, the first female American missionaries to travel abroad. They both attended Bradford Academy, married ministers, and within a month set sail for India. When they arrived, the British East India Company—which had control of Calcutta at the time—would not let them stay as missionaries were bad for business. It is here that their paths diverged.
The Newells decided to go instead to the Isle of France, now Mauritius; however along the way, Harriet became very ill. She gave birth to a daughter onboard the ship who only lived five days and was buried at sea. When they arrived on the Isle of France it was too late. She passed away from consumption and is buried on the island. She had been keeping a diary since she was thirteen, mostly filled with passages of faith and Christian struggles. Her husband wrote an epilogue and sent the diary to a friend in publishing in the United States. The diary went through multiple editions and was a best seller in the nineteenth century, inspiring many other women to become missionaries.
Meanwhile, the Judsons went on to Burma where they opened a church in Rangoon, adopted a pair of abandoned girls, had a couple children of their own, and translated the Bible into Burmese. The Judson Bible is still the copy used by Burmese Christians today. Ann's husband, Adoniram, befriended the king before the war between Britain and Burma which caused him to be suspected of espionage. He was imprisoned and Anne and the children lived in a shack outside the prison to be close to him. After a year, he was released, and as they were moving back to Rangoon, Anne suddenly fell ill and died. She had been abroad for about ten years at that point.
Another portrait is of Benjamin Greenleaf, an administrator at Bradford Academy and author of a math textbook that was once the most used in the country.
Abigail Carlton Hasseltine, a student at Bradford who went on to be a teacher in Byfield and Beverly before coming back as an administrator at the academy, is pictured in another portrait. In a time when the argument was to educate women so they could raise sons to be good citizens in the young republic, Abigail advocated for women's education for the sake of women's education.Under her leadership as President of Bradford, she transitioned the school from being a coeducational institition to a women's only school in 1836. She was much beloved by her students who raised the money to erect a monument for her in Elmwood Cemetery after her death.
Sources
Buttonwoods Museum. Tour Script, March 1st 2018. Accessed August 18th 2020.
Additional Information