The French Market
Introduction
The oldest public market in the United States, the Old French Market was established by the Spanish in 1782 in response to their need to protect goods from the the elements. Prior to the establishment of this market, most goods were sold near the river. The market has expanded and moved slightly over the years, but today occupies the same area as it did in 1791. The market boasts a wide range of produce and culinary goods, including a number of restaurants and coffee houses.
Images
For over two centuries, this market has adapted to changes in government, natural disasters and fires, and changing consumer habits. Like the city itself, the market has adapted and recovered from each challenge.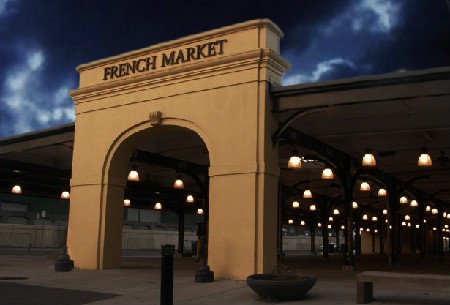 Crafts at the French Market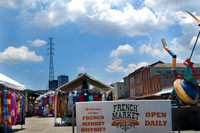 The French Market in 1864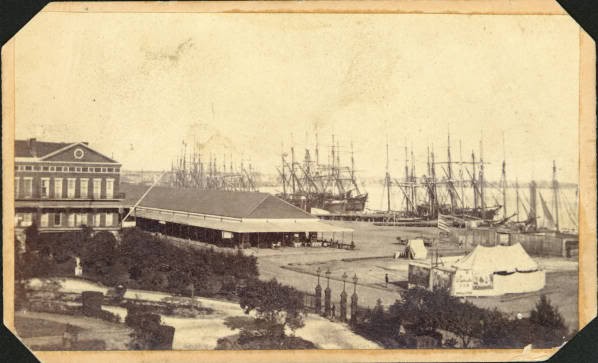 Backstory and Context
The Market's life began in 1779 when the Spanish authorities decided that it would be beneficial to create a protective enclosure for their goods. Prior to this, they had used an open-air market directly on the river. In 1782, they completed construction of a building at Dumaine and Chartres streets. This facility, along with many adjacent buildings, was destroyed by a fire in 1788. A new building was constructed at its current location between Ursulines Avenue and Barracks St, along North Peters Street. This, though, was again soon replaced.
In 1808, the market was replaced by a Halles de Boucheries, or meat market. This consisted of a three hundred foot long, forty nine foot wide hall made up of a one hundred four columnns forming three alleys with a series of stalls, each designated as either meat or produce. But this structure too would be destroyed by a hurricane in 1812. Finally, the market which still stands today was built in 1813.
Throughout the 19th century the market slowly expanded. In 1823 a vegetable market was added, in 1833 dry-goods, 1835 a vacant space, known as the "Neutral Ground" was set aside specifically for Non White and Indian traders and in 1853 a nearby waterworks was converted to a fruit market. Conditions in the market, which were largely unregulated, were finally handled by Union Commandant Benjaming Butler, who realized that the market was a breeding ground for the yellow fever which had been running rampant through the city. Finally, in 1870 a bazaar market, dedicated to drygoods, was constructed.
The market was a favorite of John James Audubon, who often purchased birds from local vendors at the market. Today, the French Market remains as diverse and dynamic as the city of New Orleans. The market remains popular with locals as well as visitors.
Sources
Brister, Nancy. "NO_French_Market." NO_French_Market. Accessed February 11, 2016. http://old-new-orleans.com/NO_French_Market.html. "French Market Www.frenchmarket.org." French Market. Accessed February 11, 2016. http://www.neworleansonline.com/directory/location.php?locationID=1336. French Market Corporation. "The History of the French Market." French Market RSS. Accessed February 11, 2016. http://www.frenchmarket.org/history/. Magill, John. "French Market Celebrates 200th Anniversary." Preservation in Print 18, no. 4 (May 1991): 7-10. Accessed February 11, 2016. http://www.frenchmarket.org/wp-content/uploads/2010/03/French-Market-PIP-1991-article-John-Magill.pdf.
Additional Information