Cucullu Row- Historical Marker
Introduction
Built in 1828, these six row houses make up Cucullu Row, the oldest intact row in New Orleans' historic Vieux Carré. The row was once home to historic sites such as the Desporte Pharmacy, open from 1887 to 1970. Before Cucullu Row existed, Pierre Baron's celestial observatory stood in this area. In 1782, the Conde Market replaced the observatory, which was replaced in 1784 by a fish market. In 1788, one of the city's worst fires destroyed the market area. James Lambert and Louis Lemoyne built the row in 1828 for Simon Cucullu.
Images
Cucullo Row historical marker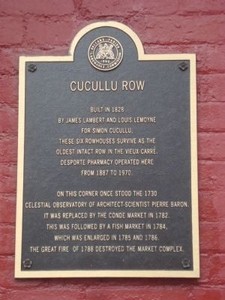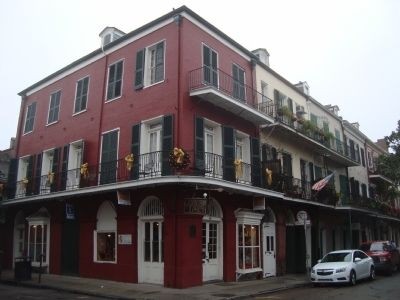 French Quarter aerial view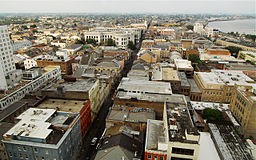 New Orleans Architecture: The American Sector, book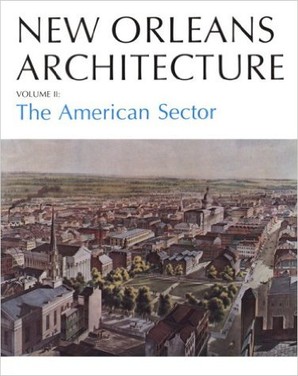 Backstory and Context
The Vieux Carré, more commonly known as the French Quarter, is the oldest neighborhood in New Orleans. Vieux Carré means "Old Square" in English. Nearly all buildings in the French Quarter are historic. Since the 1920s, all the historic buildings in the area are protected and cannot be torn down. The area used to be largely populated by French Creole families. However, they began becoming a minority before the Civil War. By the late nineteenth century, immigrants relocating from Ireland and Southern Italy began moving into the Quarter because it started to be viewed as a less desirable place to live. When Storyville, New Orleans' red light district, closed in 1917 much of the business previously concentrated there moved to the Quarter. Most remaining French Creole families moved out of the Quarter and into uptown during this time.
The red brick row houses of Cucullu Row were unusual for the area at the time. Following the Louisiana Purchase, Americans moving to the area introduced this type of architecture, usually seen on the east coast in places such as Philadelphia and Baltimore. In 1828, Bernard Marigny built row houses of the type seen on Cucullu Row on his plantation. After Cucullu Row was built, this architectural style started becoming more popular. The Ursuline Nuns even built twelve row houses at the back of their new property after moving from their old Chartres Street location.
Sources
http://www.hmdb.org/marker.asp?marker=51542 https://en.wikipedia.org/wiki/French_Quarter

https://books.google.com/books?id=waDSBKfl-w4C&pg=PA174&lpg=PA174&dq=cucullu+row+new+orleans&source=...
Additional Information