Serra Springs
Introduction
Before the arrival of Spanish explorers on the Portolá Expedition of 1769, this site had been long occupied by ancient Native American tribes and the more recent Gabrielino/Tungva tribe. The three springs (only two of which remain) attracted people to the site since at least 4000 BC. It was here that members of the expedition camped in 1769 and it is also believed that Catholic priest Junípero Serra celebrated mass here in 1770. the site is named after him and is now on the grounds of University High School. The springs are maintained by the Gabrielino Tongva Springs Foundation, which hosts monthly gatherings and offers tours at the site. The foundation also hosts the annual Life Before Columbus event in October. The springs still provide over 22,000 gallons of water every day.
Images
One of the springs at the site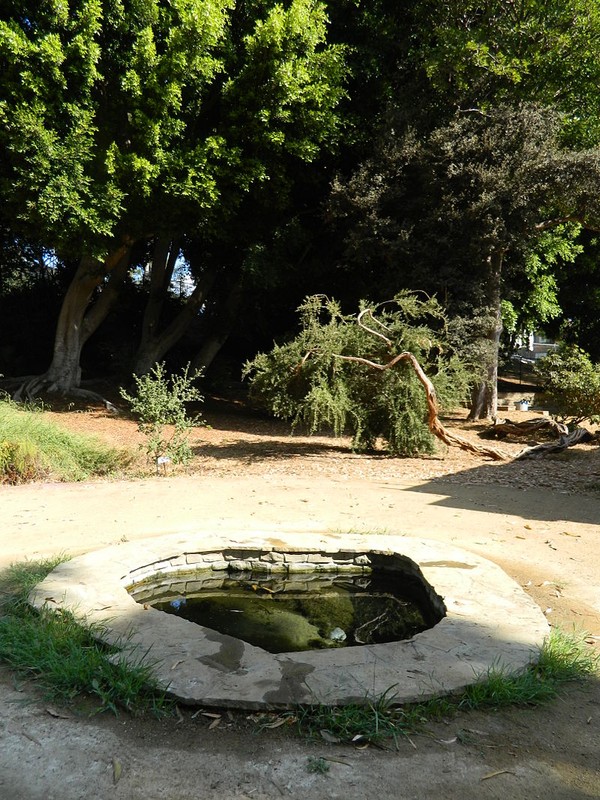 Backstory and Context
Spanish explorers had reached California in the 16th century, but it wasn't until the 18th century that Spain began to make more permanent attempts to cement claims to, colonize it and protect it from Russian and English encroachment. The Portolá Expedition, which consisted of two groups, was the first real attempt to explore northern California, which became the Spanish territory of Alta California. The records of the expedition, including the journal of priest Juan Crespi, recorded that the Native Americans they encountered were mostly peaceful.

The Spanish eventually forced the Tungva people to live and work at the San Gabriel Mission and as a result they began calling them "Gabrielinos." The site of the springs became parts of various ranches before becoming part of the Warren G. Harding High School (the predecessor to University High School) in the early 1920s. Students and a science teacher discovered a burial that was dated to the 5th century BC. The springs were threatened to flow no more in the early 1990s when a developer wanted to build and underground parking lot. This prompted the establishment of the foundation whose goal was to preserve the springs and its history.

Sources
"About Us." Gabrielino Tongva Springs Foundation. Accessed June 21, 2016. http://gabrielinosprings.com/wpsite/?page_id=23. Fisher, Cory. "Before Columbus: American Indians celebrate today the cultural heritage found near West Los Angeles springs". Westside Weekly. October 11, 1998. Accessed from Web Archive on June 21, 2016. http://web.archive.org/web/20080527205455/http://www.geocities.com/CapitolHill/Lobby/4621/beforecolumnbus.html. "LA School Uses Sacred Tongva Site To Celebrate Columbus Day." Los Angeles Times. October 13, 2005. Accessed from History News Network on June 21, 2016. http://historynewsnetwork.org/article/17036#sthash.W2F4MyQz.dpuf. "Serra Springs: Historical Landmark." Office of Historic Preservation, California State Parks. November 1, 1954. Accessed June 21, 2016. http://ohp.parks.ca.gov/ListedResources/Detail/522.
Additional Information