The Forum
Introduction
Located in the Los Angeles suburb of Inglewood, California, The Forum is an indoor multipurpose stadium that has seen a lot of history since its construction in 1967. Many conventions, concerts, and sporting events have been held there over there years. It served as the home of the Los Angeles Lakers (NBA) and the Los Angeles Kings (NHL) from 1967 to 1999. Artists like Steppenwolf, The Jackson Five, Elvis Presley, and many others have played at the forum.
Images
The Forum today. The red color on the exterior is known as the "Forum red." The Forum serves as mainly a concert venue.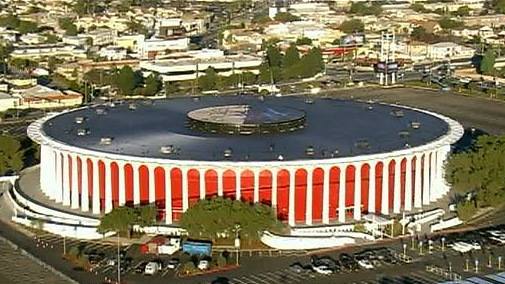 Backstory and Context
The Forum served as one of the venues of 1984 Summer Olympics also took place here, hosting the Olympic basketball games. The Forum continued to be used for concerts and was the home court to the Los Angeles Spark WNBA team from 1997 till 2001. The two national teams left in 1999 but
in 2009 the Lakers returned to play at The Forum for their 50th Anniversary game against the Golden State Warriors; The Lakers lost 110-91.
In 2010 the Madison Square Garden Company bought The Forum and decided to renovate it and use it for concerts and shows at a cost of around
fifty million dollars
. Renovations were completed in January 2014 and in September of that year it was added to the National Register of Historic Places. The Forum is not used today primarily as a concert and show venue.

Sources
"About the Forum." The Forum. Accessed April 1, 2015. http://www.fabulousforum.com/content/forum/planyourvisit/faq.html. "The Forum." Madison Square Garden Company. Accessed April 1, 2015. http://www.themadisonsquaregardencompany.com/our-brands/the-forum.html
Additional Information