Balboa Park
Introduction
Balboa Park is an expansive 1,200 acre park in the heart of San Diego, California. It is named after Vasco Núñez de Balboa, a Spanish explorer who was the first European to see the Pacific Ocean while exploring what is now the country of Panama. The park boasts numerous museums, performing arts organizations, gardens, and opportunities for recreation. Museums include the San Diego Natural History Museum, the San Diego Zoo, and the Museum of Photographic Arts. Several buildings are national and/or state historical landmarks. The park itself was placed on the National Register of Historic Places in 1977 and is a U.S. National Historic Landmark District and San Diego Historic Landmark.
Images
Many of the buildings in the park were built for the Panama-California Exhibition and feature Spanish-themed architecture.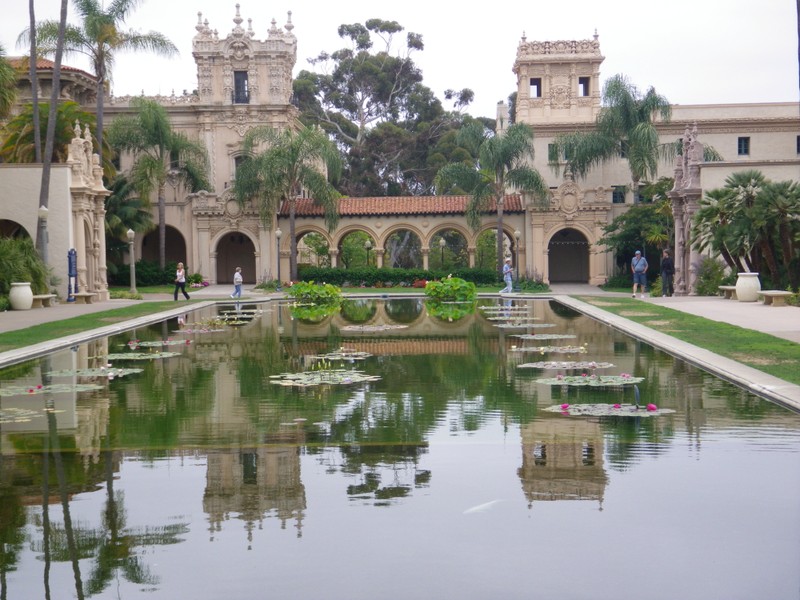 Aerial view of the the park. The Plaza de Panama is on the left and the building on the right is the Museum of Man. The structure on the upper left side is the Spreckels Organ Pavilion.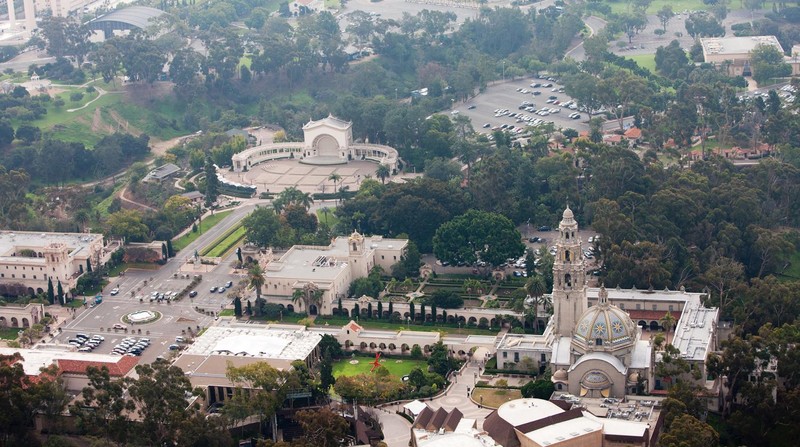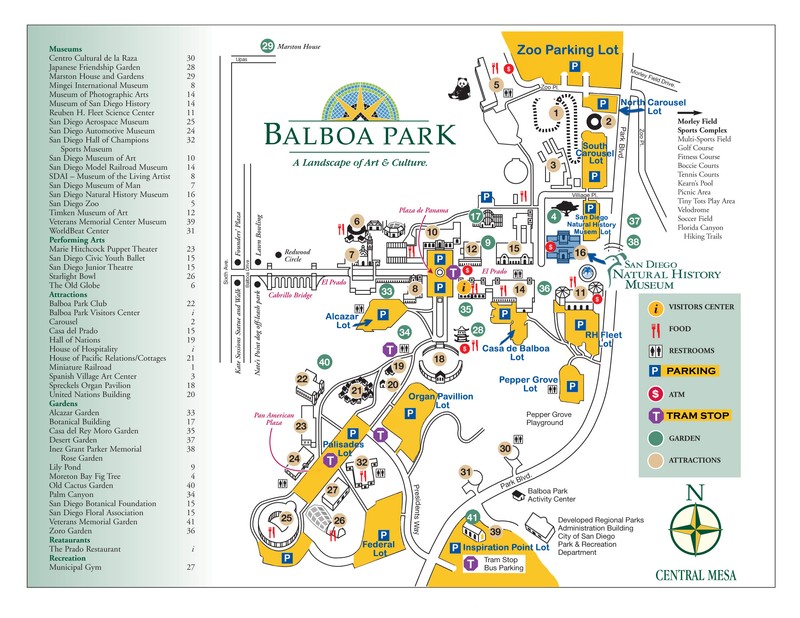 Backstory and Context
The park was established in 1868, and its founding made San Diego the first city west of the Mississippi River to designate public land for an urban park. Known as "City Park," it originally spanned 1,400 acres. The first efforts at developing the park started in 1892 with a woman named Kate Sessions, who agreed to donate several trees and shrubs and continue planting 100 trees per year, in exchange for 32 acres for her commercial nursery business. The City of San Diego accepted her offer and Sessions became known as "The Mother of Balboa Park." Many of the trees that she planted over 100 years ago are still standing today. 
By the turn of the century, a "master plan for Park improvements" was created, leading to two decades of steady improvements. By 1910, city water lines and roads wove through the park, paving the way for the massive building project that would soon commence in preparation for the 1915-1916 Panama - California Exposition. In fact, it was the imminent exposition that prompted the city to rename City Park to something more inspired. After lively public debate and discussion, the city settled on Balboa Park.
With the demands of the 1915-16 Exposition and the 1935-36 California Pacific International Exposition, the park saw dramatic development over a twenty year period. It was during this time that much of the built environment visitors can view today was created. Some of the most notable buildings include the California Tower, Botanical Building, San Diego Zoo, Zoro Gardens, and numerous art and history museums. The park hosted a third international exhibition in 2000 and added a Veterans Memorial Garden in 2005.
Sources
"History." Balboa Park. Accessed June 3, 2015. https://www.balboapark.org/about/history
"History of Balboa Park and San Diego." San Diego House of Pacific Relations. Accessed April 2, 2017. http://www.sdhpr.org/historyBP.html
Additional Information