Vista Avenue Viaduct
Introduction
The Vista Avenue Viaduct crosses over a historic ravine, Tanner Creek, through which the MAX Light Rail now runs. The bridge was built in 1926 to connect the King's Hill and Vista Ridge areas of Portland, and is today a wonderful position to get views of Portland Heights - or if you have a taste for heights, to do some bungee jumping. The bridge was added to the National Register of Historic Places in April 1984.
Images
The Vista Avenue Viaduct, 1930 (vintageportland.wordpress.com)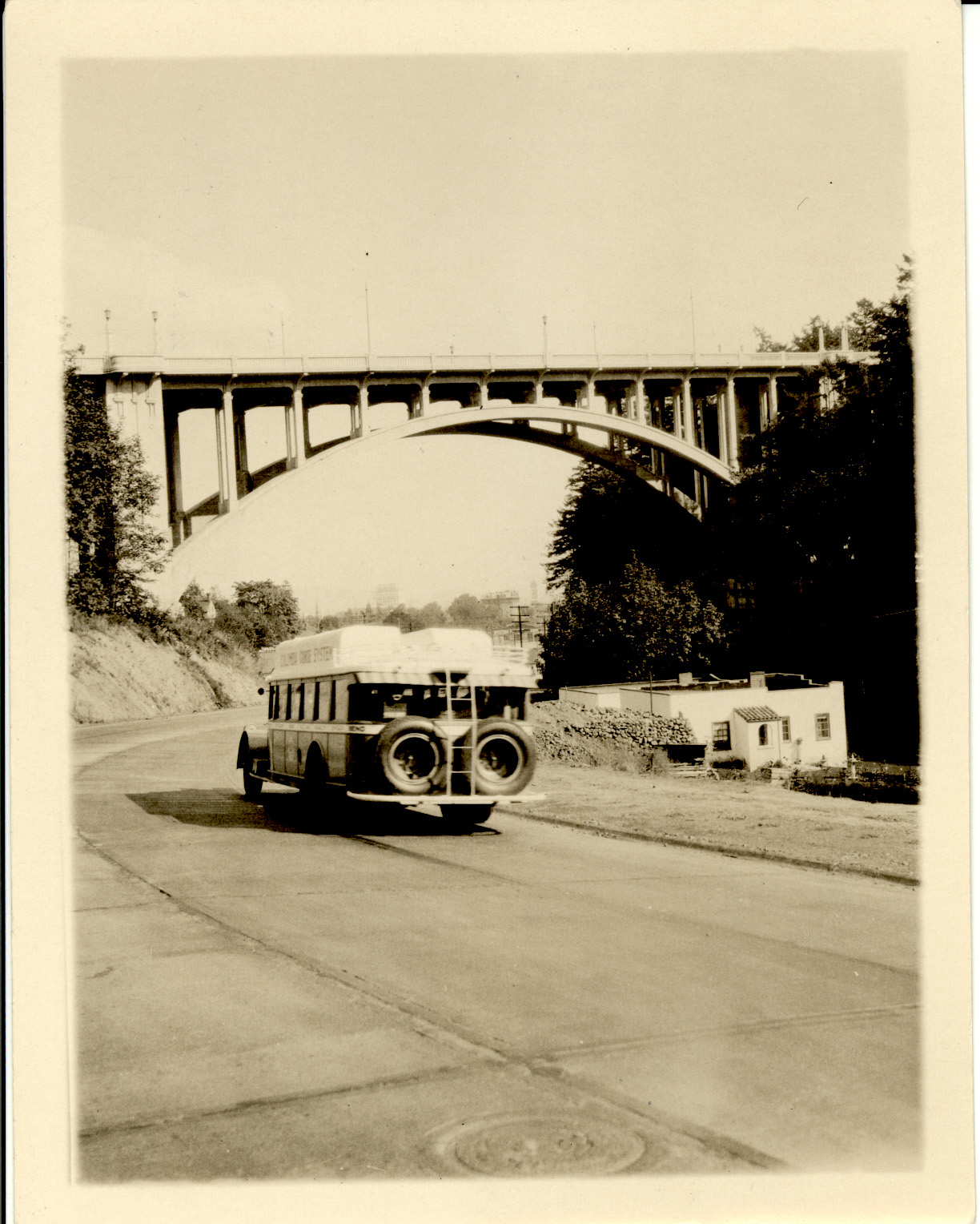 Council Crest street car crossing the Vista Avenue Viaduct (yelp.com)
A modern view of the Vista Avenue Viaduct and Downtown Portland (structurae.net)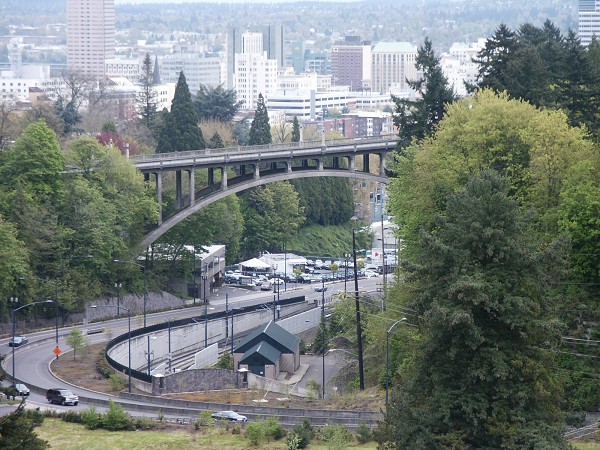 Backstory and Context
Fred Fowler graduated from the University of Oregon in 1912, after which he became a draftsman for the City of Portland. In 1921 we became Bridge Engineer of the city, and five years later he submitted plans for this bridge. It was built to replace the Ford Street Bridge that had previously existed at the same location, before being relocated to the interstate freeway (look out for the Tervilliger Overpass). Fowler hired a local construction firm, Parker and Banfield, to build the viaduct for one hundred and seventy thousand dollars – though the final cost was closer to two hundred thousand. Half of this large sum was fundraised by the local community, who were eager to establish a link between the city centre and Portland Heights. The bridge is made of concrete, four hundred and eighty nine feet long, with massive arches supported by Classical-style columnns. It has ornamental stone railings with recessed bench areas, and seven lampposts of bronze and stone on either side.
The Vista Avenue Viaduct was so-called because it initially facilitated the crossing of the Council Crest street car across Tanner Creek Canyon. Street cars ran on rails that had been installed by the renowned Carnegie Steel Company, and brought people from all over the city to one of the most beloved local recreational areas: Council Crest. This was the highest location in the city, at over one thousand feet. The Big Tree Observatory was located there, but most people came to attend the dance hall and amusement park that operated there in the early twentieth century. The bridge was also on the route to Washington Park, where families could enjoy picnics, walks, sports, or visit the Metro Zoo, or Oregon Museum of Science and Industry.
The Carnegie street rails were removed after the form of public transport fell out of use. However, the bridge is in an excellent state of preservation, thanks largely to the local Vista Bridge Light Brigade, a heritage and conservation association founded in 1983. It provides excellent views towards downtown Portland, with Mt. Hood looming over the eastern horizon. The MAX Light Rail Line runs under the bridge, as does Tanner Creek though it is now hidden by hydraulic management. The Vista Avenue Viaduct is a favourite location for bungee jumping – it has even been featured such a scene in the 2004 documentary-animation "What the Bleep Do We Know!?"
Sources
Cramer, Hulse and Associates "Vista Avenue Viaduct" National Register of Historic Places Inventory. March 30 1984. http://focus.nps.gov/GetAsset?assetID=5ab76e46-8b3f-40cf-af8d-e197da8859b2 Tom Hallman Jr. "Stunt jump off bridge lures critics". The Oregonian April 4, 1991. http://www.bungee.com/bzapp/press/oreg2.html
Additional Information