Houston Center for Contemporary Craft
Introduction
Houston Center for Contemporary Craft (HCCC) was founded to advance education about the process, product, and history of craft. HCCC provides exhibition, retail, and studio spaces to support the work of local and national artists and serves as a working resource for artists, educators, and the community at large. The facility reaches thousands of children each year through educational and outreach programming. Exhibitions feature sophisticated creations; some practical, and some that aren't. The Asher Gallery is a place to shop gifts that are made by a variety of local and national artists. Behind the building is a Craft Garden, demonstrating the living connection between the materials that constitute crafting supplies and the plants from whence they come. The Artist Hall allows visitors to explore the crafter's studios, and to share in the love of craft that the artists hold dear. Visitors enjoy the innovative exhibits, talking with the artists-in-residence, and shopping. Tours are available for groups with advance notice. (Call for details)
Images
Houston Center for Contemporary Craft from the street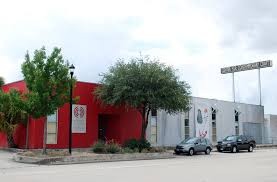 Backstory and Context
HCCC's major emphasis is on objects of art made primarily from craft materials; clay, fiber, glass, metal, wood, or recycled materials. Since its opening in 2001, HCCC has become an important cultural and educational resource for Houston in particular, and to a great extent for all of the Southwest – one of only a handful of venues in the nation dedicated exclusively to craft at the highest level. As it operates dynamically, the year is full of special events and travelling exhibits that keep the experience lively and entertaining all year long. Docent-led tours are available, and generally last an hour. These must be scheduled in advance, so call at least a week ahead of your planned visit.
An Artist Residency program is designed to offer time and space for craft artists to focus on their creative work, and to interact with the public. Each year a juried selection is held to determine which five artists will receive a 200-square-foot workspace/studio, a monthly stipend and a quarterly housing /materials allowance. Artists are selected on the basis of the quality of their work, ability to communicate with the public, career direction, and program diversity.
HCCC also has a variety of educational programs available, supporting their mission to advance education about the process, product, and history of craft. HANDS_ON Houston is a First-Saturday crafting activity led by local guilds and artists. HCC also provides outreach in the form of after-school and summer art classes. In elementary and middle-school classrooms of 5-15 students, children experience the handmade excitement of crafting with traditional media of clay, fabric, fiber, glass, metal, wood, or mixed Media. Further, HCCC is a popular destination for school outings, community tours, and seniors classes.
HCCC can also be considered a unique venue for meetings, events, or parties. Enjoy refreshments surrounded by contemporary crafts, studios and gallery exhibits. Stroll through the Craft Garden.
Seating for 50 persons in meeting or dining configuration is available, and a limited number of chairs, tables, and bar-high tables are available at no extra charge.
Sources
"About HCCC." Houston Center for Contemporary Craft. Accessed March 31, 2015. http://www.crafthouston.org/about/who-we-are.
Additional Information