Houston Museum of Natural Science
Introduction
One of the most heavily attended museums in the country, the Houston Museum of Natural Science (HMNS) houses the Burke Baker Planetarium, the Wortham GIANT Screen Theatre, and the Cockrell Butterfly center, and a host of fascinating and intriguing permanent exhibits that focus on astronomy, space science, Native American culture, paleontology, energy, chemistry, gems and minerals and much more. Further, the facility accommodates a wide array of traveling exhibits covering even more categories. The Museum is a major science learning center, with over a half million school children visiting annually, including every fourth and seventh grade class in the Houston Independent School District. In addition to the main building, the museum operates two satellite location: the George Observatory in Fort Bend County, which features one of the largest telescopes in the country available for public viewing, and the Houston Museum of Natural Science at Sugar Land which features exhibits on dinosaurs, mineralogy, and exotic live frogs.
Images
Houston Museum of Natural Science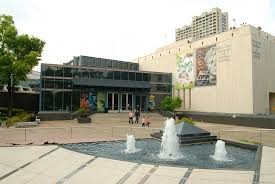 Backstory and Context
The museum was founded in 1909 and it started out as simple displays in downtown Houston. Eventually it was located at the Houston Zoo and later the Burke Baker Planetarium. Finally in 1964 the current museum was built. The museum has grown significantly since then.
Permanent exhibits include:
Albert C Glassell, Jr. Hall – over 40 species of game fish found off the coast of Cabo Blanco, Peru.
Hall of Ancient Egypt – themes of writing, religion, natural resources and mummification are explored
Morian Hall of Paleontology – More than 450 fossils and fossil replicas provide a glimpse into the past.
Cullen Hall of Gems and Minerals – See more than 750 mineral specimens, from around the world.
Wiess Energy Hall – Explore the process of energy development, and the ways energy is used.
Lester & Sue Smith Gem Vault – Thousands of hours of design and craftsmanship created this collection.
John P. McGovern Hall of the Americas – A collection of artifacts from 50 Native American cultures
Frensley/Graham Hall of African Wildlife – Integrated themes of ecology on the African continent
Welch Hall of Chemistry - Discover chemistry innovations that have changed the world.
Earth Forum – arrangement of 11 workstations, focusing on the dynamic changes of the Earth.
Do the Weather with Chita Johnson – meteorology display lets you be a weather reporter!
Strake Hall of Malacology – a hall dedicated to the study of Mollusks
Farish Hall of Texas Wildlife – dramatic overview of the seven biotic provinces within Texas.
Vintage Texas Wildlife Dioramas – New Dioramas in the Education Wing.
Sources
"History." Houston Museum of Natural Science. Accessed March 31, 2015. http://www.hmns.org/visit/about/history.
Additional Information