Boston Building
Introduction
Constructed in 1890 by the renowned Bostonian firm, Andrews, Jaques and Rantou (who also designed the nearby Equitable Building), the Boston Building is an elegant building that exhibits a fusion of Renaissance Revival and Richardsonian Romanesque architectural styles. The building is listed on the National Register of Historic Places, and is part of the Downtown Denver Historic District.
Images
Boston Building as it appears today (wikimedia commons)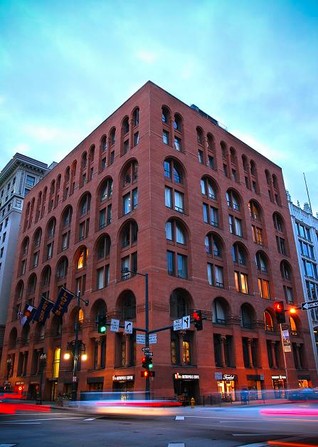 Boston Building date unknown (wikimedia commons)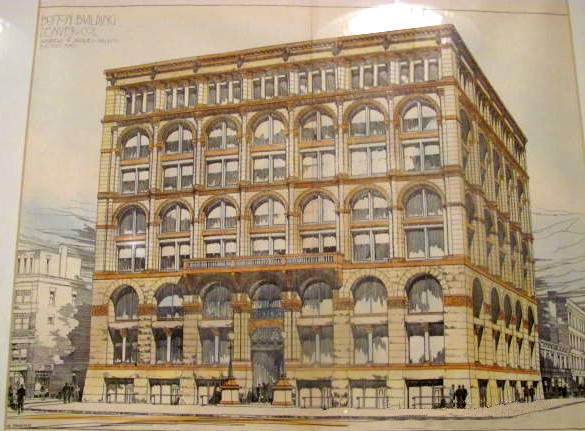 Backstory and Context
The Boston Building was constructed during the so-called "silver crash", otherwise known as the Denver Depression, which took place between 1892 and 1893. In the midst of the economic crisis, the Boston Building Company sought to construct an elegant space to be used as offices for the city;s richest companies. A site was purchased on the corner of Seventeenth and Champa streets, on a plot of land previously occupied by Wolfe Hall (constructed in 1867, this was the largest female seminary in the American West). The old school building was demolished in 1889, and construction of the offices was completed the following year. The building was quickly filled with a number of successful and affluent real estate offices, insurance and investment companies, and other businesses, including the Postal Telegraph and Cable Company, the Colorado Midland Railroad Company, the Colorado Coal and Iron Company, the Denver Land and Water Storage Company; and the Security Abstract and Rating Company.
The eight story high building is built in a cube-block form with rusticated Grenlee red sandstone from Manitou Springs, Colorado. The exterior featured an ornate cornice, embellished with carved heads. Entrance to the building was from 17th Street via three carved arches topped by a red sandstone balcony. The interior spaces feature high, pressed-tin ceilings, exposed brick walls with vaulted doors and round arcaded windows, some with stained glass panes. One contemporary historian, Jerome Smiley, described it as being the earliest "strictly modern office building" made in the city.
From 1920 ownership of the building came under the Dome Investment Company, of which Claude K. Boettcher was a key partner. In 1968 his stock brokerage firm, the Boettcher Company, purchased the building and made use of it as their office space. However, the sandstone building experienced much weathering over the years, and required renovation in the late 1990s. The original cornice and entrance balcony were removed during these renovations, and the original rusticated sandstone was made smooth. Nonetheless, many of its original features remain in an excellent state of preservation. Today the building stands out amongst the surrounding twenty first century skyscrapers. Following the late twentieth century renovations the building was used for residential and mixed retail purposes.
Sources
Norgren, Barbara. "Boston Building." National Register of Historic Places Inventory. January 12, 1977 Smiley, Jerome. History of Denver. Denver: The Times-Sun Publishing Company, 1901.
Additional Information