Fred Rogers Memorial Statue
Introduction
Dedicated in 2009, this bronze statue by artist Robert Burks honors Pennsylvania native and the host of the legendary children's television program Mister Rogers Neighborhood. Fred Rogers was born and raised in Latrobe on March 20, 1928. In December 2002, Rogers was diagnosed with stomach cancer and passed away in 2003 at his home in Pittsburgh with his wife by his side. The statue is located between Heinz Field and the Ohio River which is on the North Shore in Pittsburgh.
Images
Mr. Rogers wearing his trademark sweater to keep the chill off.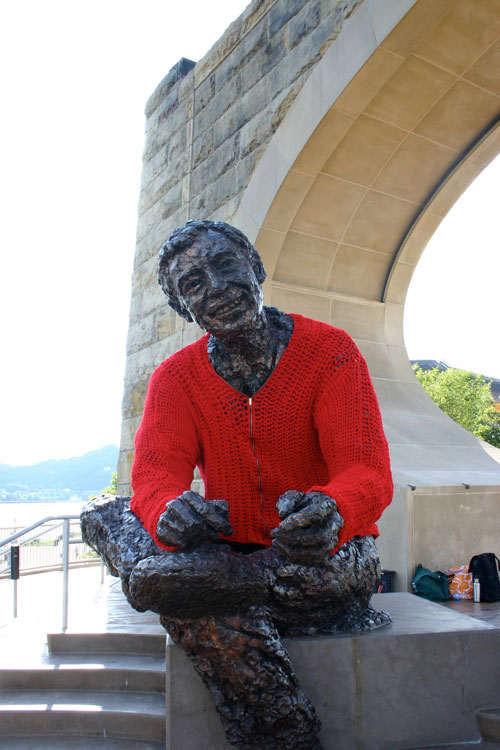 Mr. Rogers Memorial with the fountain at the Point and Ft. Pitt Bridge in the background.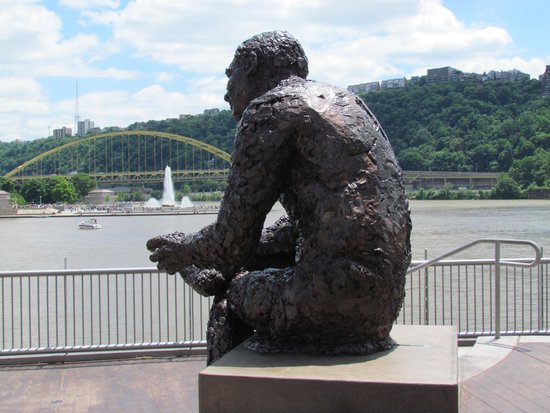 The memorial seen from a distance with the old support from the Manchester Bridge.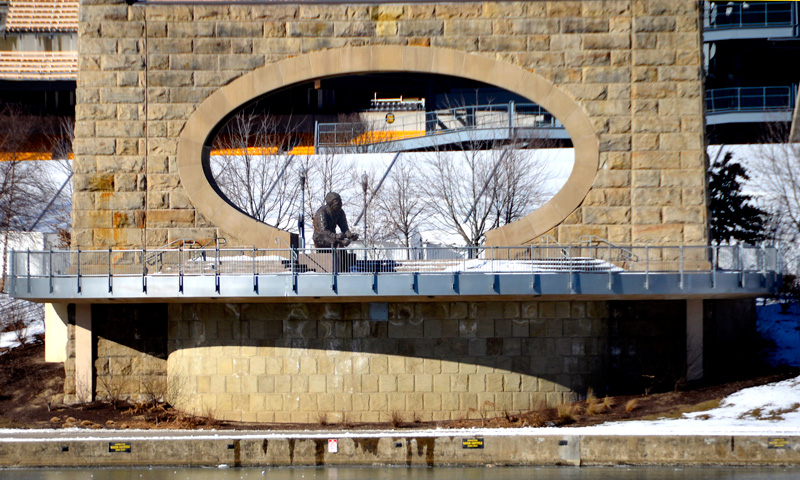 The original puppets from the original Mr. Rogers' Neighborhood show at the Heinz History Museum.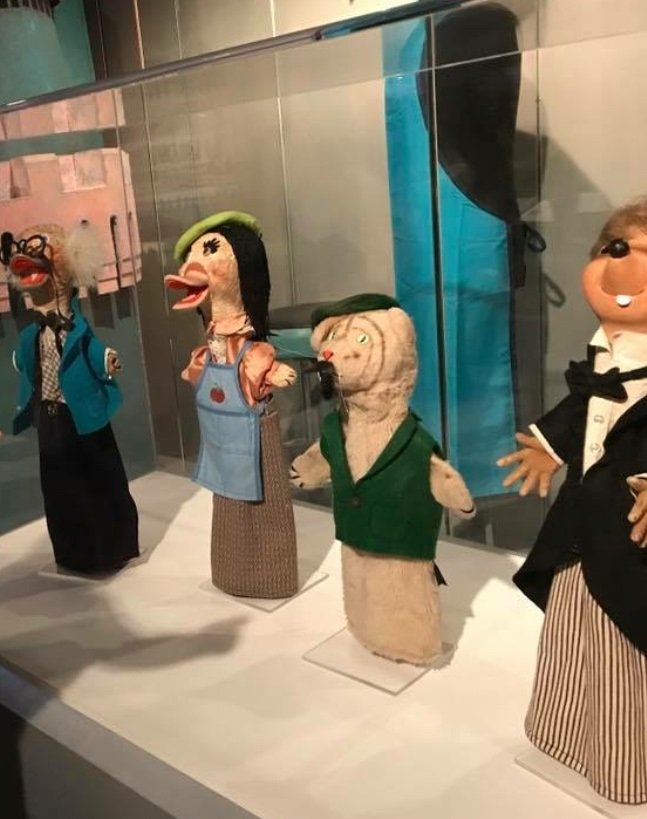 Backstory and Context
Standing (or sitting?) at almost eleven-feet, the Fred Rogers Memorial Statue is actually entitled A Tribute to Children. The 3.5-ton statue is set in the arch of a pier that once supported the Manchester Bridge and is located along the Ohio River between Heinz Field and PNC Park. This location was chosen due to Mr. Rogers' love of swimming and the city of Pittsburgh. The bronze statue portrays him in the pose most recognizable to all who viewed his iconic children's show; in the process of tying his shoe.
Mr. Rogers is, of course, best known for creating, hosting and directing Mr. Rogers' Neighborhood which aired from 1968 until 2001 on Pittsburgh's local PBS affiliate, WQED. Almost 11 years after Mr. Rogers' Neighborhood aired, a new popular hit children's television show came out in 2012 on PBS to honor Mr. Rogers' by presenting the sequel, Daniel Tiger's Neighborhood. This new show includes the children of the characters from his show back in 1968 – 2001, One of the most famous puppets from Mr. Roger's was Daniel Striped Tiger, who is now Daniel Tiger along with O the Owl (nephew of X), the Owl, Katerina Kittycat (daughter of Henriette Pussycat), Prince Wednesday (later-in-life child of King Friday XIII and Queen Sara Saturday), and Miss Elaina (daughter of Lady Elaine Fairchilde). Each episode, Daniel Tiger wears a red sweater, talks to the children, and signs orginial songs from the show just as Mr. Rogers had done. Despite the differences between the two shows, they are both loved by families and children.
The Presbyterian minister won numerous awards for his dedication to the compassionate education of children, to include the Presidential Medal of Freedom (2002), the Peabody Award (1992), induction into the Television Hall of Fame (1999) and four daytime Emmy awards.
Just a few other little known facts about Mr. Rogers and his memorial: every winter a fan places a cardigan sweater on the statue (size XXXXXXXXL), the Smithsonian Institution displays a cardigan sweater similar to the one worn by the statue, and asteroid 26858 is named Misterrogers.
Sources
Mavrogianis, Alexa. "9 Things You May Not Know About the Mister Rogers Statue." Pittsburgh Magazine. September 4, 2016. Accessed October 20, 2016. http://www.pittsburghmagazine.com/Best-of-the-Burgh-Blogs/The-412/September-2016/9-Things-You-May-No... Sostek, Anya. "Mr. Rogers
Takes Rightful Place at Riverside Tribute." Pittsburgh Post-Gazette. November 6, 2009. Accessed October 20, 2016. Merritt, Jonathan. "Saint Fred." The Atlantic. November 22, 2015. Accessed October 20, 2016. http://www.theatlantic.com/politics/archive/2015/11/mister-rogers-saint/416838/
""In the Archive."
Fred Rogers Center for Early Learning & Children's Media
, 2015, www.fredrogerscenter.org/fred-rogers-archive/in-the-archive/.

"Fred Rogers."
Biography.com
, A&E Networks Television, 17 Aug. 2016, www.biography.com/people/fred-rogers-9462161.

Jensen, Elizabeth. "PBS Is Going Back to the Neighborhood."
The New York Times
, The New York Times, 1 Sept. 2012, www.nytimes.com/2012/09/02/arts/television/daniel-tigers-neighborhood-in-mr-rogerss-tradition.html.

Owen, Rob. "Who's Who in 'Daniel Tiger's Neighborhood'."
Pittsburgh Post-Gazette
, 2 Sept. 2012, www.post-gazette.com/ae/tv-radio/2012/09/02/Who-s-Who-in-Daniel-Tiger-s-Neighborhood/stories/2012090....
Additional Information