Robert C. Woods House
Introduction
Home of notable businessman Robert C. Woods, this Greek Revival house was built in the 1800s prior to the construction of the Wheeling Suspension Bridge. At various times, this building was owned by three prominent businessmen in Wheeling, West Virginia. The Robert C. Woods House is one of the only standing buildings in the city that was constructed prior to the 1849 suspension bridge, and although the exterior and interior have been altered, many of the original details can still be seen. Today the house is a private drinking club, the West Virginia Snakes Club Inc.
Images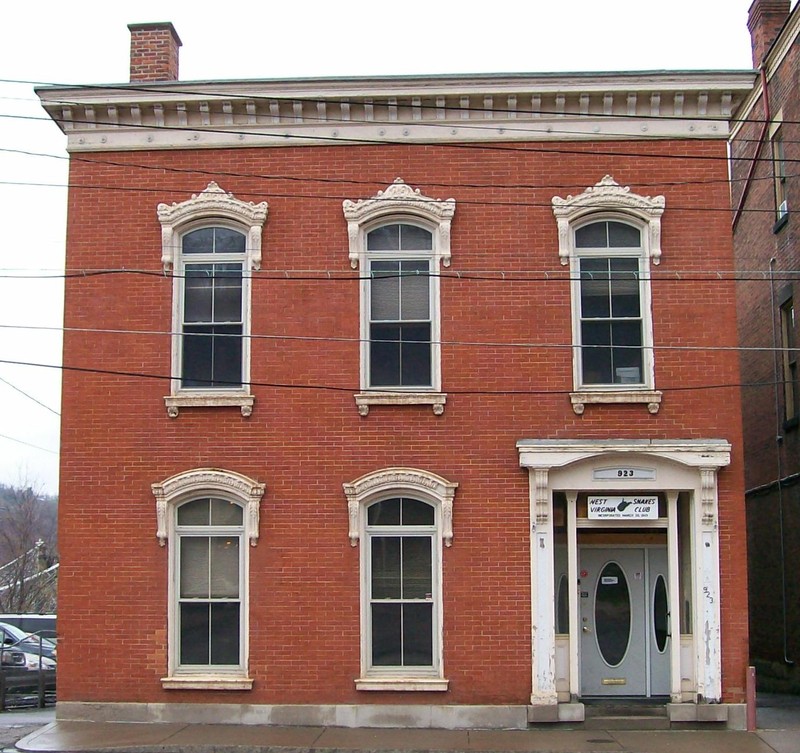 Backstory and Context
This two and a half story Greek Revival home was built between 1839 and 1845, and is located in Wheeling, West Virginia. This home was built by prominent businessman, Robert C. Woods, and represents the success of local merchants early in Wheeling's industrial history. In his father's will, Robert C. Woods was left the property that the house currently sits on, and after receiving the deed to the lot Woods began building his home along the National Road. Robert C. Woods is most well known for establishing the Marshall and Ohio county lines in 1835.1

It is said that Robert C. Woods never actually occupied this house, and the first occupant was prominent businessman John S. Rhodes in 1848 who purchased the house for $3,000. Woods invested in real estate, like his father before him, and saw the both the property and house as an investment. Rhodes had a dry-goods business in Wheeling, J.S. Rhodes & Co., which was one of the largest businesses in the area.1 In 1865, another prominent businessman by the name of Morgan Ott purchased the home for $6,000. Ott owned a successful hardware store in Wheeling and is the last historically significant person to have occupied the house.

Sources
1."National Register of Historical Places Nomination Form." Accessed October 23, 2016. http://www.wvculture.org/shpo/nr/pdf/ohio/91000551.pdf.
Additional Information