Marsh Wheeling Stogies
Introduction
Marsh Wheeling Stogies opened for business in 1840, making it the oldest cigar manufacturer in the United States. The company was founded by Mifflin Marsh, who at the age of 22 would sell stogies to steamboat crews and passengers, as well as Conestoga drivers, at the price of four for a penny. The Marsh Wheeling Stogies factory opened in this location in 1908, but has since closed after being bought out by National Cigar. Marsh Wheeling Stogies can still be purchased today, and are manufactured out of Indiana.
Images
Marsh Wheeling Sign Still Stands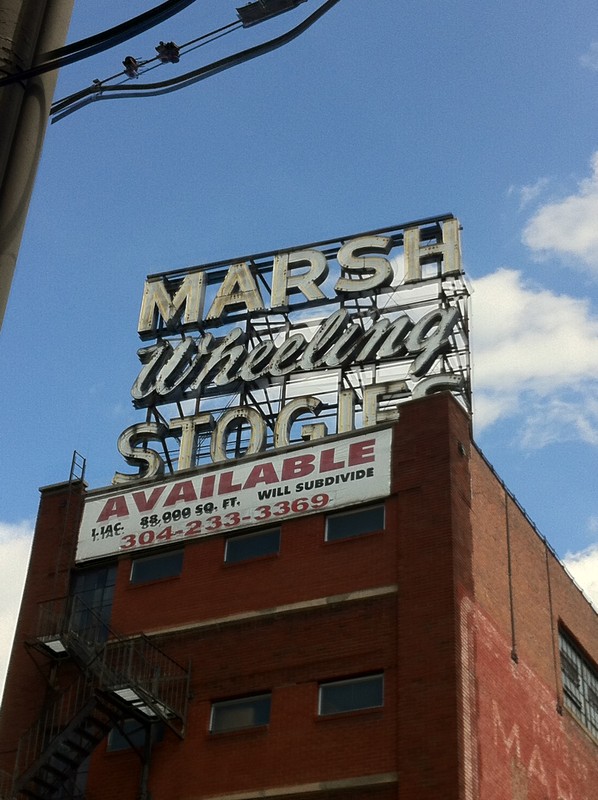 Marsh Wheeling Painted Sign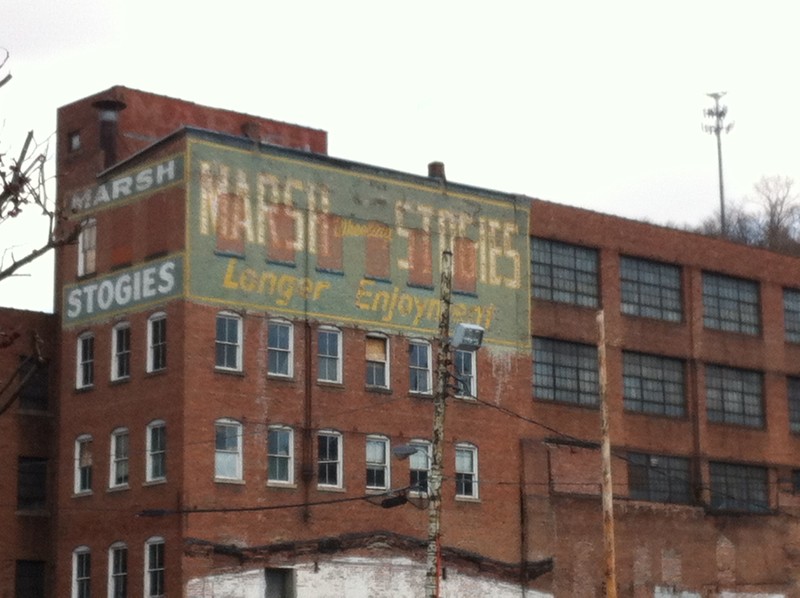 Backstory and Context
The stogie first became popular when George W. Black started selling them to travelers of the National Road in 1827. Stogies are a type of cigar that are longer and thinner than the traditional cigar, and were named after Conestoga wagons that many of the wagoneers drove and traveled in. Stogies were traditionally hand rolled, and were less expensive than traditional cigars. In 1840, Mifflin Marsh, at the age of 22, began making and selling stogies to steamboat crews and passengers and Conestoga wagon drivers at the price of four for a penny. Marsh made these stogies in his home and sold them in a basket that he constantly carried with him. Since Black and Marsh sold their stogies to travelers of the National Road, they quickly became nationally known and had a high demand, especially during the Civil War era. 
In 1869, Marsh went into business with his son, William, and formed M. Marsh and Son. Mifflin. The stogie makers were one of the first trades to unionize in Wheeling in 1869. Marsh remained the company president until his death in 1901, and then his son took over until 1920. 
A good stogie roller could roll about 1,000 stogies a day, but with the mechanization of rolling cigars, the hand rolling soon became obsolete. In 1931, M. Marsh and Sons rented more than 40 machines, each producing more than 5,000 stogies a day. Women were hired, especially during World War II, as the operators of these machines. At the company's peak, the factory employed 600 workers. After the war, Marsh became the only large stogie manufacturer still in business. In 2001, National Cigar Corporation bought all of the brands owned by Marsh and the plant in Wheeling was closed as production was moved to Frankfort, Indiana.
The brand of Marsh Wheeling Stogies became a popular face of the tobacco industry. The Marsh Wheeling box has showed up in television shows and movies such as The Green Mile, Jaws, and Mad Men.  Mifflin Marsh's tobacco empire was detrimental to the industrical success of Wheeling, and was elected to the Wheeling Hall of Fame in 1990.
Sources
1."Share Marsh Wheeling Stogies." 2016. Accessed October 26, 2016. http://www.wvencyclopedia.org/articles/1515. 2. "MARSH STOGIES SAYS GOODBYE AFTER 160 YEARS." November 7, 2001. Accessed October 26, 2016. http://www.wvgenweb.org/ohio/stogies.htm.
Additional Information