Mackay Hall
Introduction
Park University's Mackay Hall, completed in 1893, is a product of the college's unique "self-help" educational philosophy; more than 300 students provided manual labor for seven years in constructing the building. The Hall also speaks to the town's history, notably its founder, Colonel Park. He donated the property for the college and helped, along with Dr. John McAfee, instill its educational philosophy, one intent on combining Christian teachings with pragmatic lessons targeted at youth living in the American West. Park College also proved to be a far more inclusive college than many others of its era; women students and two Native Americans were included among the college's first student body.
Images
2007 photo of MacKay Hall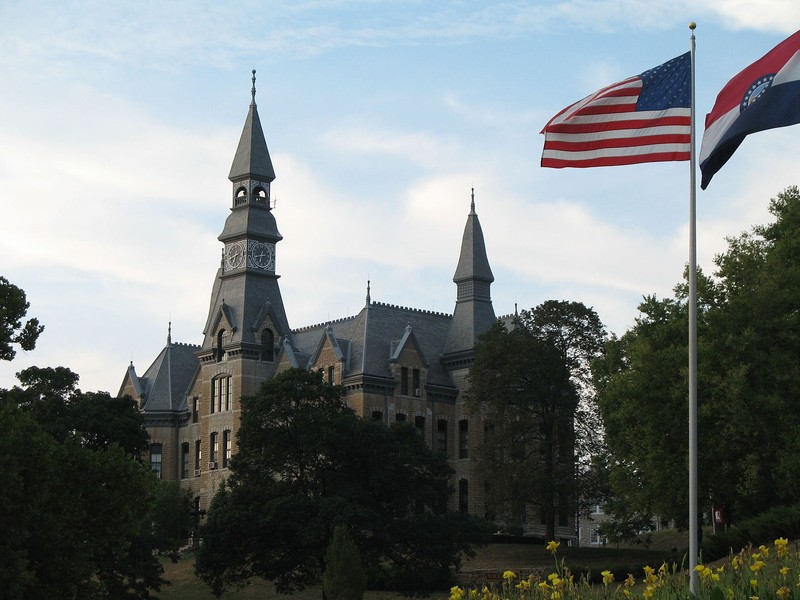 Mackay Hall under construction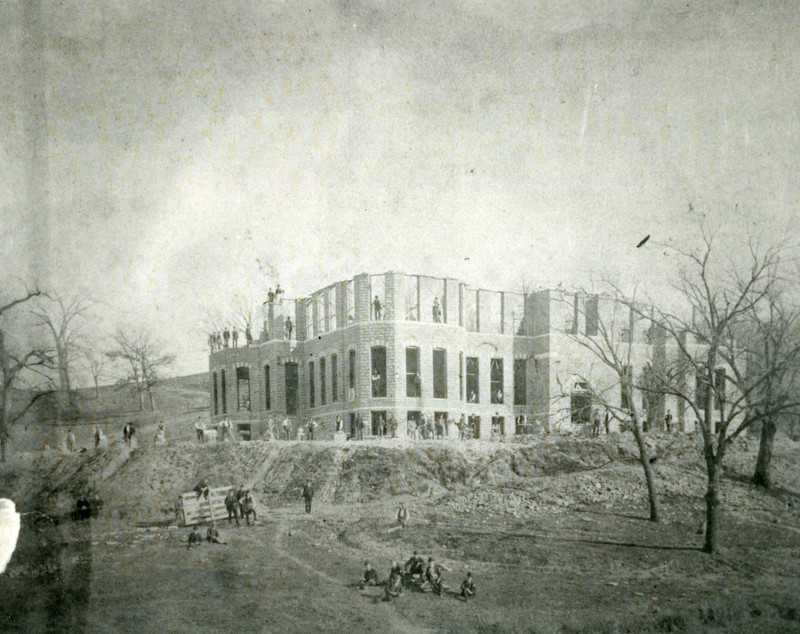 Mackay Hall after its completion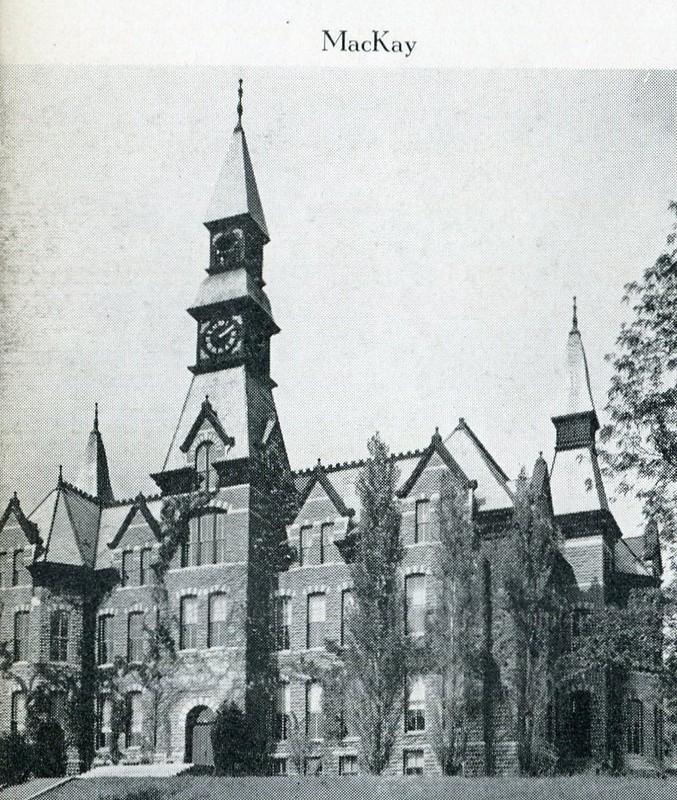 The concept drawing of what Mackay Hall would look like when it was completed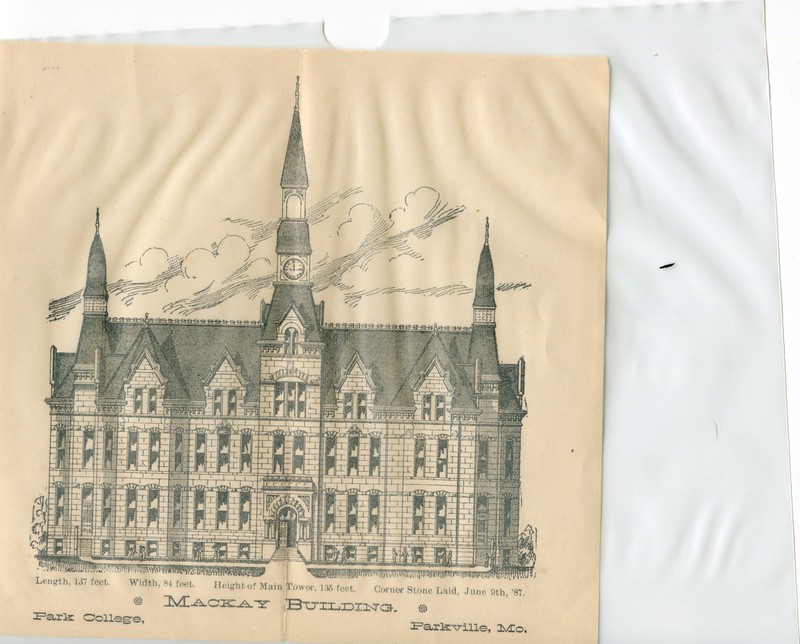 Mackay Hall under construction in 1889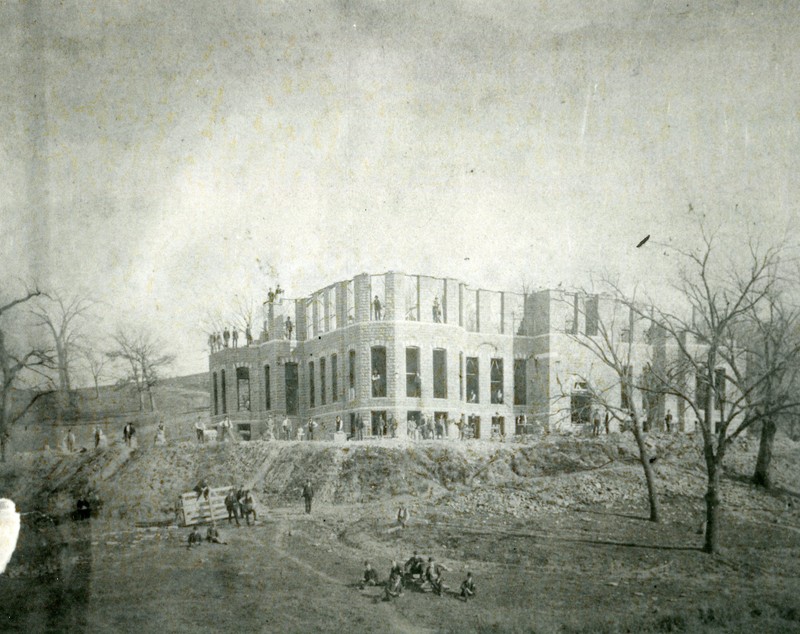 The MacKay cornerstone which was replaced during renovations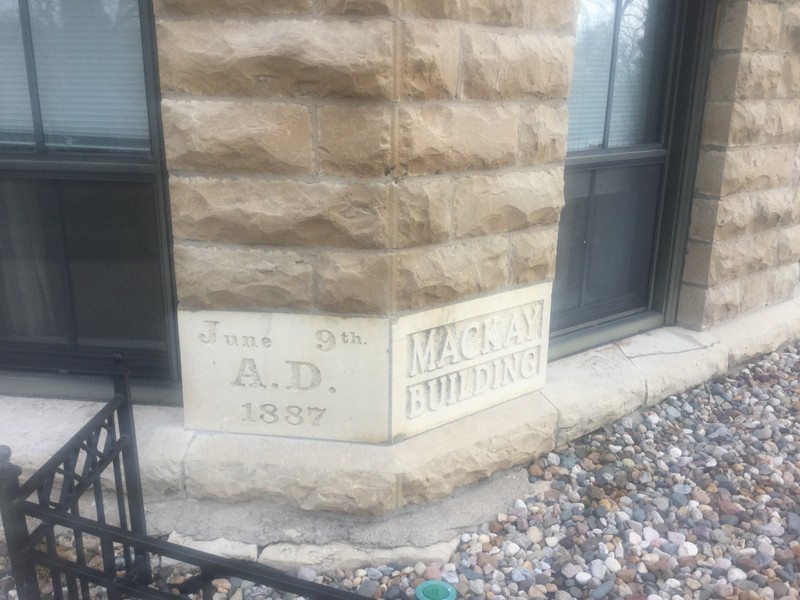 A paving stone detailing the time capsule inside the cornerstone, that is to be opened in 2093.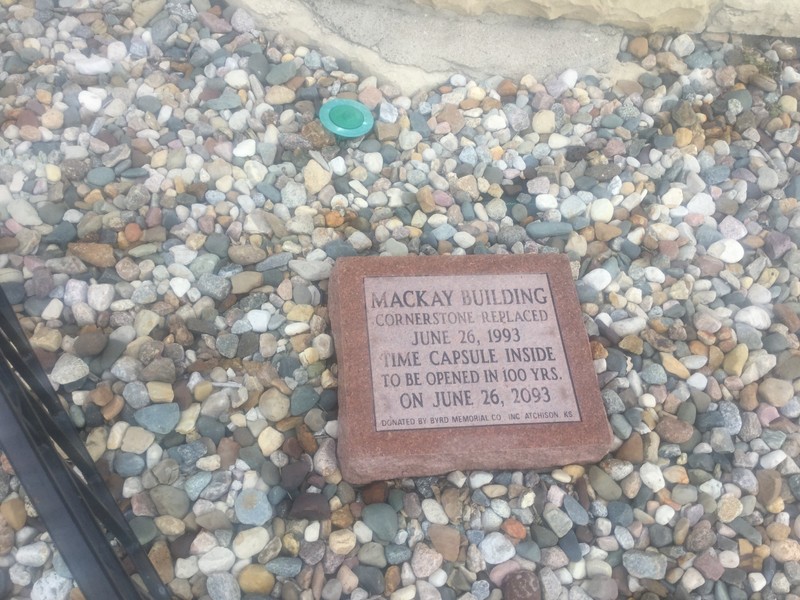 Backstory and Context
Colonel George Shepard Park and Dr. McAfee both contributed to the eventual development of Park College. The two men sought to create a pedagogy designed to educate young people of the American West. Park, born in 1811 in Vermont, taught in various schools in Ohio, Illinois, and Missouri. By 1835, Park found himself in Texas when its war for independence arose. He ultimately achieved the rank of Colonel, and he avoided death at the Alamo because he had left on a scouting mission. 
Park returned to Missouri in 1836 and purchased several tracts of land on the Missouri River abound in steamboat traffic. The area, named Parkville after its founder, was incorporated in 1844. However, he fled the area for Illinois in 1853 after his "free-soil" newspaper, The Industrial Luminary, angered pro-slavery residents, leading them to break into his printing plant and destroy his printing press. But, two years before he left, in 1851, he offered his Parkville hotel property as a location for a possible college campus. He hoped to develop a college that offered a combination of Christian teachings with practical lessons for those living in the American West. Finally, in 1875, Colonel Park met Reverend John A. McAfee; their meeting led to the establishment of "Park College for Training of Christian Workers."
John McAfee, a Missourian born in 1831, graduated from Westminster College in 1859, which led him to several teaching positions. Additionally, despite possessing any formal theological training, he was ordained a Presbyterian minister and received an honorary degree of Doctor of Divinity from Westminster College. McAfee advocated self-help education principles, which consisted of students supporting themselves and financing their education with their own labor, which, in turn, provided them with practical lessons. While teaching at Highland University, his belief in self-help education stood in stark contrast to the administration's more traditional approaches. So, they forced McAfee to leave. But, he brought seventeen students with him to Parkville to form the new Park College with Colonel Park in 1875. 
Despite struggling financially during its first four years, Park College graduated its first five students in 1879, the same year the college officially incorporated. Dr. McAfee served as Park College's first president, a position he held until he died in 1890, one week after Colonel Park passed away. Dr. McAfee's five sons and one daughter all served for many years either in teaching or administrative work at the college.
Much of the self-help principles were drawn from the administration's interpretation of the Bible. The college also designed a system to help impoverished families attend. Families needing assistance included work requirements, Bible study, attending religious services, and adhering to a Christian code of conduct. 
The Mackay Building provides a lasting example of the school's self-help philosophy. Duncan MacKay of Morrison, Illinois, agreed to pay for half the building costs, with the school and student labor providing for the other half. Nearly 300 students worked on the building under the direction of Master Builder Patrick Breen. Ground broke in 1886, and the crew laid the cornerstone in 1887. The construction process took seven years to complete, partially due to financial restraints but also because Park College students performed the arduous task of manually quarrying, transporting, and cutting the limestone used for the building. 
In 2000, Park University achieved university status and has now expanded to offer numerous types of degrees. Additionally, the institution currently serves roughly 17,000 students per year at thirty-nine campus centers in twenty-one states, including thirty-one campuses on military bases. But, Mackay Hall, which opened in 1893, still stands as the main campus' oldest existing building, serving as a reminder of its early history. 
Sources
Cameron, Janice R. "Nomination Form: Mackav Building." National Register of Historic Places. mostateparks.com. 1979. https://www.mostateparks.com/sites/mostateparks/files/MacKay%20Building.pdf.
"History of Park University." Park University. park.edu. Accessed April 2, 2022. https://catalog.park.edu/content.php?catoid=6&navoid=573.
Mackay Records.The Park Building Collection. Fishburn Archive and Special Collections. Park University, Parkville, MO.
Beck, Bill. Fides et labor: 140 years of pioneering education: the story of Park University. Virginia Beach, VA: The Donning Company Publishers, 2015.
Image Sources
By The original uploader was Americasroof at English Wikipedia. - Transferred from en.wikipedia to Commons by Josve05a using CommonsHelper., CC BY-SA 3.0, https://commons.wikimedia.org/w/index.php?curid=12146627

Additional Information