John Hunn -- Quaker Abolitionist
Introduction
John Hunn (1814-1894) was a Quaker Abolitionist who played a key role in assisting slaves to escape bondage in Delaware via a network of safe houses and committed abolitionists known collectively as the Underground Railroad. Mr. Hunn was fined twice for his efforts to assist slaves escape. In addition to personal expenses, these fines totaled $20,000. Hunn also risked his life as well as his livelihood given the frequent acts of violence that were perpetrated against abolitionists in the mid-19th century. With the help of John Hunn and many other white and Black abolitionists who took great risks to assist runaway slaves, thousands of men, women, and children were able to escape bondage.
Images
The historic marker for John Hunn is located near the Camden Friends Meeting House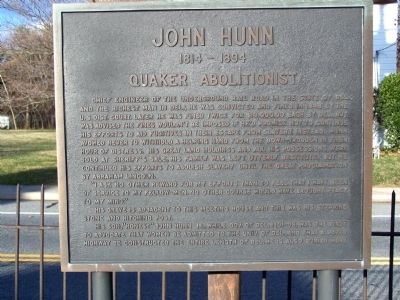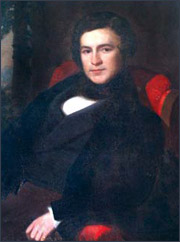 Backstory and Context
John Hunn was once one the richest man in Delaware in the mid-18th century, but today he is best-known for his willingness to lose all of his wealth. After being fined and having his estate confiscated, he continued his work as a leader within the clandestine network of abolitionists who risked their lives and livelihood to assist slaves via the Underground Railroad.
In 1846, Hunn was convicted of the crime of aiding in the escape of slaves. Hunn was faced with fines of $20,000. After this incident, Hunn was expected to stop his efforts in aiding runaway slaves. Instead, he said that he would "
never... withhold a helping hand from the down-trodden in their hour of distress." He continued his his work with the Underground Railroad after all of his belongings were seized by the Sheriff's Department and sold at at an estate sale.

Although his belongings were sold, Hunn continued his efforts to abolish slavery. After the war, we worked with the Freedman's Bureau and assisted former slaves in Port Royal, SC. John and is son "Honest" both worked for the Bureau and then returned to Deleware in 1876.
"I ask no other reward for my efforts than to feel that I have been of service to my fellow men. No other course would have brought peace to my mind."
John Hunn
John Hunn died in 1894, is buried at the cemetery next to his Quaker meeting house next to his son "Honest" John Hunn Jr.
Sources
"John Hunn Historical Marker." Historical Marker. N.p., n.d. Web. 05 Apr. 2017.
Additional Information