Ozzie Smith Bronze Statue
Introduction
This bronze statue in front of Busch Stadium honors Ozzie Smith and stands alongside statues of other Cardinals players near the stadium's front entrance and team store. Ozzie Smith, also known as "The Wizard of Oz" or more simply "The Wizard", is widely-regarded by baseball historians and fans alike as one of the greatest shortstops in baseball history. He is best known for his skill as an infielder, blazing speed and athleticism, and performing a backflip from a standing position as he ran out to his position every game. Smith was a team captain and a World Series Champion with the 1982 St. Louis Cardinals. His memory in the city of St. Louis is such that his name can still be found on jerseys and his namesake bar and grill with his collection of Golden Gloves is a popular stop for tourists and locals alike.
Images
This bronze statue is located just outside the home plate gate.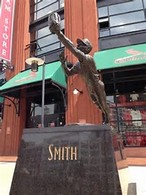 Ozzie and his daughter at the dedication of the statue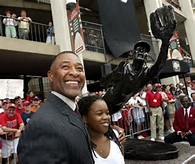 Ozzzie Smith's famous backflip.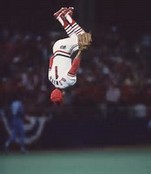 Backstory and Context
Ozzie Smith is a Hall of Fame inductee who led the St. Louis Cardinals to multiple World Series appearances. Born December 26, 1954, in Mobile, Alabama, Smith attended Cal Poly San Louis Obispo (San Louis Obispo, CA). Given his success on the Cal Poly team, Smith was drafted twice in his collegiate career- first by the Detroit Tigers in the 7th round of the 1976 Amateur Draft, and again the following year by the San Diego Padres in the 14th round. Smith made his way through the minor league system quickly and he made his debut in the majors on April 7, 1978. He was 23 years old and only weighed 150 lbs. Despite standing nearly six feet tall-a slender appearance in a sport known for brawny sluggers. Ozzie was an effective batter but is best-known for his exceptional defensive play that led to thirteen Golden Gloves in his nineteen seasons. He would start every game by sprinting out to his position and performing his famous cartwheel-to-backflip in front of the giant MLB crowds.

The Wizard spent just four seasons in San Diego- the team that drafted him. He was then sent to play with the St. Louis Cardinals where he spent the rest of his playing days. Ozzie had a career batting average of .262-an average mark. However, he was selected to appear in 15 All-Star game appearances and made the All-Star roster in 12 consecutive years from 1981-1992, then three more years in a row from 1994-1996. He was voted to start in 11 of those 15 games. He has won more Golden Glove awards than any other shortstop. He also received the National League Silver Slugger Award one time in his career, which came in 1987. He also received the 1985 NLCS MVP Award.

Ozzie Smith was not only a great baseball player, but he was also recognized for being a good person. Throughout his career, he was the recipient of the 1989 Lou Gehrig Memorial Award, the 1994 Branch Rickey Award, and the 1995 Roberto Clemente Award.

The greatest accolade of his would come after his baseball career ended. In 2002, Osborne Earl Smith was inducted into the Baseball Hall of Fame in Cooperstown, New York. He was a first ballot inductee and received a 91.7% voting percentage by the committee.

Sources
Ozzie Smith Stats. (n.d.). Retrieved July 02, 2017, from http://www.baseball-reference.com/players/s/smithoz01.shtml
Busch Stadium. (n.d.). Retrieved July 02, 2017, from http://stlouis.cardinals.mlb.com/stl/ballpark/index.jsp


Additional Information