Fisher Building-Latham Block
Introduction
Constructed prior to the Civil War, these two commercial buildings are now connected internally. Records suggest that the building was completed in 1856, making this block one of the oldest in the city. These two buildings would have been one of the largest commercial buildings at the time of their completion and located near the railway during a period of Springfield's growth. The brick structures note a civic, and national, architectural response to fires that had previously damaged wooded structures. The automobile's arrival in the twentieth century fostered change in Springfield, as some businesses left the commercial center.
Images
By Teemu08 - Own work, CC BY-SA 3.0, https://commons.wikimedia.org/w/index.php?curid=19538055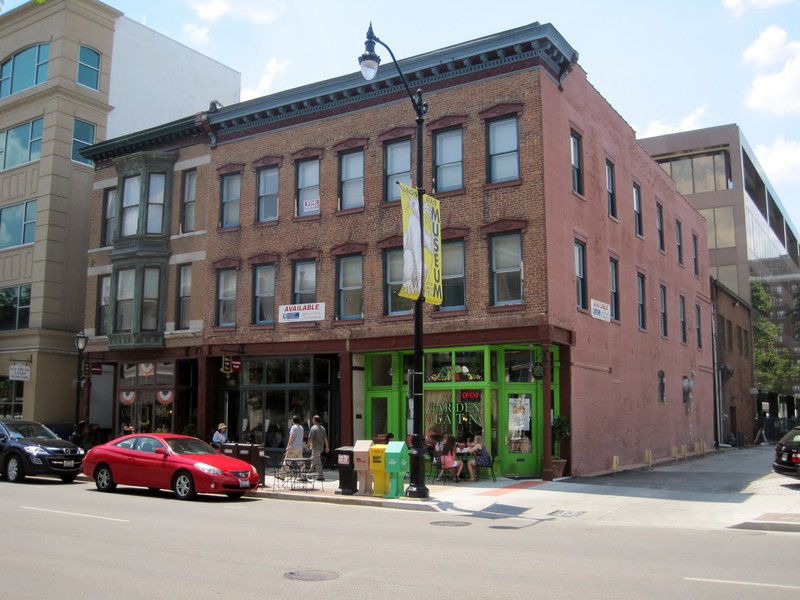 Backstory and Context
Though interrupted (somewhat) by the Civil War, Springfield witnessed a commercial building boom throughout the second half of the nineteenth century. Commercial structures and the railway dominated eight square blocks of downtown Springfield. Few structures of that period remain, so the Fischer-Lathum block stands as a reminder of the commercial building boom that occurred in Springfield in the 1850s thanks to the rail line that connected Springfield to Chicago.

Initially built as two separate structures, two connections within the buildings converted the Fisher and Latham buildings into one structure. Construction of both buildings began in 1856, and its brick exterior notes the town's response to the many fires that had destroyed structures earlier -- a trend that occurred in many cities during the era.

The larger Latham Block represents typical mid-19th Century commercial design including symmetrical windows with cast iron hoods. The Fisher Building originally enjoyed a similar design, but a renovation in 1900 followed the more ornate Classical Revival style. Thus the Fischer building has limestone trim, exterior decor, and a two-story bay window. Several businesses occupied the building complex but, in general, service industries such as restaurants, theaters, and saloons resided on the first floor while offices and apartments filled both buildings' second and third floors.
Sources
Mann, Curtis R. "Nomination Form: Fisher Building Lathum Block." National Register of HIstoric Places. March 21, 2000. http://gis.hpa.state.il.us/pdfs/205602.pdf

Jackson, Mike. Storefronts on Main Street: An Architectural History. Springfield, Il: Illinois Historical Preservation Society, 1998.






Additional Information