Dorrance Brooks Square
Introduction
The Dorrance Brooks Square is a park named in honor of Dorrance Brooks (d. 1918), an African American soldier who died in France shortly before the end of World War I. A native of Harlem and the son of a Civil War veteran, Brooks was a Private First Class in the 15th Infantry. Brooks was praised for his "signal bravery" in leading the remnants of his company after his superior officers were killed.
Images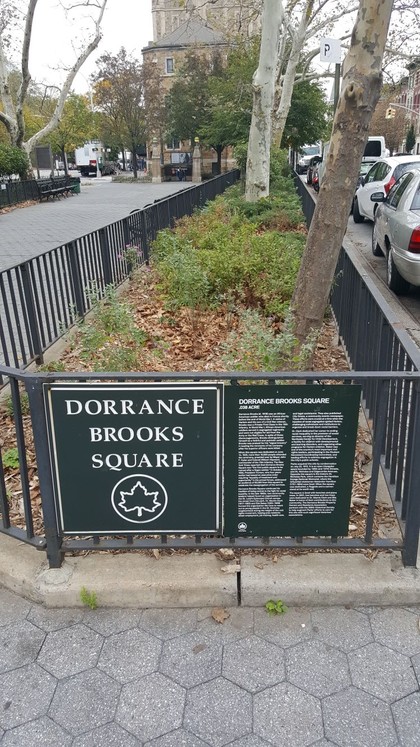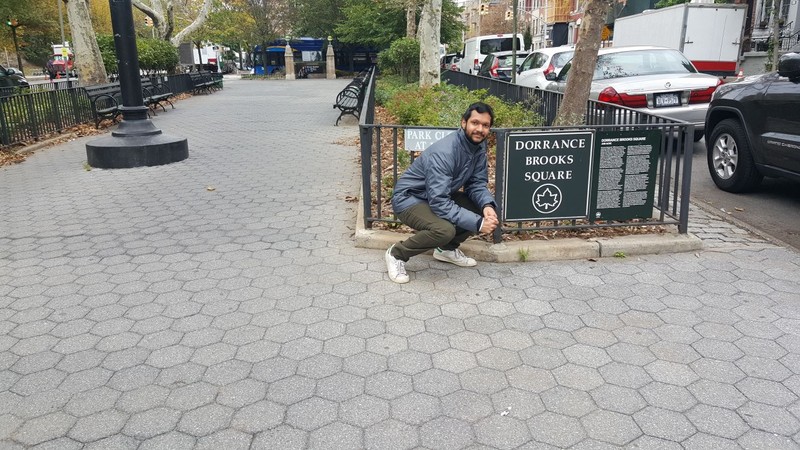 Backstory and Context
The Dorrance Brooks Square is .038 acres in size. It is located on Edgecombe Avenue, between 135th and 136th Street. It sits right next to St. Nicholas Park. The small park is lined with benches and London Plane trees. An entrance to 135 St MTA stop is found within the park itself. The park was created on June 14, 1925. The Dorrance Brooks Property Owners and Residents Association partners with the 369th Historical Society to help augment NYC Parks' efforts to care for this site with such significant historical associations.
The Dorrance Brooks Square is a memorial park dedicated to Dorrance Brooks, and African American soldier who died in France, during World War I. The square has always been a central point for the fight for racial equality, since its creation in 1925. The park represented the President Truman once gave a speech at the small park to a crowd of 50,000, celebrating the desegregation of services (The American Presidency Project). Additionally, the square was a major source of inspiration during the Harlem Renaissance. During the late 1960s, Dr. Mamie Clark and Ella Baker founded, right across from the square, the "We Care" organization, which helped Harlem residents find employment (Harlem One Stop).
Dorrance Brooks was part of the 369th Infantry Regiment, which consisted of only African and Puerto Rican Americans, during both World Wars. He was a Private First Class at the time of his death. The 369th Infantry Regiment was nicknamed the "Hell Fighters" by the Germans due to their toughness in battle (Black Soldiers of New York State, 2009). Before the 369th Infantry Regiment was constituted, on June 2, 1913, African-American soldiers were typically sent to fill vacancies within the French armies. With the formation of this regiment, many African-Americans saw it as an opportunity to prove their capabilities, and alter the way that they were perceived by their white counterparts (Fighting for Respect: African American Soldiers in WWI, 2015).