Zion Triangle War Memorial
Introduction
This memorial was dedicated to soldiers who served in the United States armed services during World War I. The monument was designed by Henry Beaumont Herts and sculpted by artist Charles Cary Rumsey and dedicated in 1925.
Images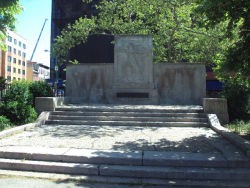 Backstory and Context
Zion Park is in Brooklyn between Pitkin Avenue and East New York Avenue. The land was originally owned by Peter L. Vandeveer, but in 1896 he gave the property to the City of Brooklyn. Soon, after the City of Brooklyn name the property Vandeveer Park, but in 1911 the Board of Alderman renamed the park to Zion Park to acknowledge the large local Jewish community. 
By 1923, Alexander S. Drescher, chairman of the Citizens Memorial Committee and the Soldiers' and Sailors' Memorial Committees of the American Legion and Veterans of Foreign Wars, petitioned Brooklyn Borough Parks Commissioner John N. Harman to erect a memorial honoring the courage, valor, and sacrifice of those who served their country. Alexander S. Drescher also sought $5,000 worth of site improvements to accommodate the memorial. After delays due to financing, the project went forward in 1925. 
The memorial was designed by Henry Beaumont Herz and sculpted by Charles Cary Rumsey. The memorial itself is a wall with a higher central section with a bas-relief of winged female warriors, two side sections incised with names which are on a raised platform with steps, banisters with medallions, an eagle, on the left a star of David and on the right a plaque. Many of the names are of soldiers who served during World War I.
Sources
New York City Parks Department. Zion Park War Memorial, Official Website of the New York City Department of Parks & Recreation. Accessed September 27th 2019. https://www.nycgovparks.org/parks/zion-triangle/monuments/182.
Image Sources
Luis Monge (November 2, 2017)

Additional Information