Robert Burns Statue
Introduction
The Robert Burns Statue was an idea after the Sir Walter Scott Statue was erected in 1872. These two statues sit across from one another. The statue was sculpted by Sir John Steell, who also did the Sir Walter Scott Statue. The Robert Burns Statue was unveiled on October 3rd, 1880 and there was a big celebration of more than 5,000 people. Over the years, the statue has been reconstructed and been taken care of by the Saint Andrew's Society.
Images
An up close photo of the Robert Burns Statue.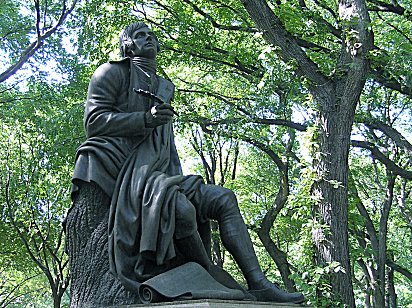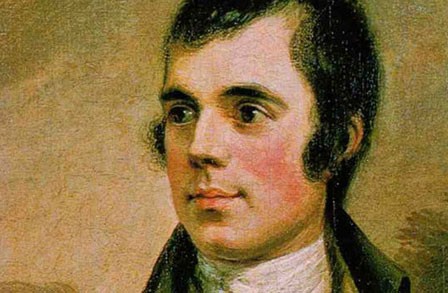 Backstory and Context
The statue that sits in Central Park, New York City of Robert Burns was dedicated in 1880, a few years after the Sir Walter Scott Statue was erected in 1872. After the unveiling of the Scott Statue, a committee formed shortly after to get a monument of Burns. They were both created by the same sculptor by the name of Sir John Steell. Steell was "appointed Sculptor of the Queen of Scotland" which he went on and created four statues of Burns around the world. When Steell created the Robert Burns Statue in New York, he had Burns sitting on a tree stump, with a pen, and his eyes were looking up into the sky. Steell thought this gave Burns "a pose of inspiration". Then at the bottom of the statue there is a poem for his lost love, Mary Campbell, who died unexpectedly. On October 3rd, 1880, more than 5,000 people attended the unveiling. People from clubs dressed in Highland costume and there was also a band called Grafulla's Band.
Throughout the years, the statue has been reconstructed. Once in 1940, due to an unstable pedestal. It was again reconstructed in 1993, the pen was stolen, so they had it replicated. The statue than become part of the Adopt-A-Monument Program, that helped restore a lot of monuments out there today. Since then, the Saint Andrew's Society now funds the caring of the Robert Burn Statue. And then in 1996, hundreds of people gathered for the bicentennial of his death, where a lot of programs and foundations supported the event.
Robert Burns was born January 25th, 1759 and was William Burnes and Agnes Broun first born child. His parents were tenant farms who really did not have a lot of money. Growing up Burns would find time from working on the farm to write poetry. After his father died in 1784, Burns fathered a child out of wedlock and then had another child with someone else as well. When he could not marry the second women, Jean Amour, due to her father, he began seeing Mary Campbell who would become his long-lost love when she died unexpectedly.
As of 1786, Burns published his first book of poems in Kilmarnock, where they became popular. He took this as a good sign and left the farm for Edinburgh. Over the years, Burns wrote a second book of poetry but it still did not help with money and by 1788, he was tenant farming again and married to Jean Amour and would have nine children all together.
However, by 1791, Burns gave up farming for good. Burns and his family then moved to Bumfries that was not too far away and he got a job as a tax collector. While doing this, he was able to continue writing until his death in 1796 at the age of 37. Burns' most popular writings include "Auld Lang Syne", the unofficial New Years' Song, "A Red, Red Rose" and "The Battle of Sherramuir".
Sources
Robert Burns. Central Park. Accessed December 01, 2017. https://www.nycgovparks.org/parks/central-park/monuments/197.

Robert Burns. Biography.com. Accessed December 01, 2017. https://www.biography.com/people/robert-burns-9232194.


Additional Information