Hollywood Heritage Museum
Introduction
Hollywood Heritage Inc. is devoted to the preservation of Hollywood's history. Their museum focuses on film history, especially that of the silent era. The museum is housed by the Lasky-DeMille barn, the oldest surviving film production building in Hollywood. Jesse L. Lasky was a movie producer and co-founder of Paramount Pictures, while Cecil B. DeMille was the director of such hits as The Ten Commandments and Sunset Boulevard.
Images
Photo of the barn-turned-museum from the National Park Service.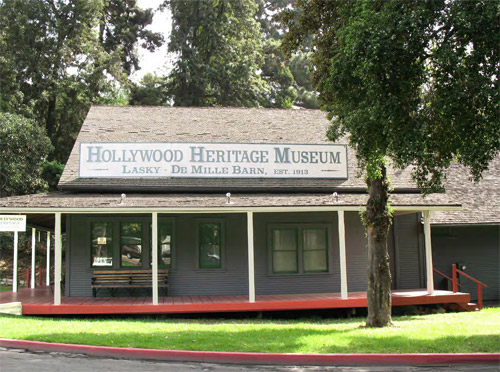 Backstory and Context
The Lasky- DeMille barn, now a historic landmark, was built in 1901 by Colonel Robert Northam to house hay and horses. Its original location was on the corner of Selma Avenue and Vine Street. In 1904, the Stem family bought the property. The barn was turned into The Burns and Revier Studio and Laboratory and rented out to independent movie producers beginning in 1913. That same year, Jesse L. Lasky founded his Feature Play Company, with Cecil B. DeMille as its head director. The company would rent the barn and film multiple movies there, including 1914's The Squaw Man.
In 1916, the Lasky Feature Play Company merged with the Famous Players Film Company, becoming Famous Players-Lasky. Two years later, the group absorbed the film distribution company Paramount. The barn was then taken from its initial location to the future home of Paramount Pictures Studios on Melrose Avenue in 1926. DeMille and others held sentiment for the old building and it was used as a set in some films.
The barn moved again in the 1970s when it was taken off the studio lot and placed in a parking lot. After sitting dormant for three years, it was moved to its current resting place on Highland Avenue, near the Hollywood Bowl. The barn was renovated and turned into a museum in the 1980s, and despite a fire in 1996 that kept it closed for three years, the Hollywood Heritage Museum is still open today. Visitors can walk through the barn and see film memorabilia from the silent era. Over a hundred years after its construction, the Lasky-DeMille barn stands as a reminder of the pioneering spirit of early filmmakers who came to California.
Sources
Hollywood Heritage Museum. Hollywood Heritage. Accessed January 11, 2018. http://www.hollywoodheritage.org/museum.

Lasky-DeMille Barn. National Parks Service. Accessed January 11, 2018. https://www.nps.gov/nr/feature/places/14000034.htm. Photo Source


Additional Information