Ora Washington Historic Marker
Introduction
Ora Washington was one of the premiere female athletes of the early 20th century. She excelled in both tennis and basketball, but because of racial discrimination, she was rarely able to compete with white athletes. According to Arthur Ashe, Washington may have been the best female athlete of the 20th century.
Images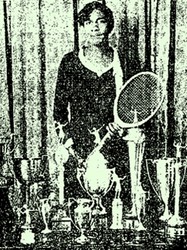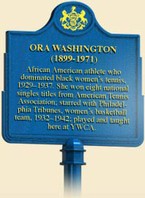 Backstory and Context
Ora Washington was born in Virginia on January 16, 1899. When Ora Washington's sisters passed away she was introduced to tennis at a local YMCA near her home in Philadelphia. Within only one year, Washington was a leading player in the national association for Black women. After only four years of experience in the sport, Ora Washington won the ATA's Women's singles championship. She held on to that title for a long seven years from 1929 to 1936 and was a well-known African American woman as well as an athlete. Many well-known tennis players in her time knew and talked highly of her talents and looked up to her. Even though she loved tennis Washington decided to highlight her talents in other sports such as basketball where she played center for the Germantown Hornets and the Philadelphia Tribunes.
Upon retirement from professional athletics, Ora Washington coached and offered free tennis lessons at the public courts in her hometown. She died in 1971.
Sources
http://explorepahistory.com/hmarker.php?markerId=1-A-35A http://sports.jrank.org/pages/5154/Washington-Ora.html
Additional Information