Peony Park
Introduction
Built as a modest gas station and restaurant in 1919, Peony Park had served Omaha for many years as a place to make memories and relax. Through its rapid growth and history of discrimination, Peony Park has remained a beloved landmark for many Omaha citizens. While it no longer exists, the impact it had on Omaha has not been forgotten.
Images
Illustration of the Royal Grove open air concert area https://commons.wikimedia.org/w/index.php?curid=40972914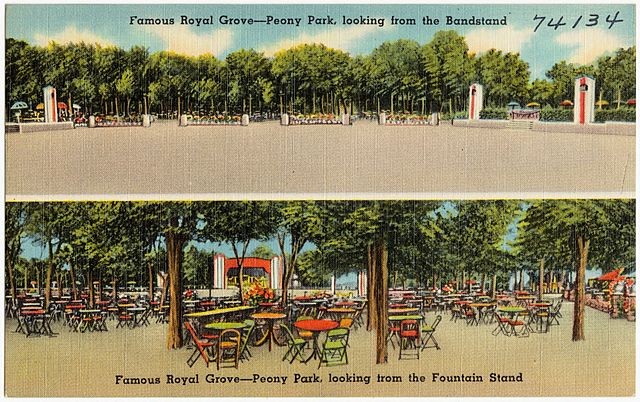 Illustration of the man-made beach https://commons.wikimedia.org/w/index.php?curid=40973057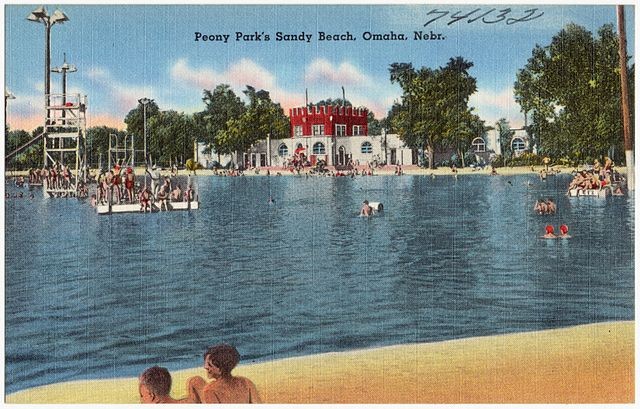 Illustration of the outside of the Royal Terrace Ballroom https://commons.wikimedia.org/w/index.php?curid=40973005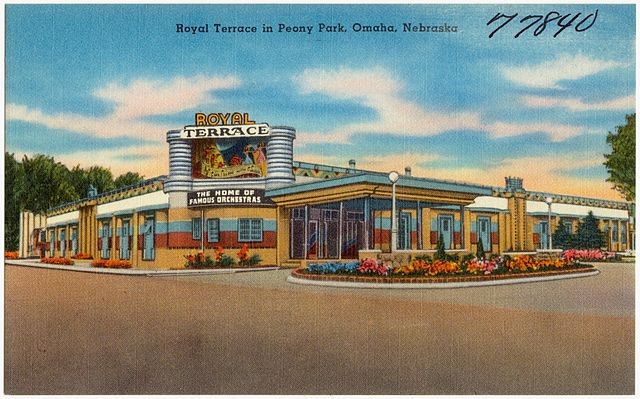 Illustration of the inside of the Royal Terrace Ballroom https://commons.wikimedia.org/w/index.php?curid=40972562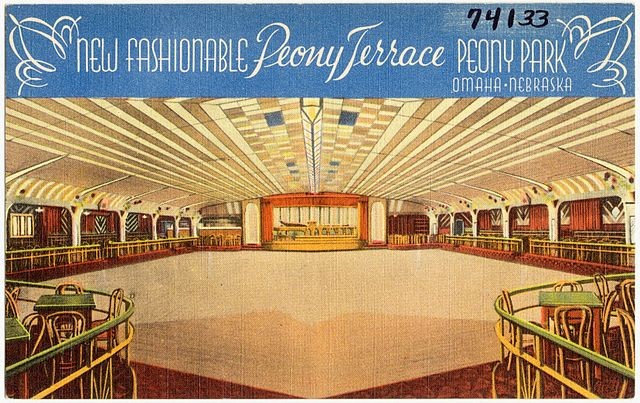 Big Red Keno, the last remaining building from Peony Park, was once the theater. It is located on 8100 Cass St.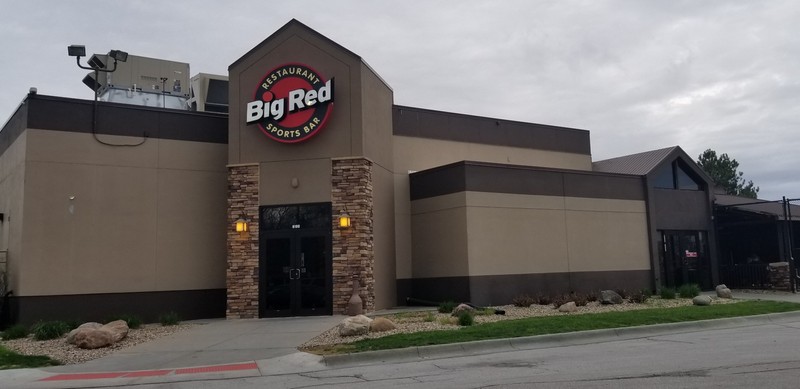 Backstory and Context
Beginning as a gas station and restaurant across from Carl Rosenfield's peony farm on the Lincoln Highway in west Omaha, Joe Malec, Sr.'s "Peony Park" would become a popular amusement park, beloved long after it closed in 1994. Catering to travelers from the highway, Malec's "Peony Inn" restaurant and gas station eventually welcomed the addition of a beer garden and ballroom. The "Royal Terrace Ballroom," also known as "The Acre Under One Roof," hosted many events from holiday dances to proms and many famous names. Lawrence Welk was able to recover his career by performing at the ballroom, much to the encouragement of his good friend, Joe Malec, Sr. Other celebrities to pass through the ballroom included Chubby Checker and U.S. presidents Jimmy Carter, Gerald Ford, and George H. W. Bush. Nebraska senator Subby Anzaldo performed a song and dance in the ballroom before dying of a heart attack a half hour later.[1]
The ballroom was renovated and expanded many times through its lifetime. It had two basements, a kitchen, banquet facilities, walk-in coolers, a penthouse on the second floor that would later become an office, a stage, and a dance floor. Many of the tables and chairs were later moved to the Royal Lodge behind the Royal Grove concert area. Roaming the ballroom, among the many young couples, were photographers working with Peony Park's own photography department to take candid pictures and provide souvenirs to those enjoying their time at events or on dates or get-togethers.
In 1926, a pool was developed from a natural spring-fed lake with "state-of-the-art" water sanitizing sandpit filters. The pool hosted many competitions, Red Cross lessons, and the 1930 Olympic swim team for a few days. It was also here that one of the first uses of CPR saved the life of a young swimmer in 1972. At 700 ft long, the pear-shaped, man-made lake, with a capacity of over 3,000, had a beach that would be refilled every year, an area with exercise equipment akin to a "muscle beach," three fountains to return the filtered water, and a 30 ft tall diving tower and diving boards. Steep water slides were added later. Near the pool was a food stand, an arcade, and a bathhouse designed to look like a castle where Malec, Sr., and his family lived in the apartment above before it was divided into two separate apartments. Through the 1960s and 1970s, over 3,000 swimmers a day would splash in the clear filtered water of the pool, watched over by thirteen lifeguards at a time.[2]
Peony Park's golden years between the 1930s and the 1940s were laden with big band names, earning the park national prominence as a "big band Mecca." Soldiers preparing to be deployed or returning saw Peony Park as a refuge where they could listen to music and dance with their sweethearts to ease their concerns over the war. This morale-building and patriotism lead to the temporary change in the slogan to "We serve with music." Also popular for young adults during this time were the regular "Coca-Cola Date Nights" and "Seven Swings" which was televised by KETV Channel 7 and had live music, dancing, and swimming. Events likes these were usually held in the open-air concert area, Royal Grove, which had been decorated like the 1933 Chicago World's Fair and could host more than 3,000 dancers.
Among these special events, Peony Park also held "Sprite Night" for teens in the 1980s which was similar to "Seven Swings" as well as Starlight "Pops" concerts during the summer, Aksarben dinners, Festival Italiana, the Greek Festival, Polka days, and La Festa. The Royal Grove also featured big names such as: Duke Ellington, Louis Armstrong, Guy Lombardo, the Beach Boys, the Dorsey Brothers, Glenn Miller, Cab Calloway, Eddy Haddad, Paul Moorhead, The Rumbles, Preston Love, Circus, Travis, Froggy Beaver, Bittersweet, Trojan Horse, Wee Willie and the Rocking Angels, Ricky Nelson, Bobby Vee, the Grass Roots, Metallica, Smashing Pumpkins, Pearl Jam, and the Red Hot Chili Peppers.
The park expanded to feature rides and an arcade around 1958 with a large mini golf course. Funderland and Wonderland were the major ride areas, opening with nine kiddie rides, then adding eight major rides including the Ferris Wheel, the Sky-Rail circling the pool, and the Galaxy Roller Coaster in 1972. A part of these "lands" of rides, Kiddieland was popular with young children and housed the first and one of the most popular rides until the closing of Peony Park: a children's roller coaster. During the 1970s, $3 million would be spent on rides and improvements. Two rides ended their career at Peony Park when young patrons lost their lives due to door malfunctions on each ride.[3]
Throughout much of Peony Park's history until 1963, there had always been discrimination against African-Americans. While African-American groups could rent out the Ballroom, they were denied admittance to the rest of the park. The policies that prevented admittance to the park would result in several legal actions to force the park into accommodating African-American visitors. However, for many years, these cases ended in favor of the park and officials would often claim that they could do nothing about it. In other attempts to fight against racism, Black youth groups, such as the NAACP Youth Omaha Council, would participate in boycotts against the park, receiving little white support. This group tried many times to gain access to the park, having brought a multitude of Black youths to attempt to enter, but were denied each time. In response to these pressures, owner Joe Malec, Sr., temporarily closed the park before reopening it as a private club requiring a membership. Membership applications by African-Americans were consistently rejected until the park reopened to the public, sans membership, and allowed the admittance of African-Americans in 1963.[4]
Peony Park began to decline in the 1970s and 1980s despite new rides and events, such as Sprite Night, and big name musical guests. The park fell onto economic hard times and struggled to pull itself out, facing threats of foreclosure. Property values had risen and many amusement parks, such as was the case in the UK as well, could not earn enough revenue to stay in operation. Attempts to save the park were many and included applications for historical and cultural significance and offers to purchase the park from organizations such as the American Italian Heritage Society. However, by the time the park could have been preserved, many of the rides had been auctioned off, leaving very little to salvage. Peony Park's man-made pool closed in 1993 followed by the ballroom in 1994. The last event to be scheduled at Peony Park was set for March 30, 1994 and would feature the Tommy Dorsey Orchestra. Patrons came from miles away to see the park for the last time and to relive as many old memories as they could before it was too late. Every building in the park was demolished, except for the theater which has since become a Big Red Keno. Joe Malec III, Peony's then-owner, sold what was left of the park to the Venteicher Group for $3.3 million dollars for redevelopment into various apartments, stores, and a Hy-Vee where many photos of the old park can still be seen in the dining area.[5]
Sources
1. Carl Jennings, Omaha's Peony Park: An American Legend (Arcadia Publishing, 2001), 6; Mathew Spencer, "Memories of Peony Park: Once upon a time, Omaha's iconic playland had thrilling rides, sandy beaches, and music from legendary stars," Accessed February 28, 2018, http://www.nebraskalife.com/Memories-of-Peony-Park/index.php?cparticle=1&siarticle=0#artanc.
2. Carl Jennings, Omaha's Peony Park, 6,12-14, 21, 66, 100; Mathew Spencer, "Memories of Peony Park."

3. Carl Jennings,
Omaha's Peony Park
, 7, 37, 51, 56, 74, 76; Mathew Spencer, "Memories of Peony Park."
4. "First Hi-Y Coronation Ball Proves Successful,"
Omaha Star
, May 30, 1947; "Peony Given Week's Continuance In Civil Rights Violation Case,"
Omaha Star
, September 9, 1955; "Gugas Refuse Request Of Youth In Peony Park Admission; Pair Seeks Governor's Aid,"
Omaha Star
, July 19, 1963; Peony Park Faces Additional Violation,"
Omaha Star
, July 5, 1963; Victoria W. Wolcott,
Race, Riots, And Roller Coasters: The Struggle Over Segregated Recreation in America
,
(Philadelphia: University of Pennsylvania Press, 2012), 186-187.


5. Mathew Spencer, "Memories of Peony Park,"; Joe Brennan, "Saving Peony Impossible, Peschio Says Designating It a Landmark Called Futile,"
Omaha World Herald,
March 29, 1994; Carl Jennings, Omaha's Peony Park, 123; Jason Wood, The Amusement Park: History, Culture and the Heritage of Pleasure, (New York: Routledge, 2017), 12.


Images:
By Pub. by General Distributors Company, Omaha, Nebraska. "Tichnor Quality Views," Reg. U. S. Pat. Off. Made Only by Tichnor Bros., Inc., Boston, Mass. - Boston Public Library Tichnor Brothers collection #74133, Public Domain, https://commons.wikimedia.org/w/index.php?curid=40972914
By Pub. by General Distributors Company, Omaha, Nebraska. "Tichnor Quality Views," Reg. U. S. Pat. Off. Made Only by Tichnor Bros., Inc., Boston, Mass. - Boston Public Library Tichnor Brothers collection #77840, Public Domain, https://commons.wikimedia.org/w/index.php?curid=40973057
By Pub. by General Distributors Company, Omaha, Nebraska. "Tichnor Quality Views," Reg. U. S. Pat. Off. Made Only by Tichnor Bros., Inc., Boston, Mass. - Boston Public Library Tichnor Brothers collection #74132, Public Domain, https://commons.wikimedia.org/w/index.php?curid=40973005
By Pub. by General Distributors Company, Omaha, Nebraska. "Tichnor Quality Views," Reg. U. S. Pat. Off. Made Only by Tichnor Bros., Inc., Boston, Mass. - Boston Public Library Tichnor Brothers collection #74134, Public Domain, https://commons.wikimedia.org/w/index.php?curid=40972562
Additional Information