Schroeder Hall
Introduction
Schroeder Hall has operated as one of Marquette's residence halls for over half a century. The facility takes its name from Walter Schroeder, who was a patron of the University and a member of the Board of Trustees, as well as a successful hotel owner in Wisconsin.
Images
A view of a modern and completed Schroeder Hall.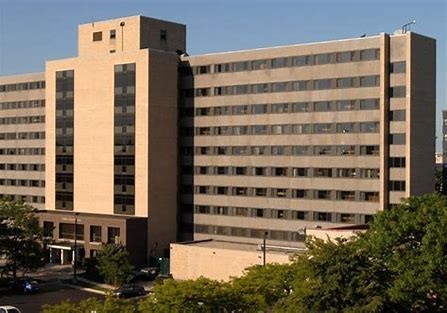 Schroeder Hall under construction.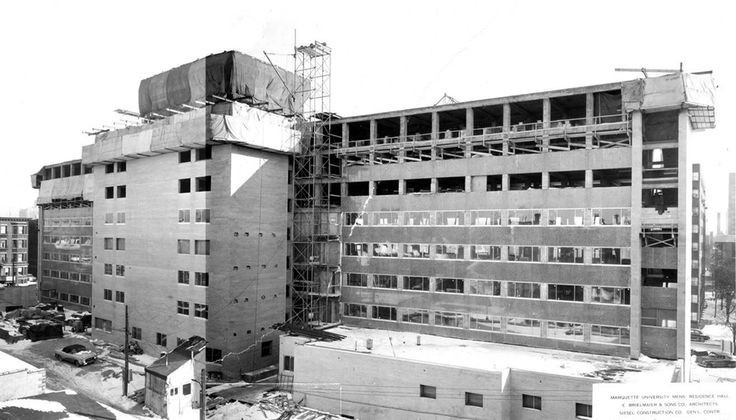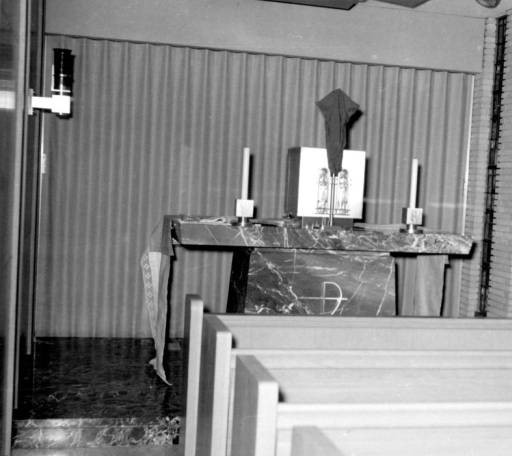 Backstory and Context
Walter Schroeder Hall, Marquette's primary sophomore residence hall, has served the University since it opened in 1958. Schroeder Hall was the product of a building boom financed by a surge of cash from a combination of government funding and persistent private appeals. This development period—afforded by new sources of capital—also included construction of O'Donnell Hall, which still operates as a dorm for men and women.

Walter Schroeder, the Hall's namesake, was a dedicated philanthropist and owned a large string of hotels in the state including the Astor Hotel in Milwaukee. As a member of the Board of Trustees, he brought with him valuable experience in the field of building and property management. He also assisted with soliciting additional private donations for the University. Furthermore, he supported several other Milwaukee institutions such as the YMCA and the Milwaukee School of Engineering.

Traditionally, the role of the University president had been that of overseeing internal challenges. However, Fr. Edward O'Donell spent his tenure redefining the role of university president and set out to raise capital and support across the country. Marquette, which typically relied on student tuition for their budget, began to be able to afford new luxuries thanks to an increase in private donations of the kind Schroeder provided. Armed with more resources, the University began expanding. Needing to accommodate more students, especially after the war, mass building was undertaken. In early 1954, the University acquired real estate on Thirteenth and Wells and broke ground on the new facility in April of 1956. Originally, this plot of land contained to two businesses and two homes—which were demolished to make room for the new residence Hall. Now, the transition from residential community to University grounds was becoming more complete—a distinct campus was becoming visible.

The Hall first served as an all-male dorm and could accommodate 606 residents in its eight stories. It is worth noting, that the hall was at the time the largest building on campus. Each floor was—and still is—split between a North and South wing with twenty double occupation rooms on each side. Each floor possessed elevators and a communal bathroom as well as a lounge area that could be used for recreation. The first floor of the building contains a small chapel and a cafeteria. The basement was designed for recreation and entertainment as well as storage. The dorm was expanded in 1964 to accommodate an extra 160 students and to fit city zoning regulation.

In 1972, to ease the shortage of women dorm accommodations, Schroeder Hall became coed. The fifth, seventh, and ninth floors were converted to women's rooms. In the early 1990s, the dorm needed renovations and updates to modernize the building. These renovations cut down the number of students of the dorm to build more space for communal study/recreation area, implemented more electrical outlets, and refurbished the whole building. Furthermore, the lobby was redone, and study lounges were built into the floors.
Sources
Jablonsky, Thomas J. Milwaukee's Jesuit University: Marquette, 1881-1981. Marquette
University Press, 2007.

Milwaukee Sentinel. February 22, 1964.

Moore, Joseph. Marquette Trib. September 21, 1972.

Pabst, Georgia. Milwaukee Journal. February 2, 1992.

"Residence Hall for College Men," Catholic School Journal, June 1958.