Sagamore Hill National Historic Site
Introduction
Author-Uploaded Audio
Sagamore Hill was the home of one of the most influential American presidents whose life provides a window to understanding the late 19th and early 20th centuries. Theodore Roosevelt lived in this home for 35 years and it was here where he passed away in 1919. At Sagamore Hill, Roosevelt was surrounded by two of the most important things to him: family and nature. Located 25 miles east of Manhattan, Sagamore Hill is situated in the village of Cove Neck on Long Island. Roosevelt purchased 155 acres in 1884 and chose architect John A. Wood to build the Queen Anne style home. Roosevelt originally intended to name his estate "Leeholm" in honor of Alice Lee, his first wife who passed away in 1884. After remarrying two years later, Roosevelt decided to rename the estate Sagamore Hill and it is here where he and his second wife Edith Carow and family of six children spent many of their summers. During his presidency, Sagamore Hill was sometimes referred to as the "Summer White House."
Images
Theodore Roosevelt's Queen Anne style home Sagamore Hill. Guided tours are available for visitors to view many of Roosevelt's original furnishings, gifts from foreign dignitaries, and hunting prizes.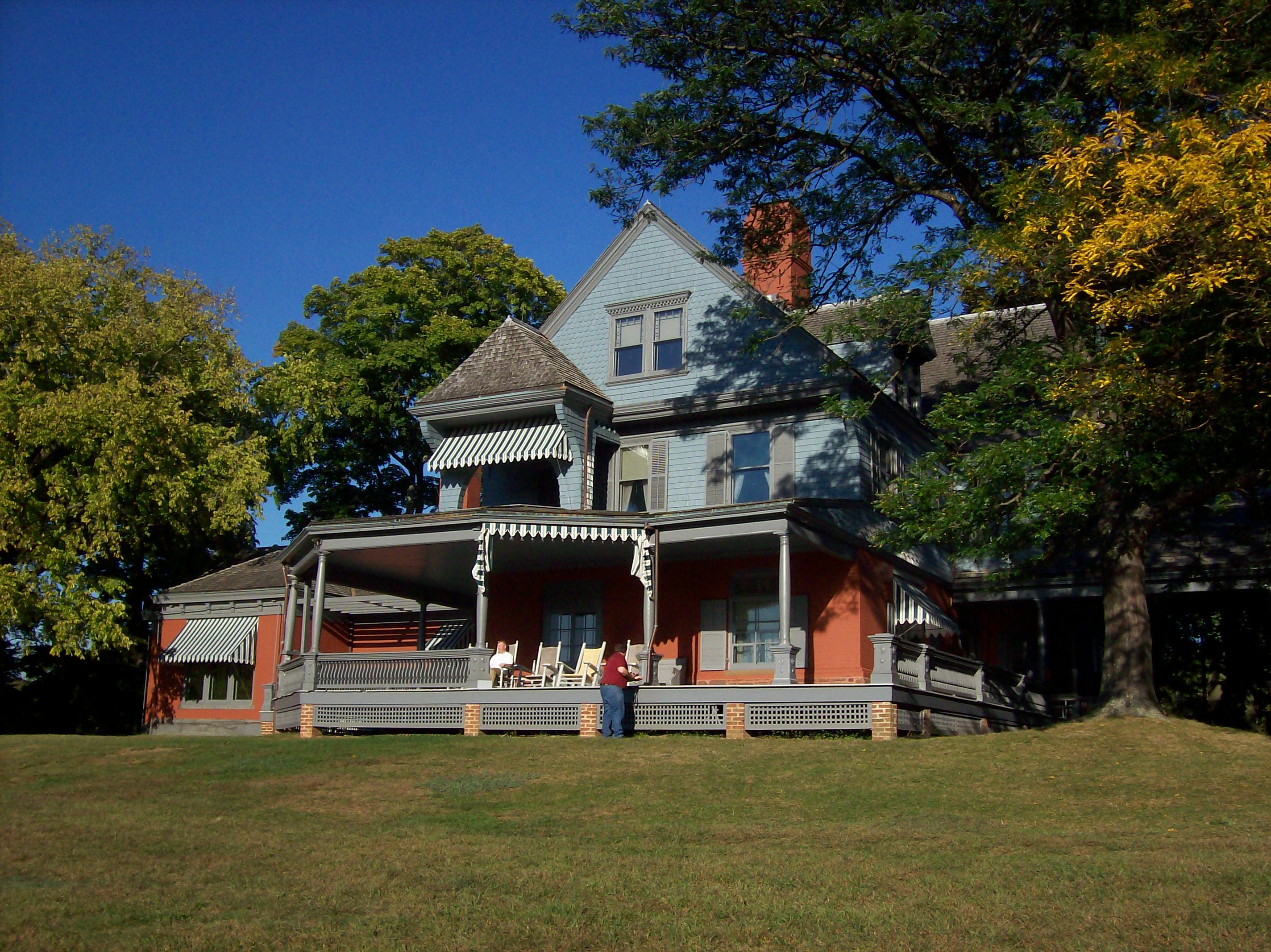 Theodore Roosevelt speaking to a crowd of women suffragist delegates on the porch of Sagamore Hill, 1917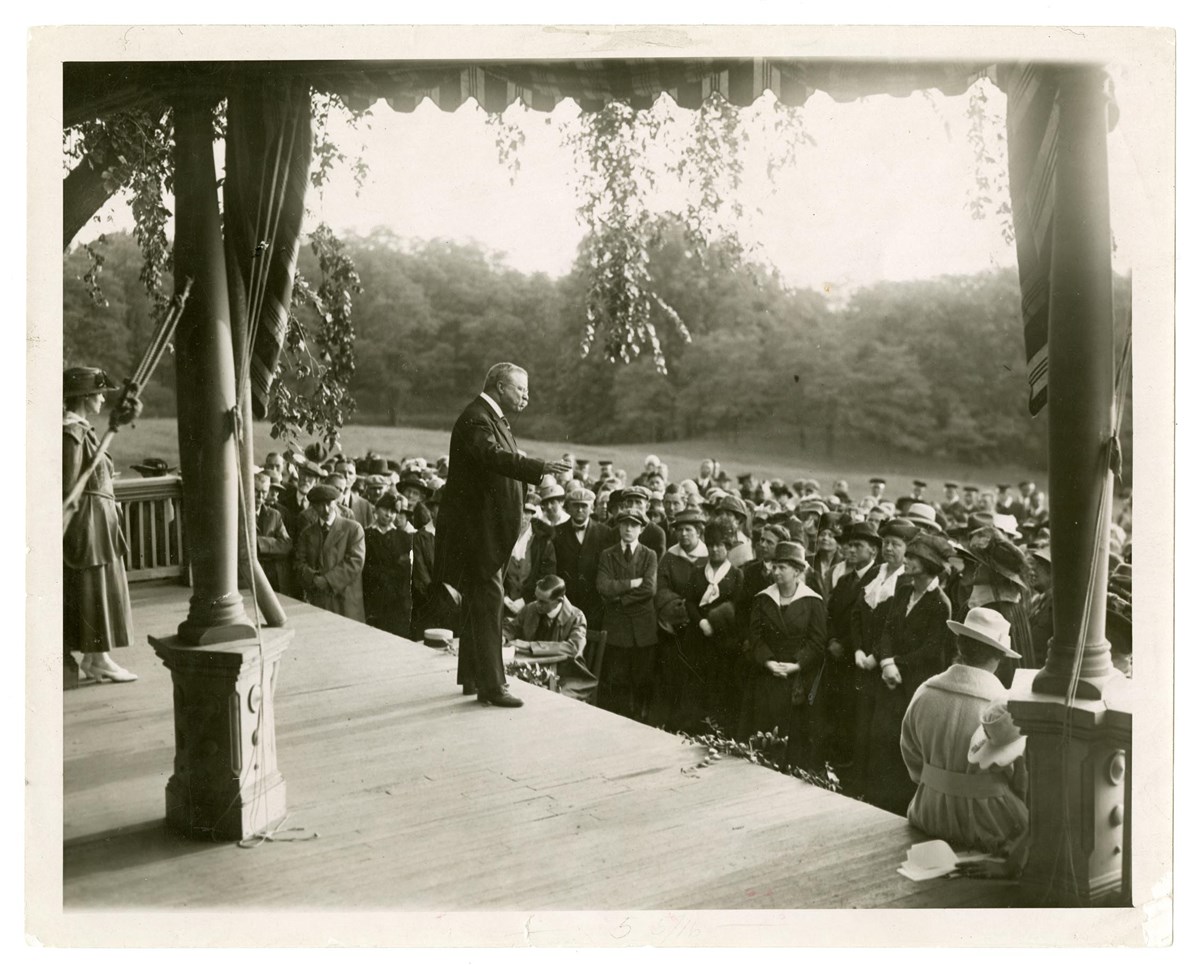 Theodore Roosevelt's Trophy Room at Sagamore Hill as it looked during his lifetime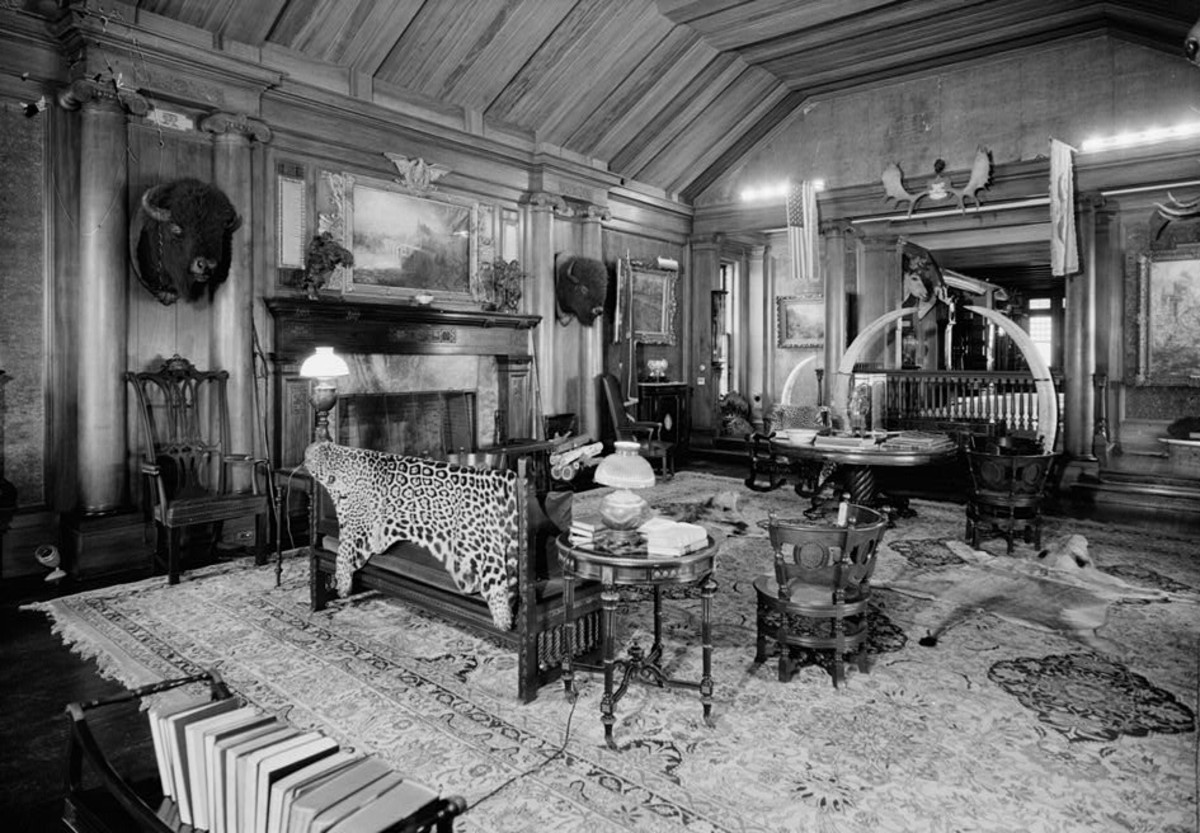 Sagamore Hill National Historic Site was established in 1962 and was added to the National Register of Historic Places in 1966.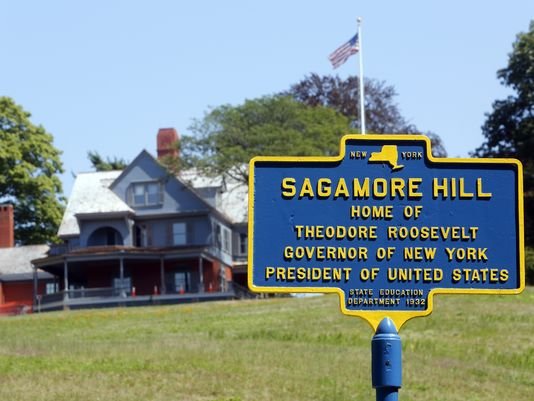 The library in Sagamore Hill, displaying Theodore Roosevelt's passion for hunting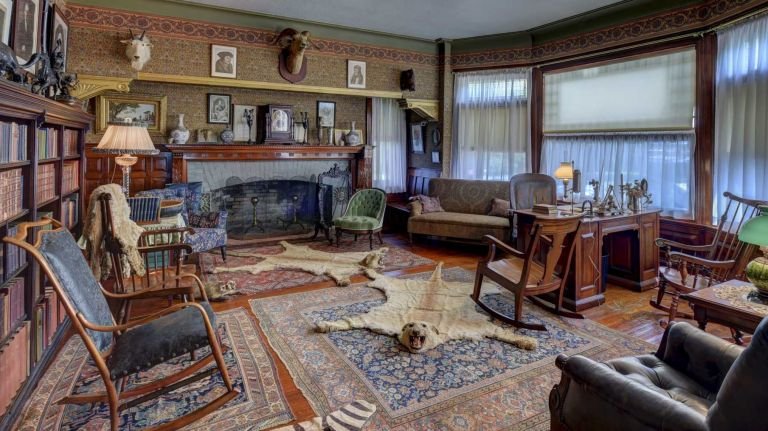 Theodore and Edith Roosevelt with their six children at Sagamore Hill in 1903, from left to right: Quentin, TR, Theodore, Jr., Archibald, Alice, Kermit, Edith, and Ethel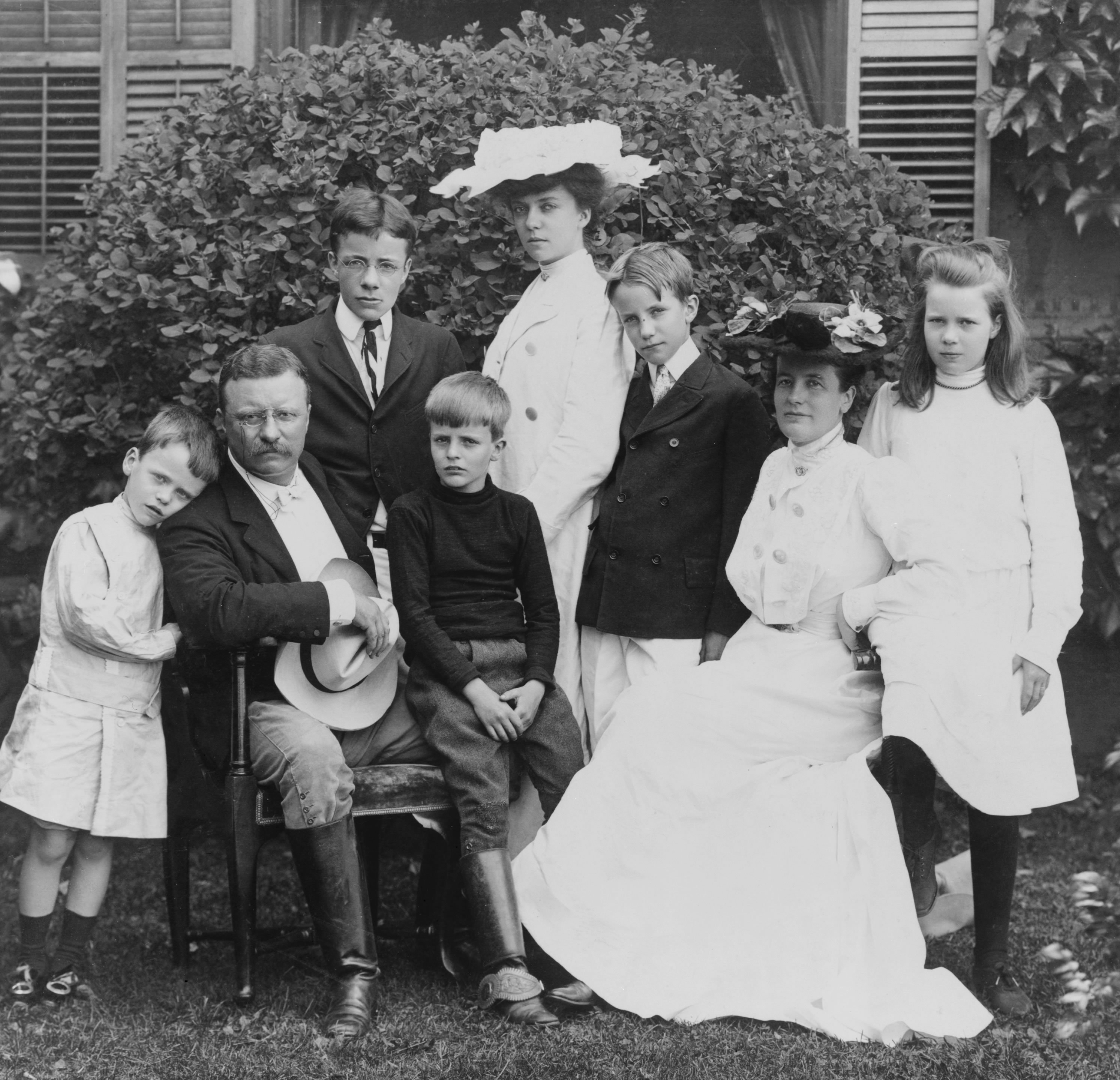 Backstory and Context
Author-Uploaded Audio
Theodore Roosevelt's affection for Oyster Bay began during his childhood when the Roosevelt family would travel from Manhattan to the Island during the summers. In 1880, Roosevelt was a young lawyer who had just announced his engagement to the beautiful Alice Hathaway Lee. Wanting to build a home for his young bride, he purchased a hilltop farm for $30,000 overlooking the Long Island Sound and the bay. Roosevelt's plans, however, were tragically delayed when Alice died in 1884, a few days after giving birth to the couple's first child, also named Alice. Now a single father, TR went through with his plans to build the home 23 room, Queen Anne style home he planned on calling "Leeholm." After re-marrying the former Edith Kermit Carow in 1886, TR changed the name to "Sagamore Hill." It is said the name came from a Native American Indian chief who lived on the property in the 17th century, Sagamore Mohannis.
Sagamore Hill became a good-luck charm for TR politically. It was here where he received word he had been successfully nominated for governor of New York, then vice president of the United States, and finally president. After ascending to the presidency in 1901 following the death of William McKinley, Sagamore Hill became the nation's "Summer White House." It was here in 1905 during the year-long Russo-Japanese War that President Roosevelt brought together key envoys from both countries to discuss peace. The talks were crucial to the war's ending and Roosevelt was awarded the Nobel Peace Prize. Sagamore Hill also operated as a working farm, and the museum on the property features exhibits on farming at the beginning of the 20th century.
Sagamore Hill was most importantly a family home. It was here that Roosevelt and Edith raised their six children and welcomed extended family members for joyous summers. Eleanor Roosevelt, the future first lady and wife of Franklin D. Roosevelt, was Roosevelt's favorite niece and she spent many summers at Sagamore Hill. The Theodore Roosevelt Museum is located in the home Theodore Roosevelt, Jr. built called "Old Orchard."
In 2015, after a three year, $8.5 million renovation funded by the National Park Service and Friends of Sagamore Hill, Sagamore Hill reopened to the public. The renovation covered everything from fixing old shingles on the roof to installing new indirect lighting in the house's North Room, filled with Roosevelt's trophies. Walking through Sagamore Hill and around the surrounding property where the farm functioned, visitors transfer back in time to a moment when the man who rightfully earned the nickname "The Lion" roamed his beloved home overlooking the tranquil bay he sailed on.
Sources
Liebson, Richard. The Roosevelts: Visiting Theodore Roosevelt's Sagamore Hill. Lohud. September 12, 2014. Accessed June 22, 2018. https://www.lohud.com/story/news/local/new-york/2014/09/12/roosevelts-visiting-theodore-roosevelts-s....  
Sagamore Hill. Theodore Roosevelt Center at Dickinson State University. . Accessed June 23, 2018. http://www.theodorerooseveltcenter.org/Learn-About-TR/TR-Encyclopedia/Family-and-Friends/Sagamore-Hi....
Bleyer, Bill. Renovated Sagamore Hill set to show off its improvements. Newsday. July 11, 2015. Accessed June 22, 2018. https://www.newsday.com/long-island/li-life/sagamore-hill-theodore-roosevelt-s-manion-set-to-show-of....
Additional Information