Kansas City Club Building; Hotel Kansas City
Introduction
Now home to Hotel Kansas City, this historic structure Gothic Revival-style building served as the headquarters for the prestigious Kansas City Club for nearly 80 years. The Club was first formed in 1882 to provide a place for the city's business class to socialize. In 1922, the organization celebrated the completion of this building which offered numerous amenities for club members, including guest rooms, meeting spaces, athletic facilities, and a banquet hall. With declining membership reflecting trends in other cities, the club sold the building in 2001, and most of the structure was converted into apartments. The building was added to the National Register of Historic Places in 2002. In 2020, Hyatt Hotels converted the building into Hotel Kansas City, preserving its historic features such as the two-story stained glass mural in the main ballroom crafted by Ronald Neill Dixon.
Images
This building served as the clubhouse for the Kansas City Club from 1922-2001 and will soon become a hotel complex. Image obtained from apartments.com.
The Gothic Revival 14-story building was constructed in 1917-1922. Image obtained from Helix Architecture + Design.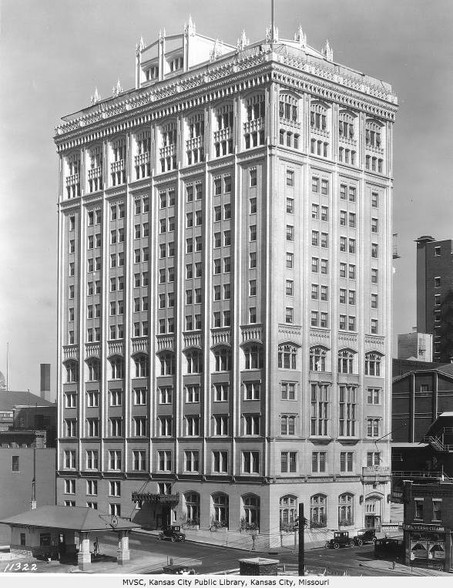 Many club facilities in the building have been restored or renovated and are offered as luxury event spaces. Image obtained from kcweddings.com.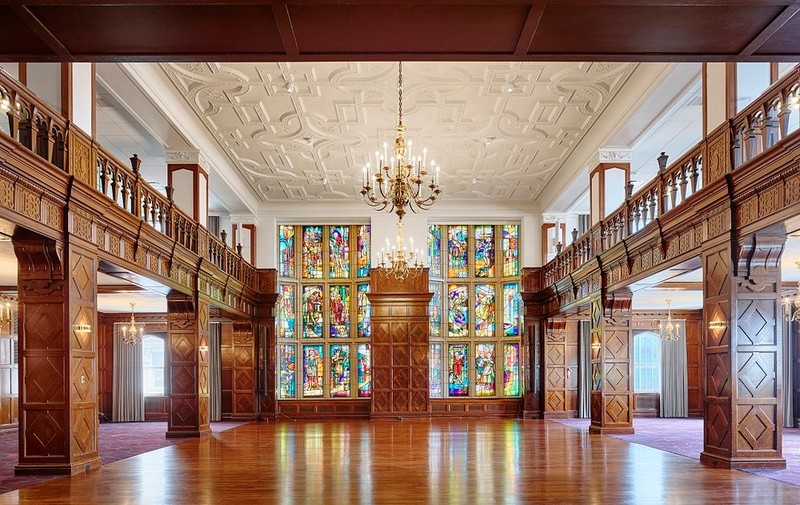 Backstory and Context
As the population of Kansas City rapidly grew in the 1880s, so too did the city's elite business class. Eventually a group of these local businessmen decided to organize a social club, similar to ones that existed in other major cities. The Kansas City Club was formally incorporated in 1882 with 42 members, including Abia A. Tomlinson, Charles E. Hasbrook, and C. S. Wheeler. Membership, which was fairly restrictive and included an annual fee, quickly increased. To accommodate this growth, the club built a five-story clubhouse on the corner of Twelfth and Wyandotte. Expansion continued, and by the 1910s it was clear that the club would need larger facilities. In 1915, the Kansas City Club purchased property on the northwest corner of Thirteenth and Baltimore for $100,000 for a new clubhouse.
Construction on what became known as the Kansas City Club Building first began in 1917. Lack of funding from the club (total costs reportedly reached $2.5 million) coupled with a wartime shortage of building materials slowed progress, and substantial work was delayed until after the end of World War I. Architect Charles A. Smith and the firm of Smith, Rea, and Lovitt were commissioned to design the new building. The fourteen-story building was designed in the Gothic Revival style, and had a steel structure with a brick and limestone exterior with terra cotta ornamentation. The interior was decorated with features such as plaster, carved stone, and hand-hewn walnut wood. The building was completed and opened in 1922. It originally contained a multitude of facilities available for members of the Kansas City Club: guest rooms, meeting rooms, bars, lounges, athletic facilities, a swimming pool, a banquet hall, and a rooftop terrace.
The Kansas City Club flourished for several decades following the opening of the clubhouse. Its members included prominent locals such as Tom Pendergast, Robert A. Long, and national figures such as Presidents Harry S. Truman, Dwight D. Eisenhower, and General Omar Bradley. Membership reached a peak of 2,000 in the 1980s, and then began a precipitous decline, a trend seen in city clubs nationwide. In 2001, with membership below 900, the Kansas City Club merged with the University Club, sold this building, and moved into the University Club's building at 918 Baltimore Avenue. In 2002, the former clubhouse was converted into an apartment complex called Baltimore Lofts. Meanwhile, the Kansas City Club continued to see declining membership at its new location and eventually shuttered in 2015. That same year, the Kansas City Club Building was purchased by Platform Venture, which renovated some of the building's facilities into luxury event spaces called the Brass on Baltimore.
In 2018, Platform Ventures announced a $59.5 million project to convert the building's apartments into a 144-room hotel. It was part of a larger plan by Platform to redevelop the historic 18th & Vine District into a major commercial and residential center. The new hotel opened in 2020 as the Hotel Kansas City, part of the Hyatt chain. The hotel was designed with a 1920s aesthetic and retained much of the building's original features, such as stained glass windows, murals, chandeliers, and woodworking.
Sources
Collins, Leslie. "Renovations at former Kansas City Club blend old, new into stunning." Kansas City Business Journal. October 21, 2015. Accessed July 11, 2018. https://www.bizjournals.com/kansascity/news/2015/10/21/kansas-city-club-renovations-brass-on-baltimore.html
Collison, Kevin. "Major Redevelopment Plan Includes Historic KC Club, Muehlebach Hotel Buildings." CityScene KC. May 21, 2018. Accessed July 11, 2018. https://cityscenekc.com/major-redevelopment-plan-includes-historic-kansas-city-club-muehlebach-hotel-buildings/
Davis, Mark. "The Kansas City Club padlocks its doors and pursues bankruptcy." The Kansas City Star. May 26, 2015. Accessed July 11, 2018. https://www.kansascity.com/news/business/article22360131.html
"Experience The Brass on Baltimore!" The Brass on Baltimore. Accessed July 11, 2018. http://www.thebrassonbaltimore.com
Hollar, Katie. "Kansas City Club, University Club will merge." Kansas City Business Journal. July 25, 2001. Accessed July 11, 2018. https://www.bizjournals.com/kansascity/stories/2001/07/23/daily16.html
Hurd, Mike. "Hotel Kansas City Opens in Style + Developers Look to 18th & Vine." Downtown Kansas City. October 5, 2020. Accessed August 15, 2021. https://www.downtownkc.org/2020/10/05/hotel-kansas-city-opens-in-style-developers-look-to-18th-vine/.
"If Walls Could Talk." Helix Architecture + Design, Inc. July 7, 2015. Accessed July 11, 2018. http://www.helixkc.com/renovation/walls-talk/
Millstein, Cydney E. "Kansas City Club Building." National Park Service - National Register of Historic Places. 2002. Accessed July 11, 2018. https://dnr.mo.gov/shpo/nps-nr/02001401.pdf
Image 1: https://www.apartments.com/baltimore-lofts-kansas-city-mo/1sdn0f5/
Image 2: http://www.helixkc.com/renovation/walls-talk/
Image 3: https://www.kcweddings.com/ceremony-reception-sites/brass-on-baltimore-905/ 
Additional Information