Statue of Edgar Allan Poe
Introduction
Edgar Allan Poe (1809-1849) was an author during the 19th-century known for his ominously themed poems and short stories. He was adopted by John and Frances Allan and grew up in Richmond, VA; he moved away a few times during his life, but he always returned. A century after Poe's mysterious death, Dr. George Edward Barksdale, who was an enthusiast of Poe, petitioned Virginia Governor Thomas Stanley in 1954 to erect a monument for the late author. After gaining approval, Barksdale hired Pennsylvania sculptor Charles Rudy to create a statue of Poe. The statue was placed in Capitol Square near the Bell Tower on January of 1958; it was unveiled and dedicated on October 7, 1959, which was the 110th anniversary of Poe's death.
Images
In the statue, Poe is seen sitting in a chair and reading a book. There are more books stacked underneath the chair. His birth and death dates are inscribed on the back of the granite base.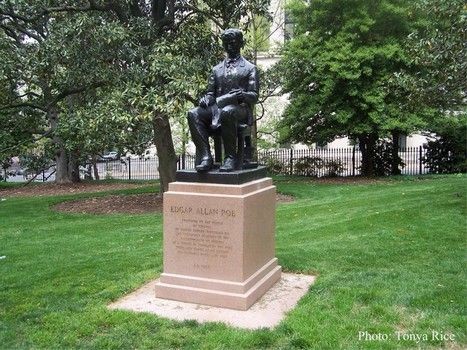 Poe only lived to be 40 years. Despite his short life span, he managed to have a great influence in American literature. His short stories and poems are still read today in schools across America.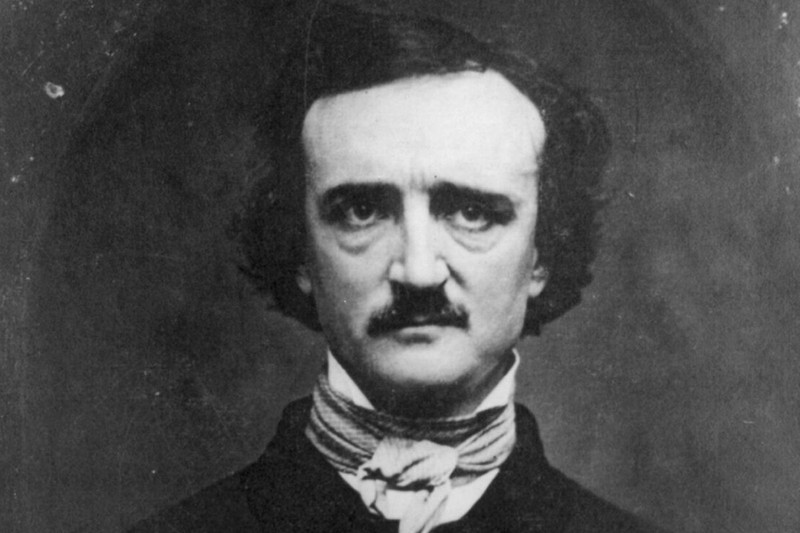 Backstory and Context
Edgar Allan Poe was alive from January 19, 1809 until his mysterious death on October 7, 1849. He is best known today for his poems and short stories, all of which center around dark themes such as murder, insanity, and spirits. His most famous pieces include a poem titled "The Raven" and a short story titled "The Tell-Tale Heart." However, when Poe was alive, he was known, not for his fiction pieces, but for his work as a critic. His reviews of other writers were published in various magazines throughout his life. He had a reputation for being exceptionally harsh to the author as well as their work.
Poe lived in Richmond for a large portion of his life. He was adopted at age three by a wealthy Richmond couple, James and Frances Valentine Allan, after both of his parents passed away. The house he grew up in was located close to Richmond's capitol building, and he visited the building at least once as a teenager. He attended the University of Virginia for a single semester before being forced to drop out due to debt. His first book, Tamerlane, was published in 1827 while he was only eighteen. Poe began his journalism career in Richmond soon after, and he continued writing fiction on the side.
Poe moved to New York for a few years, but he returned to Richmond in 1836 upon marrying his wife, Virginia Clemm. After a year, they moved away. The next time Poe returned to Richmond in 1849, it was without his wife; she had died of tuberculosis in 1847. He became engaged again to his first love, Elmira Royster Shelton, but he took a trip before their wedding and disappeared in Baltimore. He turned up again at Washington College hospital a few days later where he ended up dying of mysterious causes. It was after Poe's death that his fiction work became popular. Rufus Griswold, an enemy of Poe's, wrote a false obituary and memoir with the intention of shaming and ruining Poe's public image. However, it had the opposite effect: people became more intrigued by the mysterious story and dark persona Griswold described him as, and sales of Poe's short stories and poems skyrocketed. Cities began creating monuments and memorials for the author as early as 1875.
Richmond, however, did not recognize Poe until halfway through the 20th-century, despite his deep ties to the city. Dr. George Edward Barksdale, an 87-year-old retired physician, was the one who kickstarted the design process. Barksdale, an enthusiast of Poe, sought to erect a memorial for him after visiting the late author's Richmond cottage. In 1956, he contacted Virginia Governor Thomas Stanley and proposed the creation of a statue. Barksdale offered to pay for the statue if the government would cover the costs for the pedestal and installation.
After gaining the Governor's approval, Barksdale hired Pennsylvania sculpture Charle Rudy to design and build the Poe statue. Before its final design was determined, there were some disputes about the medium with which the statue should be made. A sandstone version of the statue was found in a Virginia landfill; this sculpture now resides in Richmond's Edgar Allan Poe Museum. The final sculpture, which cost approximately $9,500, is made of bronze with a base of granite. The statue was completed in 1957, but plans to install the artwork were not passed until January of 1958. The statue was finally unveiled and dedicated on Oct. 7, 1959, the 110th anniversary of Poe's death. The statue was placed in Capitol Square near the Bell Tower, across from the old home of his first love, Jane Stith Craig Stanard. Because of this, the program for the dedication included Poe's poem "To Helen," a piece he dedicated to Jane.
On November 22, 2017, the statue was taken from its original place in Capital Square and moved to the corner with the other statues. It was relocated to make room for two other monuments, a Virginia Indian Tribute titled "Mantle" and a Virginia Women's Monument titled "Voices of the Garden." The two monuments were planned to be large and people were afraid the statue of Poe would be overshadowed by the new installations. It is now located near Virginia's Washington Monument, still within Capitol Square.
Sources
Biography. The Poe Museum. Accessed September 26, 2018. https://www.poemuseum.org/poes-biography.

Boykin, Nick. Statue of Edgar Allan Poe in Richmond is being moved. WTKR. November 17, 2017. Accessed September 26, 2018. https://wtkr.com/2017/11/17/statue-of-edgar-allen-poe-in-richmond-is-being-moved/.

Edgar Allan Poe. Poetry Foundation. . Accessed October 01, 2018. https://www.poetryfoundation.org/poets/edgar-allan-poe.

Freeman, Jr., Vernon. Edgar Allan Poe statue relocated at Capitol Square. WTVR. November 22, 2017. Accessed September 26, 2018. https://wtvr.com/2017/11/22/edgar-allan-poe-statue-relocated-at-capitol-square/.

Green, Kevin. Edgar Allan Poe monument to be relocated in Richmond. Wavy. November 20, 2017. Accessed September 26, 2018. https://www.wavy.com/news/edgar-allan-poe-monument-to-be-relocated-in-richmond/1078237753.

Oliver, Ned. Poe statue on Capitol Square to be relocated to make room for new monuments. Richmond Times-Dispatch. November 17, 2017. Accessed September 26, 2018. https://www.richmond.com/news/local/government-politics/poe-statue-on-capitol-square-to-be-relocated-to-make/article_b5435d10-88c1-5fe2-b8c7-fcbcdc9eec46.html.

Semtner, Chris. Poe Statue Takes a Ride. The Poe Blog. November 25, 2017. Accessed September 26, 2017. http://www.thepoeblog.org/poe-statue-takes-a-ride/.

W., Kevin. Edgar Allan Poe. The Historical Marker Database. January 09, 2008. Accessed September 26, 2018. https://www.hmdb.org/marker.asp?marker=4637.

Additional Information