Dorothea Dix Burial Site
Introduction
Dorothea Lynde Dix was an American activist who established the first generation of American mental asylums. She provided treatment for the mentally ill and promoted the conditions of the hospitals for them. In 40 years, she submitted reports and changed the poor conditions of the state hospitals for mentally ill in 15 U.S. states and even in Canada. Throughout her whole life, she dedicated herself to the improvement of the living conditions and treatments of the mentally ill.
Images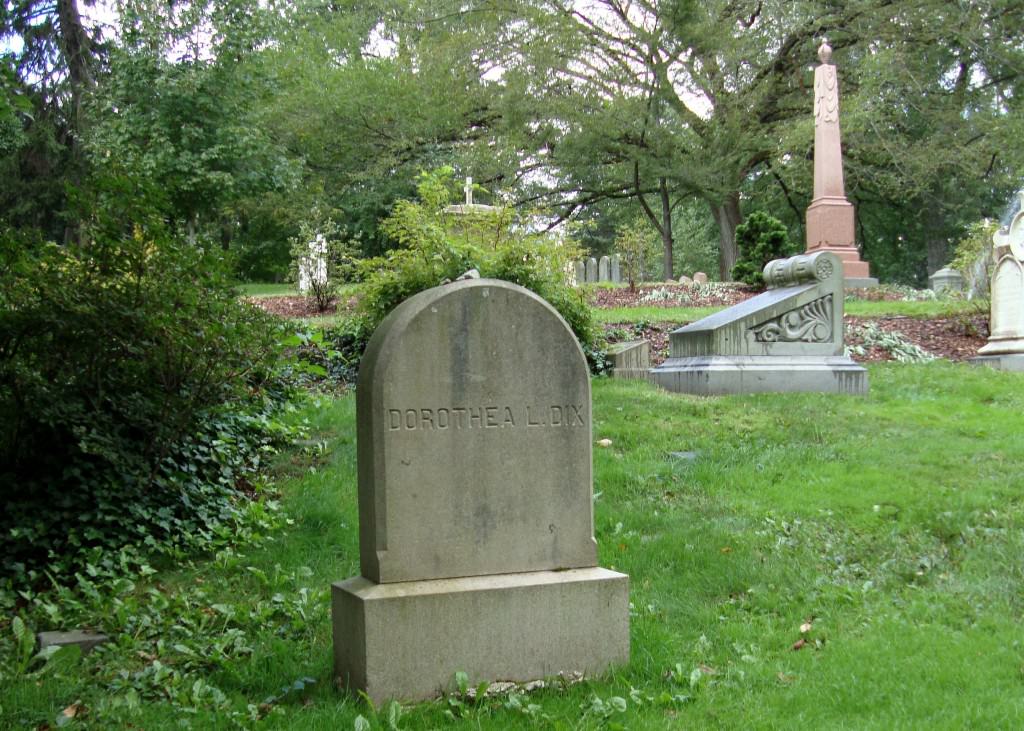 Backstory and Context
Dorothea Lynde Dix has a miserable childhood and did not gain much love from the family. Her father abused alcohol, and her mother endured chronic illness. Thus, Dix was sent to live with her grandmother at the age of 12. However, Dix disagreed with the traditional lifestyle and hoped realize her own value. She then moved to live with her great-aunt and later opened a school teach children, beginning her career as a teacher.
In the process of teaching, Dix found that the mentally ill lived in a poor condition as they did not receive appropriate treatments and care. This inspired Dix to investigate the prisons, asylums, and schools in Massachusetts to know about the living conditions of the mentally ill as a whole. The work was sponsored by Samuel Gridley Howe, Horace Mann, and Charles Sumner. Dix reported her findings to the Legislature and helped improve the conditions of the institutions, and Dix proposed to build more hospitals for the patients. In the following years, Dix travelled around the Europe to continue her investigations.
In 1861, Dix went back to America and became the superintendent of nurses in the U.S. army. She made great efforts to approach the soldiers and helped cure the mentally ill who suffered from the war. The soldiers first refused Dix to talk to them, while they understood her and became friends with her. Dix also set guidelines for the nurses to follow. For instance, the volunteers should be at the age of 35-50 and were not allowed to wear jewelry.
In the late years, Dix was disappointed by the situation that the hospitals could not operate efficiently due to the overflowing immigrants. She retired at 79, and she was died in 1887. In Dix's whole life, she did not put her name on most of her books and only focused on the pursuit of helping the mentally ill.
Sources
Mount Auburn Cemetery. "Dorothea Dix (1802-1887)." November 4, 2011.
https://mountauburn.org/dorothea-dix-1802-1887/.
Viney, Wayne. "Dorothea Dix." Dictionary of Unitarian & Universalist Biography. January 3, 2003.
http://uudb.org/articles/dorotheadix.html.
Women History Blog. "DOROTHEA DIX."
Accessed October 4, 2018.
http://www.womenhistoryblog.com/2012/10/dorothea-dix.html.