Marina City, Chicago
Introduction
Situated just outside of Chicago's Loop District on the north side of the river, Marina City, also known as the "Corn Cob Towers," has been one of the city's most iconic landmarks since its completion in 1967. Noted for its unique nature-inspired curvilinear architecture and reinforced concrete construction, Marina City is the brainchild of the world-renowned modernist architect Bertrand Goldberg. Goldberg studied architecture at the Bauhaus in Germany and worked under Ludwig Mies van der Rohe, known as one of the pioneers of modernist architecture. The idea behind Goldberg's Marina City was to draw middle-class Chicagoans back into the city after twenty years of post-war suburban migration. Blending a unique architectural style with utility, Goldberg envisioned the complex to be a city within a city that combined residential, office, retail, and entertainment spaces. When completed the five-building Marina City complex offered Chicagoans two 65-story residential towers, a 10-story office building, a bowling alley, an ice rink, retail shopping space, a restaurant, a cinema, gym, and a small marina. Marina City remains a highly sought-after residential complex and became an official Chicago Landmark on March 16, 2016.
Images
Current view of Marina Towers.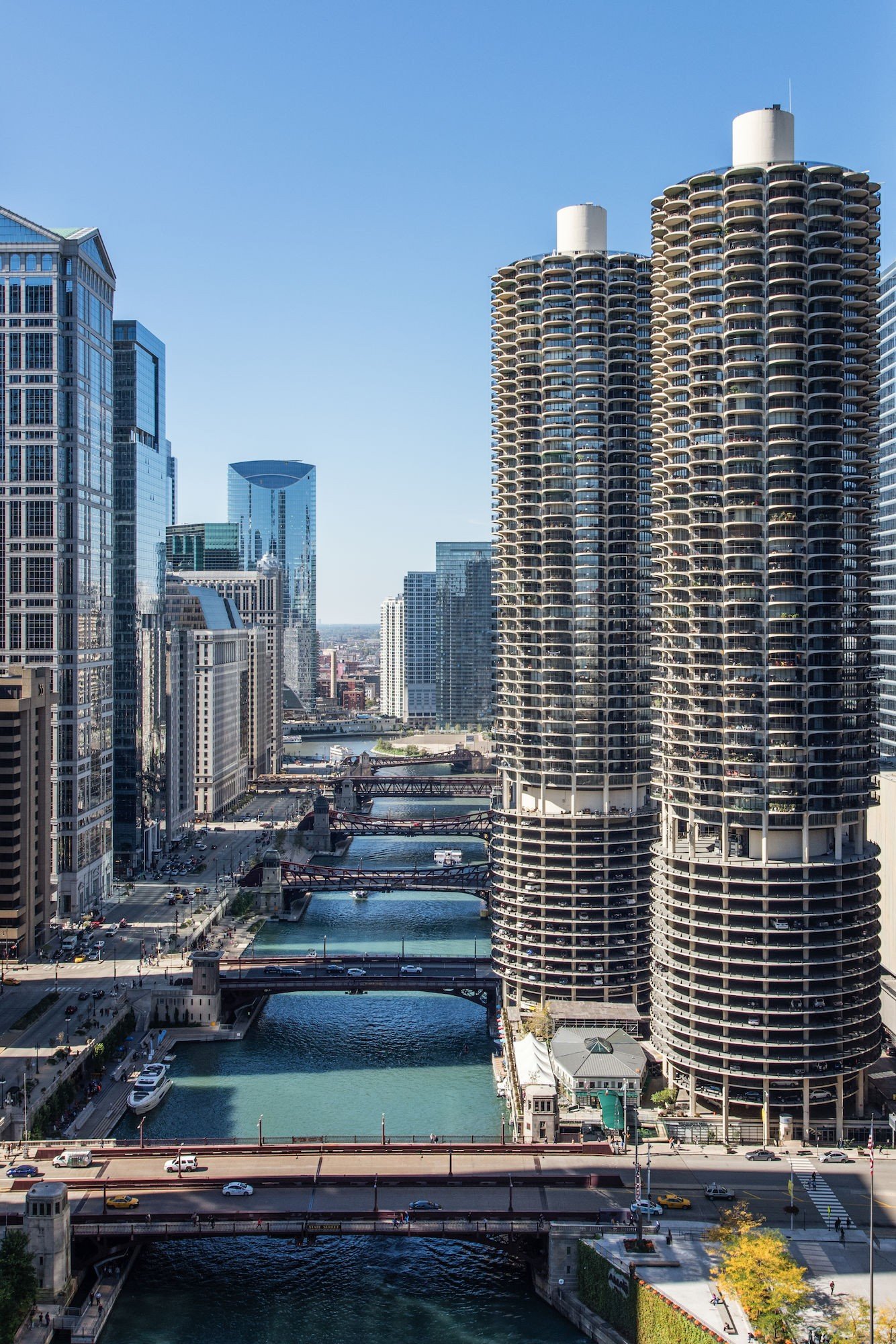 View of Marina City's marina.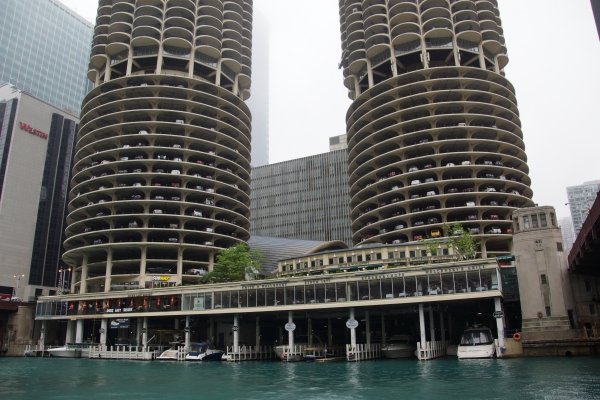 View of Marina City parking decks.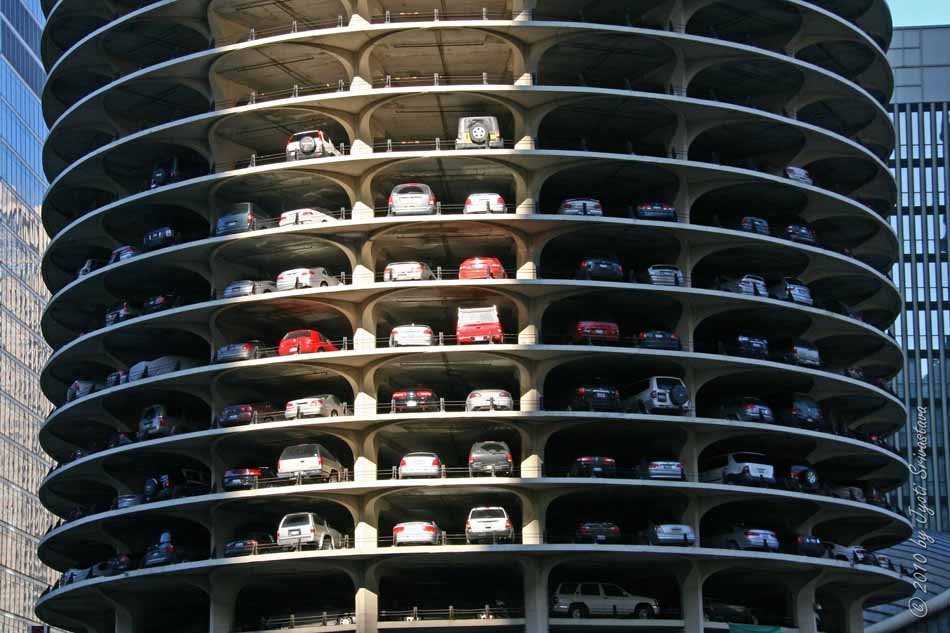 Bertrand Goldberg, left, with a scale model of Marina City.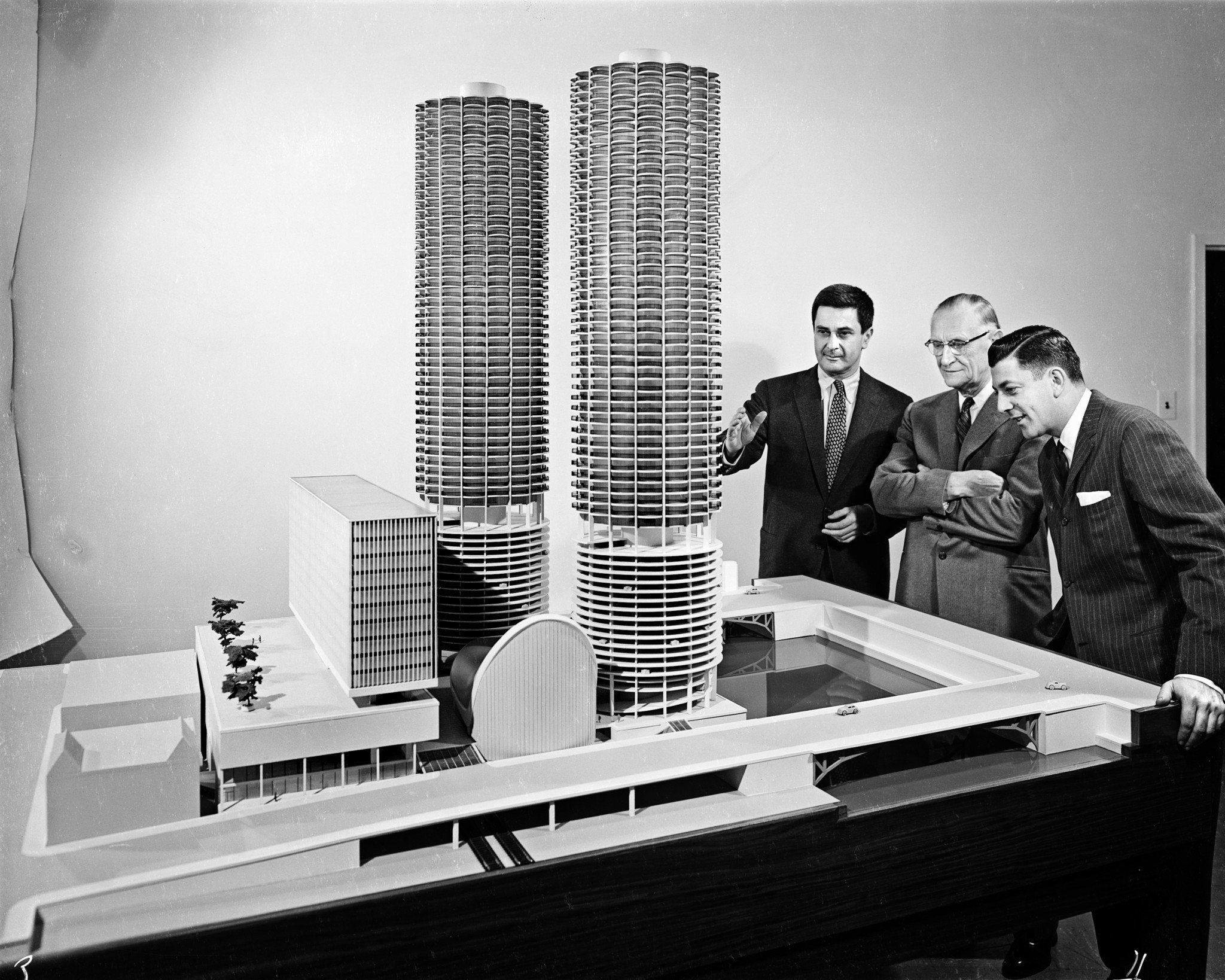 Construction photo of Marina Towers.
Early photo of Marina City.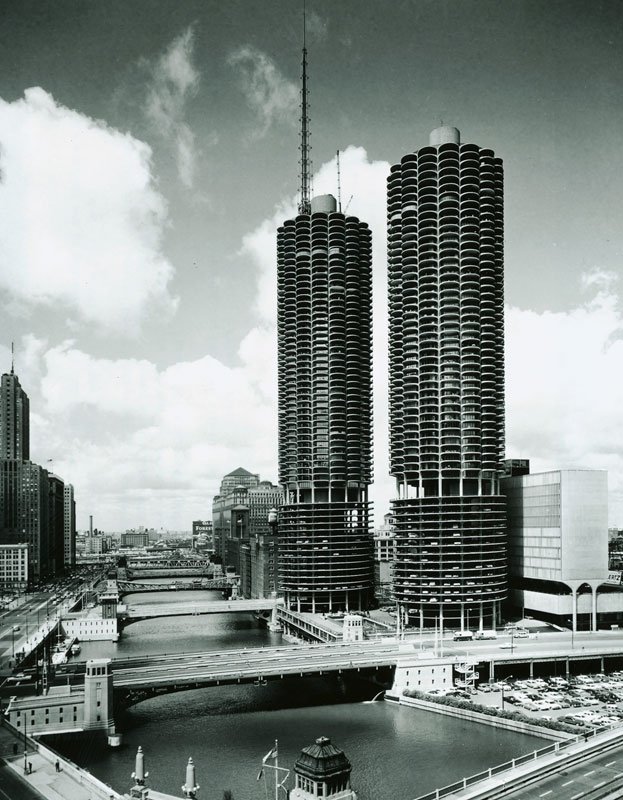 Backstory and Context
Post-war America witnessed a sudden middle-class migration from urban to suburban, mostly due in part to an aging urban infrastructure and the prospects of suburban life and all that it offered for growing families. Chicago, among other major metropolitan cities, suffered greatly during this time of transition. By the mid-1950s, a revitalization project led by Chicago's newly elected mayor, Richard J. Daley, worked to reestablish downtown Chicago and its waterfront as a center the city and its economic future. To make the Loop more attractive to singles or childless couples who preferred living in downtown urban areas, constructing a new housing complex was proposed. Working in partnership with the Building Service Employees International Union (BSEIU), who mostly financed Marina City, Mayor Daley secured a reliable backer for the new housing project. The president of the BSEIU, William McFetridge, selected Chicago native Bertrand Goldberg as the architect.
Bertrand Goldberg was born in Chicago in 1913, and first became interested in architecture in 1930 as an undergraduate student at Harvard University. Two years later, Goldberg traveled to Berlin, Germany where he studied architecture at the Bauhaus, an avant-garde school of art and design. During his time spent in Berlin, he absorbed the theories surrounding the school's philosophy that art and design can improve the human experience, which would later influence his architectural designs. Goldberg also spent a short, but influential, three months working under Mies van der Rohe, one of the most influential modernist architects. However, the Nazi Party rose to power in January 1933. The political turmoil caused by the Nazis and the potential danger of being a Jew in Germany forced Goldberg to return to Chicago in early 1933. In 1934, he continued his education at the Armour Institute of Technology, now the Illinois Institute of Technology, where he eventually earned his degree. By 1937, Goldberg opened his own design firm that came to be known as Bertrand Goldberg Associates (BGA).
The housing project went through four different redesign phases before finally being set in December 1959. By the time Goldberg was selected as architect for downtown Chicago's new housing project, he had already been experimenting with the use of cylindrical forms in design, and all four of Goldberg's housing complex plans included cylindrical designs. He explained the design rationale in 1960: "I also feel that there is a terrible need to get people out of boxes. Those long hallways with scores of doors opening anonymously are inhuman. Each person should retain his own relation to the core. It should be the relation of the branch to the tree, rather than of cell to the honeycomb." The final project plan included five buildings: two 60-story cylindrical apartment buildings, a ten-story office building, a cinema, and a two-story base on which the entire complex sat. Within the base building and in the lower levels of the office building, the project team aimed to lease space for a bowling alley, gym, skating rink, bank, grocery store, liquor store, drug store, barber shop, beauty salon, travel agency, flower shop, coffee shop, and restaurants. A 70-boat marina was also planned on site to provide residents with opportunities for recreation on the Chicago River.
Construction officially began on Marina City on November 22, Thanksgiving Day, 1960 during a highly celebrated groundbreaking ceremony. Work on the housing complex ensued at an almost frantic pace; alternating between the two towers, the crews completed one floor per day or a floor per tower every other day. Of the 60-stories per tower, the first twenty floors were parking spaces for the residents and the upper 40-floors offered 896 apartments. The cylindrical design of the two towers created a pie-shaped layout for the apartments, providing large windows and balconies for each unit. The cylindrical, pie-shaped exterior of the two towers resembled that of two corn-cobs, which later became the nickname for the two apartment buildings. Tenants were able to move into the east tower in October 1963, and then the west tower opened in early 1963. The completion of the Marina Towers, they were the tallest apartment buildings in the world and the tallest buildings constructed with reinforced concrete. The rest Marina City complex, the "city within a city," was not complete in its entirety until the mid-1960s. While mixed-use developments were not a new concept, Goldberg's Marina City was the first attempt at a mixed-use development on such a grand scale.
Marina City quickly became one of Chicago's most iconic landmarks and sought-after housing complexes, as Goldberg's idea of a 24-hour, self-sustaining community came to fruition. The use of the housing complex to bring more residents back into Chicago's urban center worked and worked successfully. Marina Towers became something of a tourist attraction, with at least 12,000 people visiting the model units per month during the first few years of its operation. The towers remained rental apartments until 1977 when they were converted to condominiums. After that point, out-of-state investors began purchasing holdings of the property, and the condition of the buildings began to deteriorate. Then in 1994, John Marks purchased the commercial buildings of the complex for $3.35 million and began renovating the commercial spaces: the office building was converted into a hotel, the theatre became a live entertainment venue, and the skating rink was converted into a restaurant space.
Marina City remains a mixed-use complex today, offering a wide variety of entertainment, dining, recreation, and lodging. The architectural and cultural significance of Marina City is such that it was designated as a Chicago Landmark on March 16, 2016.
Sources
Dahlman, Steven. About Marina City & marinacity.org. Marina City. October 19, 2018. http://www.marinacity.org/about.htm.

Dahlman, Steven. History. Marina City. July 4, 2007. October 19, 2018. http://www.marinacity.org/history.htm.

Marina City. Bertrand Goldberg. October 9, 2018. http://bertrandgoldberg.org/projects/marina-city/.

Kroll, Andrew. AD Classics: Marina City/Bertrand Goldberg. ArchDaily. November 11, 2010. October 19, 2018. https://www.archdaily.com/87408/ad-classics-marina-city-bertrand-goldberg.

Preliminary Summary of Information: Marina City. City of Chicago, IL. July, 2015. October 19, 2018. https://www.cityofchicago.org/content/dam/city/depts/zlup/Landmarks/Marina_City_Prelim_Report.pdf.

Keegan, Edward. Chicago Names Marina City an Official Landmark. Architect Magazine. February 17, 2016. October 22, 2018. https://www.architectmagazine.com/design/chicago-names-marina-city-an-official-landmark_o.


Additional Information