City of Toledo Marker
Introduction
This marker commemorates the city of Toledo, which was officially incorporated in 1837. Like many area communities, this land was first inhabited by Native American tribes. Following a series of wars with Native tribes who had grown increasingly dependent on manufactured trade goods and weapons, settlers of European and American descent increasingly gained control over control of the region. The population of the city grew significantly with the construction of the Miami-Erie Canal which spurred the growth of industry. Today, Toledo is a leading regional city and the home to the University of Toledo, a state university that was operated and funded by the city of Toledo for many decades. The city is also home to a regional history museum and an internationally-renowned art museum.
Images
Toledo Marker in front of the Government Center.

A Toledo postcard, circa the 1930s.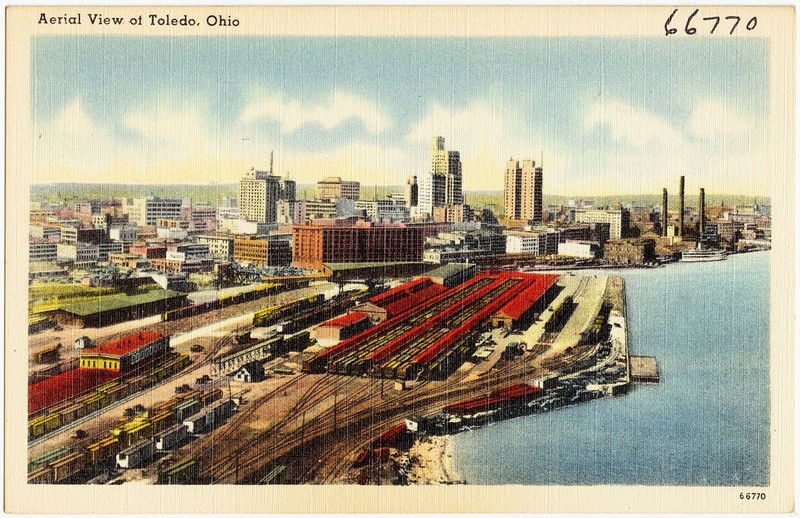 An aerial view of Toledo, date unknown.

The Toledo skyline today. Photo by jrossol on Flickr.

Backstory and Context
Toledo, which was named in 1833, became a part of Ohio is 1836 after the "Toledo War" boundary conflict between Ohio and Michigan. The city was incorporated in 1837 after the merging of the towns of Fort Lawrence and Vistula. Despite the appeal of the Maumee River for commercial transportation, the population spurred on slowly due to the devastation of a series of epidemics in 1838 and 1839. Once the Miami-Erie Canal was completed in 1845, the population began to rise more steadily.
The growth of industry and the presence of railway and water transportation turned Toledo into a city. A number of companies, from breweries to furniture producers, sprang up. One particularly successful venture was Libbey Glass Works, which earned Toledo the nickname "City of Glass." It and other glass companies came to Toledo after natural gas was discovered there in 1888.
By the turn of the century, Toledo had become one of Ohio's biggest cities. The city continued to focus on manufacturing, which led to it suffering high unemployment rates during the Great Depression. However, during World War II, many of Toledo's factories turned to producing items for the war effort, including jeeps at the Willys-Overland Company. Toledo has continued to be the home of a great deal of manufacturing and is now the fourth largest city in Ohio.
Sources
7-48 Toledo. Remarkable Ohio. Accessed October 19, 2018. http://www.remarkableohio.org/index.php?/category/979. Information and photo source.

Toledo, Ohio. Ohio History Central. Accessed October 19, 2018. http://www.ohiohistorycentral.org/w/Toledo,_Ohio.

Toledo Ohio skyline day. Flickr. October 19, 2005. Accessed October 19, 2018. https://www.flickr.com/photos/jrossol/54147883. Photo source.


Additional Information