Bon-Ton Billiard Hall: The First Saloon in Fort Collins
Introduction
In May of 1878, Thomas J. Wilson opened the first saloon in Fort Collins just west of Collins House on Jefferson Street. He named it Bon-Ton Billiard Hall. This establishment sold wines, liquors, cigars, and the choicest brands of beer. It also had 3 Brunswick and Balke billiards tables for the entertainment of its customers. Due to anti-saloon and anti-alcohol sentiment, Bon-Ton Billiard Hall eventually had to close its doors.
Images
Advertisement in the Fort Collins Courier for Bon-Ton Billiard Hall dated March 13, 1879.

Advertisement flier for Bon-Ton Billiard Hall, 1880.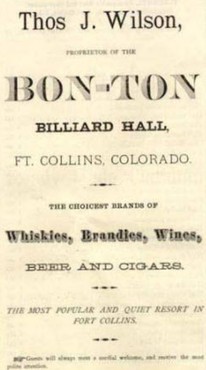 Additional Information