Dolly Parton Statue
Introduction
Author-Uploaded Audio
Dedicated in 1987 and prominent on the Sevier County Courthouse lawn, this statue pays tribute to the famous country music singer, songwriter, and actress, Dolly Parton. Parton was born in Locust Ridge in 1946, the fourth of twelve children. In 1964, she moved to Nashville to begin her career as a singer and songwriter. This bronze statue was designed by architect Jim Gray and depicts a young Parton prior to her move to Nashville, sitting on a rock with nothing but a guitar and dreams. Each year, millions of tourists and country music fans make the trek to the Sevier County Courthouse to have their picture made with the statue of the most celebrated daughter of Sevier County, Dolly Parton.
Images
The Statue of Dolly Parton Located in Front of the Sevier County Courthouse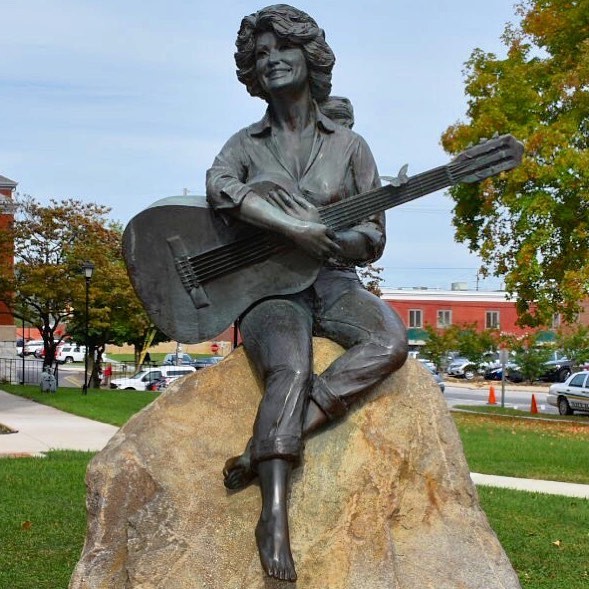 Dolly Parton and Architect Jim Gray Attend the Dedication of the Statue, May 3, 1987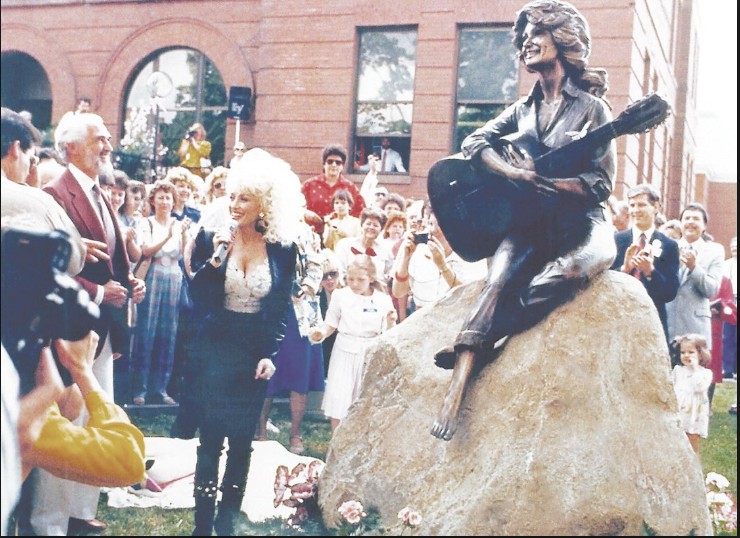 The Plaque at the Base of the Statue, Designed by Jim Gray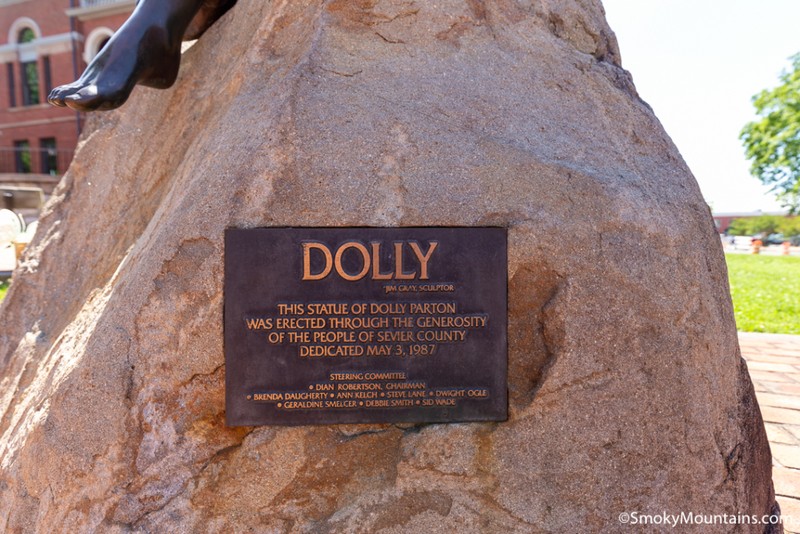 A Tennessee Music Pathways Marker Dedicated in Dolly Parton's Honor is Located Near the Statue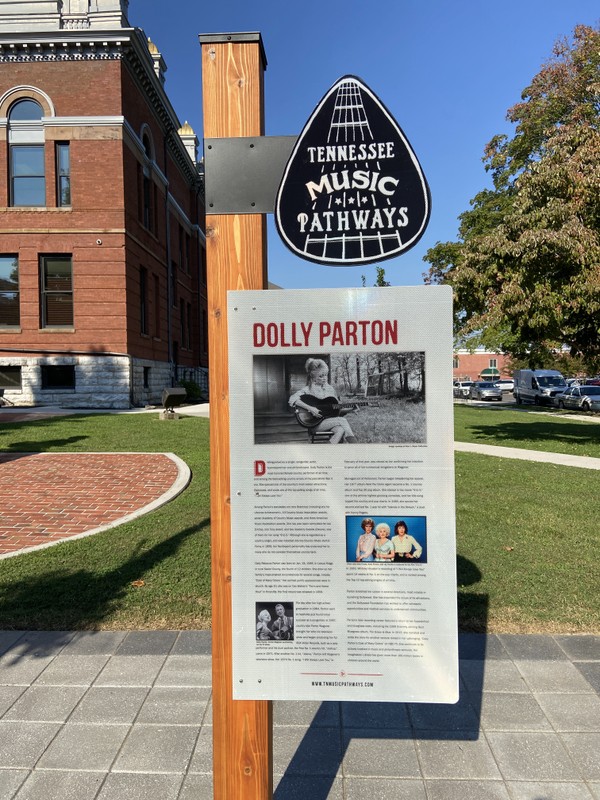 Backstory and Context
Author-Uploaded Audio
Born in Locust Ridge, Tennessee on January 19, 1946, Dolly Rebecca Parton grew up in a small cabin nestled in the Great Smoky Mountains. As the fourth of twelve children, Parton's family faced the struggles of poverty daily. Once she became established in Nashville, Parton wrote numerous songs about growing up poor, the most famous being "Coat of Many Colors." Although the family was lacking in material items, the home was always filled with music, and Parton discovered her love for singing and songwriting at a young age. As a young girl, she dreamed of going to Nashville to perform on the Grand Ole Opry.
At the age of thirteen, Parton's dream of performing on the Opry came true, and after graduating from Sevier County High School in 1964, she moved to Nashville. After a short stint with Monument Records that resulted in the hit song "Dumb Blonde," Parton's career took-off when Porter Wagoner hired her to be the girl singer on "The Porter Wagoner Show," one of the most popular television shows in country music. Wagoner landed Parton a contract with RCA, and she soon was releasing hits such as "Joshua," "Jolene," and "I Will Always Love You." In addition, she and Wagoner had a successful run as duet partners and won multiple awards.
After going solo in 1974, Parton crossed over to the pop charts with songs such as "Here You Come Again" and "Two Doors Down." In 1977, she was awarded her first Grammy for Best Female Country Vocal Performance. Parton reached the peak of her success in 1980 when she starred with Lily Tomlin and Jane Fonda in the movie "Nine to Five" and penned the title track, which also earned her a Grammy. The 1980s saw her collaborating with fellow singers Kenny Rogers, Emmylou Harris, and Linda Ronstadt. During the 1990s, she enjoyed more success with a collaboration with two other legends in country music, Loretta Lynn and Tammy Wynette.
In the late 1980s when at the peak of her career, Parton opened her own theme park in Pigeon Forge, Tennessee called Dollywood. In 1987, Sevier County commissioned a statue of Parton to show their gratitude for her great contributions to the county. Designed by an esteemed artist in the Smoky Mountains, Jim Gray, the statue on the lawn of the Sevier County Courthouse shows her sitting gracefully playing her guitar as a butterfly sits on the strings. Both Parton and Gray attended the dedication on May 3, 1987. In September 2021, a Tennessee Music Pathways marker exploring Parton's career was dedicated on the same lawn as her statue.
Along with her contributions to Tennessee and country music, Parton is a staunch advocate for childhood literacy and started Dolly Parton's Imagination Library in 1995. Parton is a member of the Country Music Hall of Fame and Grand Ole Opry, as well as a recipient of the Kennedy Center Honors. Millions of visitors and country music fans travel to the Sevier County Courthouse lawn to have their photo made with the statue of the legendary singer, songwriter, actress, and philanthropist.
Sources
Sevierville Dolly Parton Statue. InsideSevierville. April 10, 2012. Accessed November 03, 2018. http://www.insidesevierville.com/things-to-do/sevierville-entertainment/seviervilles-dolly-parton-statue/.
Dolly Parton Statue. Smokey Mountains. Accessed November 03, 2018. https://smokymountains.com/sevierville/things-to-do/dolly-parton-statue/.
A&E Television Networks. Dolly Parton Biography, The Biography.com website. April 2nd, 2014. Accessed November 28th, 2021. https://www.biography.com/musician/dolly-parton.
Image Sources
Smoky Mountains

Timber Tops Cabin Rentals

Smoky Mountains

WATE

Additional Information